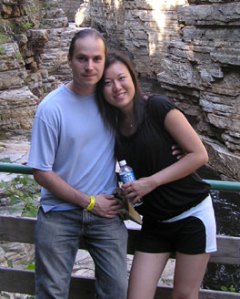 Alex Giller and Sophie (Mu) Liu
Met: Sept. 2003
Engaged: July 23, 2005
Projected Wedding Date: To Be Determined
Diva devotion! Sophie Liu, 28, a soprano who has performed at Riverside Church and the Chinese Consulate, is planning a wedding to Alex Giller, 29, a Ukrainian-born guitarist and ex-member of a band called Legend, perhaps in her native China. In keeping with Eastern European tradition, there is no fancy-schmancy engagement ring—"I don't really like jewelry," Ms. Liu said—but the couple has picked out matching white-gold wedding bands from Macy's, with hers sporting five diamonds.
They met during a music-analysis course at Brooklyn College. Ms. Liu, the author of two Chinese books about singing, had come to New York from Beijing under the sponsorship of a Japanese businessman. She wasn't initially that interested in improving her English. But when she spotted Mr. Giller, who wears his long, dark curls pulled back in a ponytail, she grew eager to forsake her own tongue for the international language … of love!
He started by helping the raven-haired beauty with her homework. "Correcting her mistakes was a pain," Mr. Giller said. But then Ms. Liu revealed her secret penchant for rock 'n' roll. "I like Led Zeppelin," she told the Love Beat. "I don't want to say Bon Jovi—but for Chinese people, he's so popular." Blame Communism ….
One day Mr. Giller e-mailed her his first-grade picture—a time-honored seduction trick of Manhattan men. Ms. Liu was charmed. "His eyes are exactly the same from the picture when he was 7 years old," she said. "Very pure." She soon informed her mother that she planned to remain in the States. "Is he white white?" Mom asked. "I don't think so," Ms. Liu said. "He looks like a Chinese boy."
("I think you've been looking at him too long," said the elder woman, upon finally meeting her daughter's swain.)
A year after they met, Mr. Giller suggested they move in together to his place in Bensonhurst (she had previously been making do with a room in a house nearby). "Will I get my own room?" Ms. Liu asked. "I'm an only child," she explained. She also needed space for costume design, since she makes her own.
They were vacationing in Lake George one day, searching for the perfect view of sun on water. "Oh, forget it," Ms. Liu said. "Let's go eat. I'm hungry."
Mr. Giller pulled the car over to the side of the narrow mountain road. "It's dangerous to park here!" she said. But he convinced her to follow him. Then, all of a sudden, he got down on one knee. "Without words," Ms. Liu said. "I understood right away."
Elizabeth Dennis and George Allen
Met: Aug. 25, 2001
Engaged: March 16, 2005
Projected Wedding Date: Sept. 17, 2005
George Allen, a hulking 6-foot-3 vice president at the venture-capital firm Warburg Pincus, first set eyes on Elizabeth Dennis during a night out at the Village Idiot dive bar on West 14th Street. With her blond hair and refined features, "Liz stuck out like a sore thumb," said the curly-topped Mr. Allen, 30. He asked if he could buy her a drink.
"You might want to spend your money on someone else," Ms. Dennis said. "I have a boyfriend." Mr. Allen shrugged and forked up for a Pabst Blue Ribbon. anyway (after all, they were only $1.75 apiece). Loosened by booze, Ms. Dennis confessed that her boyfriend was nice, but she wasn't madly in love. "I was thinking I was never going to see this guy again," she said of Mr. Allen. "We had no mutual friends. And George is really good to talk to."
After last call, he walked her to a taxi and extracted her e-mail address, with the promise that he would wait three months to be in touch. He lasted a few days. "A little e-mail banter never hurt anyone," began his funny, long-winded message.
She didn't respond till she and her boyfriend ended things—14 months later. After Mr. Allen remembered who she was—men!—they agreed to reunite at the Village Idiot.
As she walked in, Ms. Dennis was visibly petrified. "I'm not sure if it was me or the bar," said her date. Seen through sober eyes, the setting was a little seedier than either remembered, so they swiftly cabbed east to the World Room. Mr. Allen's eyes widened when he saw his date buckling her seatbelt for safety. "I was told later that it almost ended our relationship," she said.
"Absolutely," he agreed. "I was like, 'Who is this person?'" (Um, someone who values her life?)
But all doubts melted over drinks by the World Room's fireside. When Ms. Dennis was being whisked by taxi back to her studio on the Upper West Side, Mr. Allen called her cell phone to say he'd had a lovely time. "I could still see him, walking down the sidewalk," she said.
"I was making sure you actually gave me your real number," he retorted.
Early on in their relationship, he taught her how to sail. Ms. Dennis, who is 28 and was born in Ohio, bravely embraced the unfamiliar sport, and the new couple took a lovely, life-changing trip to the Virgin Islands.
Mr. Allen proposed marriage on yet another Caribbean sailing trip, a 120-mile haul from Antigua to St. Martin's, during a break at the Four Seasons hotel on the island of Nevis. The wily fellow pretended to lose his wallet on the way to dinner, whereupon an unsuspecting Ms. Allen was borne solo by golf cart to a table set for two under a gazebo twinkling with Christmas lights. After she was seated, a waiter arrived with a conch shell, on which a note reading "Secret Inside" had been secured with red ribbon.
When she pulled on the ribbon, out tumbled an elegant platinum band from Cartier embedded with 20 small brilliant-cut diamonds, for a total of 2.84 carats. Some secret! Ms. Dennis looked up to find Mr. Allen advancing toward her from the beach, ready to assume the one-kneed position.
Two months after their engagement, Ms. Dean moved into Mr. Allen's duplex in Union Square.
They will marry on a former steam ship in Nantucket—just because. The trousseau should be relatively uncomplicated: Ms. Dennis, who used to be a production manager for a lingerie-and-swimwear line, founded her own pajama company, Elizabeth Cotton, earlier this year. Snuggle up, kids ….