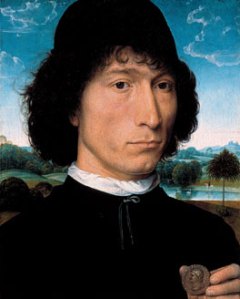 Unless you're a devotee of 15th-century Netherlandish painting, chances are you've only stopped to give a cursory look at Hans Memling's diminutive painting on panel, Portrait of a Man (c. 1470), as you've made your way to the Frick Collection's big-name, box-office draws. That's less likely to be the case next month, when the venerable institution mounts Memling's Portraits, an exhibition of more than 20 examples of the genre, as well as paintings by his school. Given that Memling's corpus amounts to 100 paintings or so, it's clear that portraiture counts as a significant and maybe defining component of his oeuvre.
Born in the German city of Seligenstadt, Memling trained in Cologne and then moved to Brussels, where he served a lengthy apprenticeship in the workshop of the Flemish painter Roger van der Weyden. After his mentor's death in 1464, Memling moved to Bruges—lured, perhaps, by the abundance of patrons in what was then a hub of international banking. Once there, he achieved considerable success.
It's easy to see why: Memling's exquisitely tuned and seamless touch hews to the particularities of each individual while placing them within an idealized, almost airtight space. What the paintings lack in compositional variety—the portraits are typically unimpeded, three-quarter views of the subject—they make up for in meticulous execution and exacting attention to physical detail, particularly to the idiosyncrasies of the flesh. Did Memling happen to have a clientele blessed with striking noses, or did he just have a thing for the often-elaborate intricacies of that most prominent feature? The answer is less important than the paintings themselves, which promise glories of an intensely refined nature.
Memling's Portraits will be at the Frick Collection, 1 East 70th Street, from Oct. 12 to Dec. 31.
The German-born painter Oscar Bluemner (1867-1938) is the least well known of the artists associated with photographer Alfred Stieglitz's indispensable 291 Gallery on Fifth Avenue. With any luck, Oscar Bluemner: A Passion for Color, an exhibition opening next month at the Whitney Museum of American Art, will do much to redress the artist's standing.
Bluemner was trained in architecture in Berlin and continued to practice upon immigrating to the United States in 1892. After a Tammany Hall architect tried to take credit for Bluemner's winning design for the Bronx county courthouse, the proceeds from a successful lawsuit allowed him to travel to Europe in 1911 and pursue a new path as a painter.
Face-to-face contact with early Modernist art radically altered and ultimately determined the course of Bluemner's work. Cubism was a pivotal influence on his paintings of the American landscape. Yet it was the Fauves' enormous license with color that most impressed itself upon his aesthetic: "Only that which serves the beauty of color," he once declared, "should be rendered ahead of 'truth to nature.'" Hard and luminous tones, blue and red predominant among them, define Bluemner's blocky, abbreviated compositions.
An unapologetic, sternly asserted strain of mysticism pervades the work—a response, perhaps, to the desperate circumstances that typified Bluemner's life. Sick and poverty-stricken, with failing eyesight, he would die by his own hand at the age of 71. How much can art redeem the tragedies of one man's life? A Passion for Color might hint at an answer.
Oscar Bluemner: A Passion for Color will be at the Whitney Museum of American Art, 945 Madison Avenue, from Oct. 7 to Feb. 12, 2006.
The exhibitions opening this fall at the Metropolitan Museum of Art center around various kinds of spiritual quests. Certainly Vincent van Gogh, whose drawings are the subject of what will undoubtedly be an exhibition with precious little elbow room, discovered within art something he did not find in religion: a greater, if by no means complete, sense of solace. Otherworldly pursuits of a less earnest character will be on view in The Perfect Medium: Photography and the Occult, an exhibition sure to be a kitschy crowd-pleaser complete with faeries, ghosts, "fluidic events" and other hocus-pocus.
On a more sublime level is Fra Angelico, the first American retrospective devoted to the paintings of the Italian Renaissance master and, indeed, the first overview of the work mounted in 50 years. A Dominican monk who was the pre-eminent painter of 15th-century Tuscany, Fra Angelico is renowned for the sterling quietude he brought to religious subjects. The 19th-century art critic John Ruskin pronounced him "not an artist properly so called but an inspired saint." Pope John Paul II demurred, decreeing Fra Angelico the patron of artists upon the 1984 beatification of the painter. Contemporary viewers can decide for themselves whether pictor angelicus should or should not be considered an artist, but Fra Angelico—an event unlikely to be repeated in our lifetimes—is definitely not to be missed.
Vincent van Gogh: The Drawings will be at the Metropolitan Museum of Art, 1000 Fifth Avenue, from Oct. 18 to Dec. 31; The Perfect Medium: Photography and the Occult from Sept. 27 to Dec. 31; and Fra Angelico from Oct. 26 to Jan. 29, 2006.