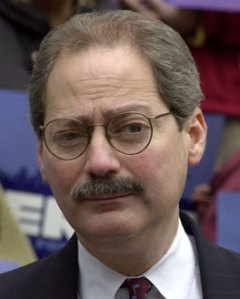 Fernando Ferrer is within a hair of winning the Democratic nomination for Mayor without a draining run-off, and his recent endorsement from The New York Times could push him over the top, according to a new poll from Pace University done in cooperation with The New York Observer.
The campaign-style poll of 541 hard-core Democratic primary voters in the five boroughs found Mr. Ferrer with 35 percent, up from 29 percent in June. A candidate needs 40 percent of the primary vote to avoid facing a run-off with the second-place candidate. Mr. Ferrer's showing in the Pace Poll is substantially stronger than he has fared in public polls, which include many Democrats who probably won't vote in the Sept. 13 primary.
City Council Speaker Gifford Miller appeared as Mr. Ferrer's strongest rival in the Pace Poll, gaining seven percentage points to rise to 17 percent, while Manhattan Borough President C. Virginia Fields lost ground, falling to 14 percent. U.S. Representative Anthony Weiner drew support from 13 percent of those surveyed.
The poll, taken as most New Yorkers were glued to television news broadcasts of Hurricane Katrina's devastation in New Orleans, found Mayor Michael Bloomberg maintaining a commanding lead, even among Democrats, jibing with virtually all polls taken since the billionaire Mayor launched an expensive wave of television advertising earlier this year. If Mr. Bloomberg, a Republican, had participated in the Democratic primary, the poll found, he likely would have won it. But it also found Mr. Ferrer in a strong position, with 20 percent of voters remaining undecided and a crucial, if lukewarm, endorsement from the Times editorial board arriving after the poll concluded.
"I'm thinking in terms of the lesser evil," said Ruth Meskin, a clinical psychologist who lives on the Upper West Side and said she plans to vote for Mr. Ferrer. "I'm not going to vote for Mike Bloomberg. Although he talks a good game, he really doesn't pay attention to the poor people in our city."
Mr. Ferrer's increasing support came as he consolidated his political base among the relatively poor and powerless quarters of the city. His share of the Latino vote grew to 62 percent from 51 percent in June, and his standing among the poor and tenants in rent-regulated apartments increased sharply as well.
Mr. Ferrer's increase also appears to have come primarily from men; women voters, meanwhile, accounted for most of Mr. Miller's increase in the poll.
Pollsters also found strong support for incumbent Public Advocate Betsy Gotbaum and District Attorneys Robert Morgenthau of Manhattan and Charles Hynes of Brooklyn. In the battle for Manhattan Borough President, Assemblyman Scott Stringer holds a solid lead on his main rival, City Councilwoman Eva Moskowitz.
To many analysts, Mr. Ferrer's electoral fate—will he win the nomination outright, or will he be forced into a runoff?—depends on which campaign does the best job of bringing supporters to the polls and attracting new voters.
"Turnout is everything in this race," said Scott Levenson, a political consultant.
Still, 21 percent of Democratic voters remain undecided, suggesting to the director of the Pace Poll, Jonathan Trichter, that persuading those voters—rather than efforts to bring new voters to the polls—may make the difference on Sept. 13.
"The undecideds are much more important now than the eventual turnout," he said. "If I had to devote my last million either to extra persuasion or extra get-out-the-vote, I would devote my last million to extra persuasion."
The poll, conducted in cooperation with WNYC Radio and WCBS-2 News, mirrored private campaign polls in surveying "prime" Democratic voters—people who have voted in municipal Democratic primaries in the past and say they plan to vote in this one. The survey, conducted between Aug. 25 and Sept. 3, has a margin for error of plus or minus 4 percent.
This year, after a lackluster primary campaign that has been overshadowed recently by the catastrophe in New Orleans, there is some question about whether many Democrats will even bother showing up to the polls on Tuesday.
Several poll respondents who spoke to The Observer, however, said that Hurricane Katrina wouldn't influence their votes.
The lack of local news coverage "hasn't really been a problem, because none of the Democratic candidates seem to be what you would call heavyweights," said Peter Bonwich, a retired lawyer in Brooklyn Heights. He added that despite his support for Mr. Bloomberg, he is a registered Democrat who will vote in this year's Democratic primary, probably for Mr. Weiner.
But voters also responded to Mr. Ferrer's bootstrap appeal: a story of growing up poor in the Bronx that is probably his strongest political asset.
A Tough Choice
"I like him—I think he did a good job for the Bronx," said Mabel Simmons, a registered nurse who saw the Soundview section of the Bronx improve markedly during Mr. Ferrer's tenure as borough president. "I like him because he's not rich, he didn't grow up rich, he worked his way up."
Ms. Simmons said she'll have a hard choice if Mr. Ferrer is the Democratic nominee.
"It's between him and Bloomberg," she said. "I like the job Bloomberg is doing, but if Freddy Ferrer picks up some more steam, gets some more people behind him, I'll vote for Freddy Ferrer."
The pollsters also attempted to measure which factors influence voters in the primary, asking voters to rank various endorsements—ranging from The New York Times to the Reverend Al Sharpton—on a scale from 1 to 10.
At the top of the list were the labor-backed Working Families Party, along with environmental and women's-rights groups.
The only newspaper endorsement playing a positive role in a Democratic primary was The Times, with the New York Post's endorsement rating, on average, strongly negative for a candidate.
In some groups, sought-after endorsements appear a mixed blessing. Former Mayor Ed Koch, for example, drew negative reviews from men with at least a college education. Former Mayor David Dinkins' support was a negative factor for Jewish voters. And Mr. Sharpton, perhaps predictably, turns off white voters just as he draws African-Americans, according to the poll.
According to the pollsters' predicted turnout in the Democratic primary, Mr. Sharpton appeared to be a net liability, as some of Mr. Ferrer's supporters have suggested he was in 2001.
The poll also measured voters' plans in some of the hotly contested races lower on the ballot, finding strong support for three incumbents: Public Advocate Betsy Gotbaum led her nearest challenger, Norman Siegel, by 34 percent to 16 percent, with 39 percent of voters still undecided. Brooklyn District Attorney Charles Hynes led State Senator John Sampson by 35 percent to 11 percent.
In the hotly contested contest to replace Ms. Fields as Manhattan Borough President, Mr. Stringer led Ms. Moskowitz by 22 percent to 16 percent, with a host of other candidates, led by Councilwoman Margarita Lopez, in the single digits.
Ultimately, the differences between polls rest largely on who they choose to survey—and who actually turns up to vote. The "prime" Democratic voters questioned by Pace are the core of the city's Democratic politics, and pollsters also tried to assess their views on key, charged security issues.
The questions brought mixed results. Even in the liberal core of this liberal city, 53 percent of Democrats said they support a British-style plan to deport immigrants who preach violence. And 60 percent said they would back random subway searches.
But 54 percent of those questioned said they oppose profiling Muslims, even when it comes to defending against terrorism.
"They're O.K. with cops searching us, but they want them searching us equally," Mr. Trichter, the pollster, said. "This is a group of voters very sensitive to racial profiling."