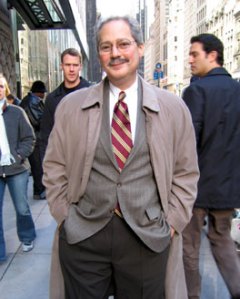 As the clock ran out on a Democratic Mayoral primary notable for its lethargy, front-runner Fernando Ferrer desperately scoured the city in search of enough votes to avoid a runoff, while his late-charging challenger, Anthony Weiner, tried to muster support to survive and fight another day.
By late Tuesday night, it appeared that the two men were destined for a runoff. Mr. Ferrer had about 39 percent of the vote with nearly all of the city's precincts reporting. Mr. Weiner was in second place with about 30 percent.
Meanwhile, veteran Manhattan District Attorney Robert Morgenthau prevailed in one of the toughest races in his long career, holding a 60-40 advantage over challenger Leslie Crocker Snyder.
Turnout was light throughout the day as city Democrats seemed to ratify conventional wisdom, which had it that none of the four candidates had excited the party's rank and file. Pre-primary polls consistently showed that if incumbent Michael Bloomberg, a Republican, were in the Democratic primary, he'd win in a walk.
Mr. Ferrer had an early lead in the mid-40's, but it evaporated quickly, and by about 10:30 p.m., it seemed clear that the final margin might not be determined until absentee ballots were counted. Attorney General Elliot Spitzer, a Ferrer supporter, rallied the troops as the candidate's margin began to sink ever so closely to 40 percent. For several hours, a Latin band had entertained the crowd in the Puck Building in Soho. Then Mr. Spitzer took the stage. "Soon enough," he said, "when all the votes are counted, we will be over 40 percent [and] Freddy will be our nominee."
Meanwhile, at Mr. Weiner's headquarters at Table XII on the Upper East Side, all was quiet at first, but spirits soared as Mr. Ferrer's percentage sagged.
The eventual Democratic nominee—either Mr. Ferrer or Mr. Weiner—will be faced with the formidable challenge of unseating a self-financed incumbent with positive approval ratings and colossal name recognition. And, in an indication that New York politics has changed drastically since Rudolph Giuliani's election in 1993, the eventual Democratic challenger won't have home-field advantage over the Republican, Mr. Bloomberg. While registered Democrats still vastly outnumber Republicans (there are 2.6 million registered Democrats in the city, compared to 477,000 Republicans), the back-to-back elections of Mr. Giuliani and Mr. Bloomberg shattered the image of New Yorkers as reflexive Democrats, at least when it comes to choosing the city's chief executive.
Mr. Bloomberg will enter the general election as a heavy favorite to achieve not only his own re-election, but to extend Republican rule in City Hall to 16 consecutive years, an achievement that would have been considered impossible only a dozen years ago.
Perhaps that's why Mr. Bloomberg's primary-night party in the Brooklyn Marriott seemed like a celebration of the inevitable. It was, not surprisingly, a swanky affair, befitting the billionaire Mayor's style. Two huge video screens featured various images of the Mayor looking thoughtful, tough, sensitive (he was holding babies!) and very much a leader. All the while, a seven-piece band entertained revelers drinking scotch and celebrating in the hotel's ballroom.
Former Mayor Ed Koch, a Democrat, made an appearance in the Marriott not long after the polls closed and bemoaned the state of his party—Mr. Koch supports Mr. Bloomberg this year, as he did in 2001. The Democrats, he said, "had produced four Lilliputians against a Gulliver—Mike Bloomberg is a Gulliver." He called Mr. Bloomberg's party "a great idea," especially since it was held not in midtown Manhattan, but in Brooklyn. "Why didn't any of them [the Democrats] think of that?" he asked rhetorically.
Bill Wright, a 76-year-old African-American and a retired construction worker, attended the Bloomberg party wearing a blue silk suit and a Havana hat. He said that while he had some problems with Mr. Bloomberg, "he has impressed me." Isaac Barber, a 25-year-old jeweler from Crown Heights and a registered Democrat who didn't vote in the primary, said Mr. Bloomberg "has continued to make New York a safer place."
Mr. Bloomberg appeared on stage shortly after 10 p.m. He seemed to be a confident man. "Someone tells me there was a primary contest going on tonight," he said. "Is that right?" The crowd burst into laughter.
Ironically, it was a Democrat—Mr. Weiner—whose rise in the polls demonstrated the changed priorities among Democratic rank-and-file voters. Mr. Weiner ran as the candidate of the middle class, emphasizing a plan to cut 5 percent from city departments, with the careful exceptions of police, fire and other such security-sensitive areas. That meant, in essence, promising to chop social services, a vow typically associated with Republicans, not New York Democrats.
The two other Democratic challengers, Council Speaker Gifford Miller and Manhattan Borough President C. Virginia Fields, attempted more traditional campaigns. While each had a moment in the sun as the campaign's second-runner to Mr. Ferrer, both wound up losing ground to Mr. Weiner in the campaign's final weeks.
For Mr. Ferrer, the drama of primary night was especially intense. More than any other candidate in the race, the former Bronx Borough President knew the importance of winning the primary outright. Four years ago, in a primary postponed by the terrorist attacks of Sept. 11, Mr. Ferrer finished a surprising first, besting Public Advocate Mark Green, but he went on to lose the runoff.
While Mr. Ferrer would enter a runoff this year as the favorite, he and others would remember that he entered the runoff four years ago with seemingly unstoppable momentum. It all slipped away in just a matter of days, and Mr. Green prevailed in the runoff two weeks later.
This year's runoff election, should one be necessary, will be held on Sept. 27.
The other bit of drama on this primary night took place in the headquarters of the two candidates for Manhattan District Attorney. The race, which aroused the passion and ardor that the Mayoral primary lacked, pitted Mr. Morgenthau in the fight of his career against Ms. Snyder.
A bevy of candidates tore each other to pieces for the privilege of being the Democratic nominee as Manhattan Borough President, a job some insiders have described as the political equivalent of an appendix. Assemblyman Scott Stringer finished first in a crowded field with about 26 percent of the vote. There are no runoffs in elections other than for citywide office, so it didn't matter that Mr. Stringer had considerably less than 40 percent.
A Muted Campaign
The results in the Mayoral primary began to trickle in after an oddly muted campaign in which three of the four candidates, stung by gaffes and besieged by an unusually active and expensive campaign from the Republican incumbent, retreated to outer-borough subway stations and safe policy pronouncements for much of the summer.
The cycle began in mid-March, in a dimly lit meeting room, where Mr. Ferrer answered questions from members of the police sergeants' union. Mr. Ferrer was one of several public officials who were arrested while protesting the shooting of an unarmed African immigrant, Amadou Diallo, by police in 1999.
But that spring day last March, he seemed to have changed his mind.
Referring to the Diallo shooting, Mr. Ferrer told the Sergeants Benevolent Association: "I don't believe it was a crime. Do I believe there was an attempt by many, in a lot of different places, to over-indict? Sure."
For weeks, the statement haunted Mr. Ferrer, who insisted that he hadn't changed his mind about Diallo, promised to "take responsibility" for the confusion he had caused, and stubbornly refused to explain his actual position.
The gaffe left a wide opening for a Democrat who had, to that point, been largely dismissed as lacking the record or rationale to run: the Manhattan Borough President, Ms. Fields, who was the only African-American candidate in the race. As Mr. Ferrer tried to control the damage and fend off the jeers from supporters of the Reverend Al Sharpton, Ms. Fields criticized her rival's stance, and her support in the polls surged.
Ms. Fields remained a strong challenger to Mr. Ferrer's fragile front-runner status through June 6, when what most expected to be a silly one-day story paralyzed her campaign for weeks.
The evidence of her crime was a printed flyer of the candidate surrounded by a diverse group of people, two of them Asian. A minor candidate for Mayor, Christopher Brodeur, noticed that the Asian couple's heads appeared to be attached to the bodies of other people with the computer program Photoshop, and soon enough Ms. Fields was standing on the steps of City Hall, real Asians in tow, admitting that she had no idea who the people in the picture were.
Ms. Fields staff blamed her campaign consultant, Joseph Mercurio; he blamed her; and the spat went on for weeks.
With Ms. Fields effectively crippled, the momentum shifted to a man with some natural advantages, Gifford Miller, the Speaker of the City Council, who had more money than his rivals—and public money to spend winning allies. Unfortunately, Mr. Miller spent some of that money on colorful, campaign-style flyers. His aides initially claimed the mailing had cost in the low five figures; they later owned up to spending $1.8 million on the flyers. Between that and some ill-considered bragging from aides about how his campaign was working its way around campaign-finance rules, Mr. Miller lost the endorsement of The New York Times, which had been his to lose.
Mr. Weiner, then, emerged at the best possible time: in the week before the primary, too late for any serious examination and just in time to run with the air of a comeback. His campaign of tough, Giuliani-style talk about the middle class and stances slightly to the right of Mr. Ferrer—"He opposes amnesty for illegal aliens, and would raise taxes only on the richest New Yorkers, while cutting them for the majority," in the words of a campaign ad—he offered himself as a different kind of Democrat.
Throughout the day, the candidates used their last measure of energy to celebrate the end of an ordeal and to awaken the interests of an apparently slumbering electorate.
As Mr. Morgenthau parted the voting booth's curtains and stepped out to scattered applause, he said simply: "It's done." Voting in an elementary school on 82nd Street and Madison Avenue, Mr. Morgenthau brought along his wife Lucinda and youngest son Joshua, a 21-year-old senior at Yale University. Joshua cast his first vote ever for his father. "It felt amazing," he said. "We had a tough campaign."
Indeed, Mr. Morgenthau's opponent, Ms. Snyder has been directly and indirectly raising Mr. Morgenthau's decades of service (i.e., age) as an issue since day one. And the Morgenthaus said they were just a little sick of it. "He runs circles around me," said Lucinda Franks, the D.A.'s wife. "He remembers everything; he has a prodigious memory. He's at the peak of his career."
Mr. Morgenthau greeted all the election workers in the auditorium and then agreed to impart some knowledge to one teacher's fourth-grade class. "Yeah, sure. Bring 'em on," he said. The class assembled by a staircase. "I'm the District Attorney of Manhattan. I'm responsible for prosecuting people who jump turnstiles and murder people," he said to the somewhat startled children. But the kids warmed up after he asked them about art and science.
"Nice guy," said Kosta Bajovic, 9. "He gets to prosecute people." But not everyone was so taken with Mr. Morgenthau. One Leslie Crocker Snyder volunteer complained that he lingered in the voting station for nearly a half an hour. "He's electioneering here," he said. "You're not allowed to campaign within 100 feet of the polls. He's the one charged with enforcing the law!"
Fields Feels Good
Elsewhere that morning, Ms. Fields was running more than a half an hour behind schedule but she looked oddly relaxed. "I feel very good, I feel very encouraged," said Ms. Fields, dressed in a green suit after she stepped out of her white campaign bus, papered with campaign posters. This polling station on West 92nd Street and Columbus Avenue was the fourth she had visited, and it was only 10:30 a.m. "I'm going around throughout town, to show how much I appreciate their support," she said. "They say they are voting for me."
An aide whispered in her ear that, because of voting regulations, some of the campaign posters too close to the polling place had to come down. "What do you mean they took posters down?" she snapped.
For the most part, though, she was in good spirits—and why not? "I woke up very energetic this morning. When I was able to vote for myself for mayor of New York City, that was very good," she said.
Ms. Fields woke up at 4:03 on this morning "I felt very calm. I thought I'd just be stressed out, but I'm not." She said that people were telling her that she had earned their votes for all types of reasons. "One of the reasons was that I was environmentally firm," she explained. "Because I didn't clutter [mailboxes] with all this stuff."
Hours later, standing on the corner of 125th Street and Malcolm X Boulevard, Ms. Fields described herself as "very helpful," saying that her visit to her base in Harlem had been "magical." But, by all accounts, she would need no small amount of magic if she were to finish in first or second place.
Another candidate in need of magic, Mr. Miller, put on his best game face as he did his early morning around. "How's everyone doing?" Mr. Miller yelled on the corner of 1st Avenue and East 70th Street. He clapped his hands, then assumed a shadow boxer's pose and bounced on his feet. "Hi there, big fella!" he said, kneeling down before a surprised baby. Then he asked for the mother's vote.
He told reporters that he felt great and was confident that his voters would show they valued his experience and attention to the issues. But except for a few elderly people resting on benches in front of a nursing home, there were no voters in sight. So he started walking down the sunny side of First Avenue, through an Upper East Side that greeted him like a prodigal son.
"You're my luck," he shouted to passersby. His wife Pamela called out to friends across the avenue in front of a bar called Hi Life. They waved back. Mr. Miller ducked into the Jan Hus Presbyterian Church and Neighborhood House; minutes later an aide emerged. "Finally, some voters," he said.
Meanwhile, Eric Grannis, husband of failed Manhattan Borough President candidate Eva Moskowitz, stood on the corner of 68th and Third, asking passersby to "vote for my wife." How was it going? "The reaction here is going good," he confessed. "It's our base. I would say there is a lot of gender identification going on." Not as many men seemed interested, he said. The family, he said, had been working overtime on Ms. Moskowitz' campaign, but the clan had been crushed when The New York Times endorsed her main rival, Mr. Stringer.
"One would have thought they saw more value in one of the few independent voices in the New York Democratic Party," he said with just a touch of bitterness. Regardless, he said looked forward to the election, because it meant the end of a long campaign. "It would be nice to go back to earning a living," he said.
Voters were no doubt confounded by the myriad candidates running for so many small offices throughout Manhattan.
"Glen for surrogate," barked one volunteer. "Thanks," said Eileen Palley, a teacher from the Upper West Side. "But what is a surrogate?" After getting her civics lesson, Ms. Palley explained, "It's some kind of judge." She left the line blank.
Ms. Palley said she was happiest about one thing: that the campaigns were drawing to a close. "I've been inundated with mail and phone calls. It's gotten to the point where I'm not even picking up the phone anymore. If it's not Leslie Crocker Snyder looking for my vote, it's Geraldine Ferraro calling for Leslie Crocker Snyder."