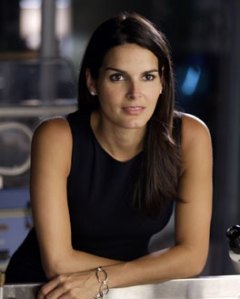 Admit it! Countless of you baby-mad Manhattan women have already TiVo'd Inconceivable, that show about a high-end fertility clinic (is there any other kind?) which premieres Sept. 23 on NBC.
But those anticipating a sober probing of Petri dishes, a nuanced exploration of the serious issues that arise when doctors "play God" with syringes and semen samples, are due for disappointment. This ain't Nova, after all, nor the Discovery Channel, but rather a formerly dominant entertainment network visibly straining to recapture ratings glory with a hot topic and a hot cast of truly uplifting diversity: The clinic's staff, on which the show centers, includes at early count a Brit, an African-American, an Asian, at least one Latino, a gay man and the requisite smattering of bland blond bubbleheads.
Inconceivable's complicated DNA is showing: a little Ally McBeal, in its brisk and goofy office repartee and feminine orientation (remember the dancing baby?); a dash of Desperate Housewives; a bit of ER. Masturbation jokes and would-be moving after-school moments. Then again, maybe there is something apt in a show about assisted reproductive technology so blatantly displaying the committee thinking behind its own creation.
Actor Jonathan Cake is the Brit, playing a handsome, press-savvy doctor named Malcolm Bowers, who performs daily gynecological miracles in a Los Angeles setting—all swooshing glass doors and plush furniture—more reminiscent of a luxury Ian Schrager hotel than a medical facility that in real life is surely one of the least-sexy places on earth. Family Options, as it is called, is under sudden threat of being shut down, not by right-to-life protesters (not in the first two episodes, anyway) but by a lawsuit from a furious white client whose surrogate unexpectedly gave birth to a dark-skinned baby after having unprotected sex too close to her scheduled embryo transfer.
Inside the office, which attracts more than its fair share of total loonies, Dr. Bowers is a saintly authority figure, reassuring anxious female patients about their uterine linings ("thick and fluffy!") in warm, plummy, Rupert Everett–esque tones; outside, he's a callous pussy hound, bedding and swiftly dumping an attractive nurse named Patrice (Joelle Carter), who proceeds to plot a revenge dastardly enough for late-season Melrose Place, though the clinical setting of Inconceivable actually seems to allow for greater sexual permissiveness than your typical nighttime soap.
Guess what? These two aren't the only Family Options staffers bringing their work home with them. There's Rachel Lu (played by Ming-Na from ER), the clinic's co-founder, who herself needed sperm from an anonymous donor and an injection from Dr. Bowers to get knocked up; coming home from a soccer game, Lu Junior explains that he's called "Frankenbaby" by his peers because "everyone knows I was born in a test tube." Later, a Lilith Fair–type soundtrack plays as he pores longingly over his "father's" meager file. There's Scott Garcia (David Noroña from Six Feet Under), the in-house lawyer, who spends most of his time negotiating with his persnickety, paranoid boyfriend about parenting methods for their newborn ("I'm Daddy …. You're Papa"). Most amusingly, there's the late-breaking appearance of the husky-voiced Dr. Nora Campbell (a strenuously Crest Whitestripped Angie Harmon, late of Law & Order), one of Dr. Bowers' exes and a maverick medic in her own right. Dr. Campbell is the kind of dark, powerful, straight-talkin' woman usually introduced late in a series, à la Alexis Colby, to salvage it from potential doom; she was reportedly a last-minute addition to the Inconceivable cast, a sort of prophylactic measure.
From the looks of it, the show is already being loaded with thoroughly ridiculous, only-in-L.A. story lines, like a Botoxed and liposuctioned woman who wants to use donor eggs, unbeknownst to her husband, because she doesn't want to pass on her plump, plain genetic legacy to her kids. This is understandable: Despite its miraculous aura, fertility treatment tends to involve fairly mundane, methodic and microscopic procedures rather than blood-spurting life-or-death decisions, and it's unclear whether such a subject can generate enough compelling dramatic scenarios for a sustained run in prime time. Will the creators have the courage to delve into the really scary stuff, like the possible links between repeated hormone therapy and ovarian cancer? (See the late Harper's Bazaar editor Liz Tilberis' memoir No Time to Die, for starters.) And why, on television, must pregnant women's water always break somewhere inopportune and humiliating, like a supermarket? One can't help flashing on Wallace Shawn in The Princess Bride: "In-con-theivable!"
Peter Jennings Remembered
"We look not to the things that are seen, but to the things that are unseen," said ABC News' Tim Johnson, quoting a line from Corinthians at the start of a memorial service for Peter Jennings Tuesday morning at Carnegie Hall.
No doubt the late anchor's preferred text was the United States Constitution, which he famously carried around in his suit-jacket pocket. But in this case, the Book of Common Prayer had it right: "For the things that are seen are transient," Mr. Johnson read, "but the things that are unseen are eternal."
For more than four decades, Americans watched Peter Jennings deliver the news of the day through their television sets—a series of transient dispatches that amounted to a great legacy. But this, according to those closest to the late anchor, is what we didn't see, what really lasts:
Once, about 40 years ago, Peter Jennings was walking down 67th Street with his ABC colleague, Nightline anchor Ted Koppel. A panhandler approached. Both gave him money, but, as Mr. Koppel remembered yesterday, Mr. Jennings stayed behind and talked to the man—for 10 minutes.
"He invested a damaged soul with dignity," Mr. Koppel said.
Another time, not too long ago, Peter Jennings was cleaning up after dinner with his good friend, the actor Alan Alda. Washing dishes, Mr. Alda recalled, Jennings turned and said, "Now that everyone's gone, if I were you, I'd send that wine back where you bought it. It's a little off."
Peter Jennings, who teared up only once during his 60 hours of Sept. 11 coverage (when he was talking about his children), "got weepy" one day while talking about his time on jury duty, said World News Tonight senior producer Thomas Nagorski. Shortly before he died of lung cancer on Aug. 7, Jennings replied to a feel-better note sent by Mr. Nagorski's young daughter. "That was a wonderful, wonderful letter," he wrote. "The colors really cheered me up."
While volunteering for the Coalition for the Homeless, Mr. Jennings spent a night trying to keep the peace between homeless men and Asian grandmothers and grandchildren who picked up free meals at the same drop-off area. A little boy in a Yankees hat two sizes too big approached him, said coalition director Mary Brosnahan Sullivan at yesterday's service.
"Are you a Yankees fan?" Mr. Jennings asked.
"Yes," said the boy.
"My wife's home watching the Mets game," Jennings told him.
"She's a Mets fan?" the boy asked. Jennings nodded.
The boy said: "You need to find a better woman."
Laughing, Jennings told the boy, "Kid, there are none."
The anchor's widow Kayce listened to this from the fourth row, where she sat with Jennings' two children, Elizabeth and Christopher, and his sister Sarah. They were surrounded by a rare and reverent gathering of the most important television journalists and executives alive today. ABC News president David Westin gave a short tribute to Mr. Jennings, as did Disney president Bob Iger.
Throughout the service, slides of Jennings—camping with his son; reading a book on the edge of a swimming pool; walking arm and arm with his daughter—showed on the back wall of the stage. Natalie MacMaster, Yo-Yo Ma, Wynton Marsalis and the Gates of Praise Choir played tributes to the anchor, who was a fierce music lover.
In the upper tiers gathered a crowd of Jennings' less boldface-named colleagues and admirers, people who got up early and waited in line for tickets. Three young men in jeans raced to the box office at 8:30 a.m. and leaned forward in their seats the whole time. A lawyer who lived down the street from the Jenningses made a tape-recording to give to the anchor's doorman, who couldn't make it to the service. A woman who occasionally stood behind Jennings in line at the ABC cafeteria dried her eyes in the second-to-last row. She remembered watching him with awe as he talked, one by one, with all the food servers, every day.
Near the end of the service, Jennings' son stood to speak.
The very image of his father—same cool deep voice, same presence, same calm resolve—the younger Mr. Jennings told of a pocket watch his father gave him when he first got sick; of a summer trip the two took that was interrupted by a freak hail storm; of the older Jennings' great gift for eulogies.
Each day, he said, he will struggle without his father's guidance.
"Each day," he said, "is, above all else, a day without him."
—Rebecca Dana