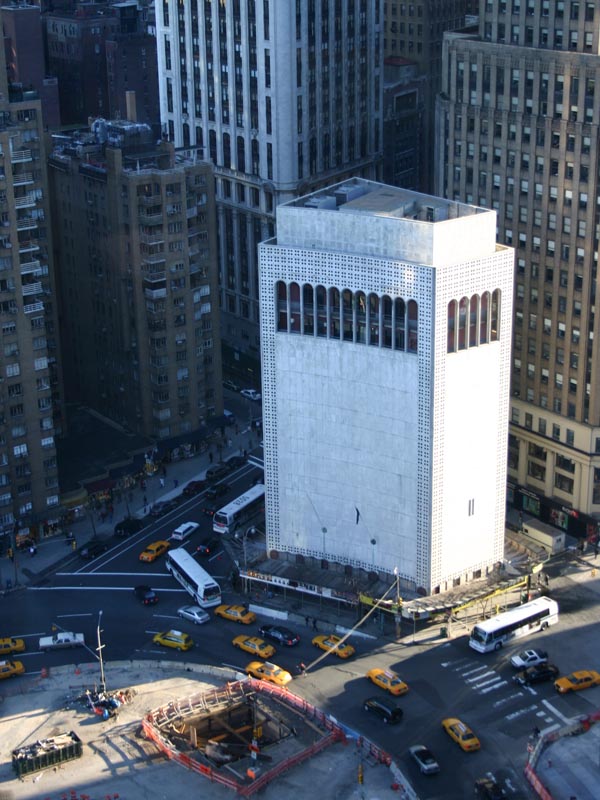 The New York Times has an article this morning on Holly Hotchner, the director of the Museum of Arts and Design. The museum, as you will recall, is due to move into 2 Columbus Circle, the Edward Durrell Stone-designed monolith preservationists are trying save from an impending facade change. In the story, Ms. Hotchner calls the building a "designated mausoleum" and claims, "I've never heard of anyone who likes the building aesthetically," and "I think nearly everyone would agree 2 Columbus Circle is a tremendous eyesore; some of us call it the world's greatest urinal at this point."
Perhaps Ms. Hotchner should read the papers?
And relatives of 9/11 victims are once again unhappy with the Lower Manhattan Development Corporation and Governor Pataki, this time refusing to meet with Peter H. Woodin, a mediator named to reconcile all the disparate parties involved with the W.T.C. rebuilding process.
On the same Web page, The Times reports that the City Council passed legislation that would require city-financed construction projects to adhere to "green" standards, and Baruch College, at Lexington and 23rd Street, is getting a "wedgelike glass atrium with a twisting staircase" added to its facade to the tune of $250 million.
The New York Post has a preview of the Giants' "dazzling new stadium" which is due to open in 2009. The New Jersey Sports and Exposition Authority has to sign off on the project for it to begin.
Box 'em in! Related Companies is trying once again to get a BJ's built in the East Bronx. The company's resubmitted plans to the City Planning Commission, according to the Daily News, after losing its first bid for the store in February.
The paper also reports on a proposed rezoning in Woodlawn, Queens, which would limit new buildings to a height ceiling of 33 feet, similar to earlier rezonings in Pelham Gardens, Baychester, Laconia and Throgs Neck. (Laconia? Isn't that in Greece!?!)
The folks at Curbed.com gets a letter from a "Lycee mom" on the Lycee Francais' continuing waterlogged-basement travails. Seems they have calcium deposits in the their plumbing. Ouch, our dad had that once, too.