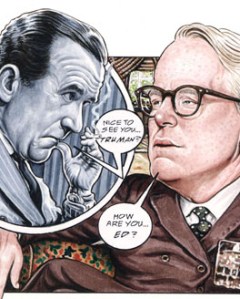 The New York Film Festival is a stubborn little New York City institution, defiantly separate from its film-festival peers. Nestled in the marble-and-wood confines of Lincoln Center, it doesn't have Cannes' beach-town glitz, nor the big, splashy world premieres of Venice. It doesn't offer hundreds of films or inspire the feeding frenzy of Toronto, or possess the indie cool of Sundance or the De Niro imprimatur of Tribeca. Now in its 43rd year, the festival remains true to its mission: 25 features picked from more than 1,500 submissions by a distinguished committee to represent the best of international film.
Preening starlets and Us Weekly will carry very little cachet inside the walls of Alice Tully Hall; the stars of this festival are directors often unknown outside cinephile circles: This year, Taiwan's Hou Hsiao-hsien (Three Times) and Romania's Cristi Puiu (The Death of Mr. Lazarescu) generate as much heat as Steven Soderbergh (Bubble). The audience is notoriously precious: One of the first showings to sell out this year was The Passenger, the film Michelangelo Antonioni made—in 1975. Also glaringly absent: little statuettes like Cannes' Palme D'Or or Venice's Golden Lion. The competition at the New York Film Festival is all about getting in.
"I've been turned down many more times than I've been accepted, as I think has everyone," said Michael Barker, co-president of Sony Pictures Classics. "It's a festival of great integrity." This year, Mr. Barker has five films—including Neil Jordan's Breakfast on Pluto, Michael Haneke's Caché and Bennett Miller's Capote—in the festival.
"It's a quieter festival. It has a kind of quiet dignity to it," said Premiere magazine's editor in chief, Peter Herbst. "I think that Sundance and Toronto and Cannes are wonderful film festivals. Part of the fun of those festivals is their market atmosphere—you're not only seeing films, you're watching the business arm of the movie business at its most interesting and sometimes most rapacious. At the New York Film Festival, you don't get that. For someone like me, who grew up going to the revival houses in Manhattan—the Thalia, the New Yorker, and seeing great foreign films at the Waverly downtown—this is the festival that's stayed true to that sort of way at looking at film. In the face of fashion and sensation, it still supports great understated filmmakers who bring you into the world of other countries."
"It hasn't wavered in what it is and what it's tried to be," said Peter Newman, producer of the Noah Baumbach–directed festival entry The Squid and the Whale. "They don't pay attention to hype or what the outside world is talking about. It's really about a love and appreciation of films."
In 1962, the composer and Lincoln Center president William Schuman decided that New York City needed a film festival; at the time, the only film festival in the United States was in San Francisco. He looked to the London Film Festival, which was then presided over by an American living abroad named Richard Roud. Mr. Schuman persuaded Roud to join forces with Amos Vogel, who was running the avant-garde Manhattan film society Cinema 16 and had been among the first to show Americans works by Roman Polanski, John Cassavetes, Robert Bresson and Michelangelo Antonioni.
The first New York Film Festival opened in 1963 with Luis Buñuel's The Exterminating Angel. Mr. Vogel resigned in 1969; Roud's influence shaped the following festivals, as New York film fans became intimately acquainted with Fassbinder, Godard and Truffaut. Martin Scorsese's early feature Mean Streets played at the festival in 1973, and he's credited the festival for jump-starting his career. Terrence Malick, Woody Allen and Milos Forman also received boosts.
"The first New York Film Festival movie I went to see was Le Dernier Métro by Francois Truffaut," said Michael Barker. "I remember how hard it was to get a ticket; I had gone with my mother to see 'the French film.' Gérard Depardieu and Catherine Deneuve were there, and Néstor Almendros, the cinematographer. I was awestruck. I had moved to New York from Texas, and that was one of the greatest things. It was amazing."
Things were certainly always interesting: There was the time a group of nuns picketed and extra security was needed for a 1985 showing of Godard's Hail Mary. Or the time when U.S. Customs seized Nagisa Oshima's In the Realm of the Senses before it could be shown due to naughty content. Speaking of explicit sexual content, some audience members walked out during Bernardo Bertolucci's Last Tango in Paris. In the following New Yorker, Pauline Kael called the evening "A landmark … comparable to … the night Le Sacre du Printemps was first performed."
"There was a film, The Assassination of Trotsky, one of the last ones that Richard Burton did, and it got blasted by reviewers," said Observer movie critic and former festival committee member Andrew Sarris. "The idea of Richard Burton as Trotsky was almost sacrilegious. The audience at the film festival just stood up and applauded."
The biggest scandal occurred in 1987, when Roud was ousted after what were termed "administrative difficulties" with Joanne Koch, the executive director of the festival, and Alfred Stern, the president of the Film Society of Lincoln Center. Not surprisingly, the chattering class was a dull roar of speculation. Richard Corliss of Time and David Denby, then with New York magazine, resigned in protest from the selection committee. "What I feared would happen did happen," Mr. Denby told The New York Times. "It looks like the old idea of what the New York Film Festival was is dead …. The whole idea of the festival was that it would offer the vanguard of taste."
"At this point it's so far away, and I certainly am not the person to want to open that up," said Richard Peña, Roud's replacement, who runs the show as program director of the Film Society of Lincoln Center and chairman of the festival's selection committee. "I think, unhappily, it was a very bad relationship between two good people, and unfortunately it came to a head."
Mr. Peña, who'd been hired to be the program director of the Film Society before Mr. Roud's ousting, had the unenviable task of stepping into some big shoes. He started to push past the boundaries of Roud's charmed Europe (some speculated that it was Roud's fear of flying that kept him from exploring other countries), bringing in more filmmakers from East Asia, Latin America, the Middle East and Africa. Festival-goers were introduced to Quentin Tarantino, Mike Leigh, Wes Anderson, Ang Lee and Paul Thomas Anderson. Those who may have feared the worst with Roud's departure began to relax.
"The most noticeable thing is that it hasn't changed," said Mr. Newman. "It's stuck to its doctrine."
"I always felt the consistency," agreed Mr. Barker. "I always felt the consistency in the way it's been run and the way it's been operated."
For Mr. Peña's part, these are words gratefully heard. "Nothing would make me happier than to think that I'm carrying on the tradition of Richard, and Amos Vogel," he said. "They had a wonderful vision."
A vision which continues to be gobbled up by the mischievously stereotyped New York film-festival audience: well-educated, film-loving Upper West Side and West Village liberals (cue the guy talking about Marshall McLuhan behind Woody Allen on line during Annie Hall).
"We look for viewers who see going to the movies as a kind of adventure," said Mr. Peña. "I think very often we've been told that people go to the movies to slip into something comfortable. New York Film Festival audiences want to do that sometimes, but at least at certain times of the year, they would like to be challenged. We have enough of an audience that is truly looking for very demanding work. I hear it all the time from filmmakers—how astonished they are at the Q&A sessions about just how knowledgeable our audience is."
"I think it's a smart crowd, but a lot of people don't realize that there's a substantial younger crowd that comes too," said Mr. Barker. "People used to think it was just an older Upper West Side crowd; that's not really the case." Old stereotypes die hard. "It's not a festival environment," said a downtown type with bleached spiky hair who regularly attends the festival. "There's usually some 80-year-old woman with breathing problems trying to bump your elbow off the arm rest."
This year, the film festival's choices are as eclectic as ever: It opens with the George Clooney–directed Good Luck, and Good Night, shot in black and white, about Edward R. Murrow's 1954 battles with Senator Joe McCarthy. There's Sympathy for Lady Vengeance, from South Korea's Park Chan-wook, and the latest from Lars von Trier, Manderlay.
Producer Peter Newman summed it up: "Other than the fact that it's good for The Squid and the Whale, and it's our home town, the thing I'm most grateful for is that I'm getting tickets to it."
"Being at Lincoln Center keeps me honest," said Mr. Peña. "I'm working at a place that had George Balanchine—we're not kidding around here, a genius! The fact that you're working in the same institution kind of makes you think maybe we can head in that direction."