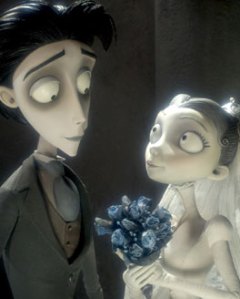 Tim Burton and Mike Johnson's Tim Burton's Corpse Bride, from a screenplay by John August, Pamela Pettler and Caroline Thompson, with original music by Danny Elfman, marks the 20th year of Mr. Burton's consistently eccentric endeavors with films that have found favor with young audiences, and with admirers of all ages for the strange, morbid and downright weird tendencies in his work. On the consumer-consultant level, let me say first that Corpse Bride is far superior artistically to Mr. Burton's Charlie and the Chocolate Factory, released earlier this year. Still, for all its merits, Corpse Bride depressed me immeasurably. The truth is that at my age, I find myself too close to intimations of mortality to appreciate Mr. Burton's merry romps in the graveyard. Perhaps a rating system should be devised for older moviegoers like me to shield us from Mr. Burton's matter-of-fact whimsies about bony skeletons with maggots in their eyes. Now in his mid-40's, Mr. Burton has never outgrown his fondness for the childlike (if not utterly childish) elements in motion-picture entertainment.
I say this because at the screening of Corpse Bride I attended, the children in the audience seemed delighted by the ghoulish proceedings much more than I was. But what do you expect? Death is far more remote a prospect for them than it is for an old geezer like me. In any event, Mr. Burton, like many filmmakers, seems to have had a comparatively lonely childhood. The biographical entry from Ephraim Katz's The Film Encyclopedia is instructive in this regard:
"Born in 1960 in Burbank, California, the son of a Parks Department employee, he spent many reclusive childhood hours watching cartoons and horror films on TV and began drawing cartoons while still in grade school. He won a Disney fellowship to study animation at California's Institute of the Arts and at the age of 20 began working at Disney as an apprentice animator. He achieved success with his own first animated film, the six-minute award-winning short, Vincent, modeled after and narrated by his childhood hero, Vincent Price. Turning to live-action shorts, he made a version of Hansel and Gretel featuring an all-Asian cast. He next directed for Disney Frankenweenie, a 30-minute live-action parody of Frankenstein in which the monster is a dog. Deemed too scary for children, the film was never released, but it led to Burton's hiring by Warner Bros. as the director of Pee-Wee's Big Adventure, which became a box-office hit. Meant for the kiddie market, the film struck certain critics with its originality, visual inventiveness, and an eye for the absurd, qualities that became Burton's hallmarks and were strongly evident in his next three films: the box-office sleeper Beetlejuice, the blockbuster hit Batman, and the widely acclaimed adult fairy tale Edward Scissorhands. The sequel Batman Returns extended the movie's weird symbolism of childhood images and adult obsessions. Following Batman Returns he signed a deal to produce films for Disney."
I have followed Mr. Burton's emergence as an undeniable auteur even when he did not direct his productions, but at a great distance—so great, in fact, that I can't remember for the life of me anything I ever wrote about him. I didn't dislike the Batman duo and was mildly repulsed by Edward Scissorhands and Beetlejuice, though I was moderately impressed by the subtly reticent acting styles of Johnny Depp and Michael Keaton.
Corpse Bride turns out to be a ponderous mixture of puppetry and animation that is far too technologically complex and laborious for this hopelessly Luddite reviewer, who is banging out this review on a Smith-Corona SCM Classic 12 portable typewriter. All I know is that all of the characters, living and dead, have huge eyes and misshapen bodies. The voices are provided by Johnny Depp as Victor Van Dort, the hapless bridegroom who finds himself engaged to two women, only one of them alive, at the same time: Helena Bonham Carter as the Corpse Bride and Emily Watson as Victoria Everglot, the living bride-to-be. Victor's parents are voiced by Tracy Ullman as Nell Van Dort and Paul Whitehouse as William Van Dort, Victoria's parents by Joanna Lumley as Maudeline Everglot and Albert Finney as Finnis Everglot. Richard E. Grant is the ever-sneering voice of total villain Barkis Bittern. Christopher Lee sounds off as the grotesquely domineering Pastor Galswells, and composer Danny Elfman (who's been with Mr. Burton from the beginning of his career) sings the voice of Bonejangles, the leader of the graveyard band.
The plot, such as it is, hinges on Victor's extreme clumsiness in the wedding rehearsal, forcing him to flee in humiliation to a wooded graveyard, where he mistakenly places Victoria's wedding ring on a tree branch that suddenly metamorphoses into the Corpse Bride's hand and finger, with the bride herself emerging in all her spare, skeletal form from the grave in which she'd been languishing ever since she was murdered by her wicked, fortune-hunting bridegroom. There is, at first, a touch of Ichabod Crane in Victor Van Dort, but with much broader strokes of hysterical nervousness. As the story develops, however, the lyrical expansiveness of Mr. Elfman's music provides a background of sweetness to serve as counterpoint to the attendant grisly details of decaying and disintegrating body parts. Indeed, if Corpse Bride works at all—and I am not sure that it does—it is as a mordant musical not without wit and a measure of emotional engagement.
All three leading characters take turns à deux for stretches of two-hand piano courtship, but the demarcation lines between this world and the next become increasingly blurry. This is especially true when the Bonejangles chorus steals the show (as it were) with their recurring refrain to each increasingly mournful stanza of the Corpse Bride's tale in "Remains of the Day."
It goes like this: "Die, die, we all pass away / But don't wear a frown 'cause it's really O.K. / You might try and hide and you might try and pray / But we all end up the remains of the day." Now I know somewhere inside me there's a little man nodding in agreement with the existential truth of the refrain, but I absolutely forbid this little man to clap in unison with the Bonejangles singers. What follows next in the narrative is as neat and sweet as a nursery rhyme. Normally, I would have considered the resolution of this bizarre triangle so sentimentally contrived that it became an example of having your cake (or corpse) and eating it, too. Still, Mr. Burton does come down, albeit belatedly, on the side of life and love, and I couldn't have stood it if he hadn't. So enjoy Corpse Bride if you can. I didn't, though I had to admit that it was pretty accomplished for what it was.
Daddy's Girl
Lodge Kerrigan's Keane, from his own screenplay, is the third distinctively independent and highly regarded first-person narrative film that Mr. Kerrigan has turned out in the past 11 years. He made his debut with Clean, Shaven (1994), a close study of a schizophrenic character named Peter (Peter Greene), who wanders about trying to find some purpose to his existence after being released from a mental institution. Meanwhile, his young daughter has been put up for adoption by her mother, a policewoman who suspects that Peter is the brutal murderer of another little girl and who is hot on his trail.
Mr. Kerrigan's second feature, Claire Dolan, was a more straightforward and less doubt-ridden narrative than Clean, Shaven as it followed the title character, played by the late Katrin Cartlidge, on her appointed rounds as a high-priced call girl operating in various locales between New Jersey and New York, a region that has become Mr. Kerrigan's chosen turf. It's a transient world of motels, cheap bars and one-night stands.
Keane is closer in its rambling indistinctness to Clean, Shaven than to Claire Dolan from the moment it begins, somewhat mysteriously, in the New York Port Authority bus terminal, where William Keane (Damian Lewis) is frantically searching for his 6-year-old daughter, who has been missing for six months after reportedly disappearing in the bus terminal while in Keane's care. At least that's what Keane claims as he buttonholes complete strangers with a picture of his daughter and a faded newspaper clipping of her disappearance, neither of which we ever see for ourselves, leading to the suspicion that the unkempt and seemingly demented Keane may have invented the whole story. For one thing, he is shown always muttering or even shouting aloud to himself as he is trailed relentlessly by cinematographer John Foster's handheld camera, which stays close to Keane, but not close enough to make the audience identify with his point of view. It's as if a third unseen person is keeping tabs on Keane for some unspecified reason.
Mr. Lewis, a highly talented British actor, displays a flawless American accent in what amounts to a hyper-Wellesian monopolization of screen time and screen space. Just when he has begun to exhaust our patience by inciting a silly brawl around a taxi stand with a man he pointlessly suspects of having kidnapped his daughter, the plot begins to thicken considerably as he meets a down-on-her-luck single mother, Lynn Bedik (Amy Ryan), and her 7-year-old daughter Kira (Abigail Breslin) at his hotel. Keane is clearly fascinated by the little girl, possibly because she reminds him of his own lost daughter, and just possibly because he is a dangerous pedophile who has fantasies about a long-lost daughter.
We have seen Keane indulge in a coke-sniffing bathroom-stall sexual encounter with an otherwise unidentified woman, but his lack of sexual potency in this encounter arouses more suspense-laden suspicions of his sexual perversities. When Lynn asks Keane to baby-sit her daughter while she goes out of town to get some child-support money from her ex-husband, the tension rises perceptibly as Keane and Kira bond together like devoted surrogate father and completely trustful surrogate daughter. As Kira, well played by the completely adorable Ms. Breslin, tries to cheer up the despondent Keane, he never makes the false or suspicious move we anxiously anticipate. I can't say if Mr. Kerrigan is playing dirty pool with us in the audience or not. Child molestation is still a grave taboo, both on and off the screen, but recent films have crossed the line (particularly in the "independent" sector), and in any event, we can never be sure about a character who seems to belong in a mental institution.
Indeed, I don't want to short-circuit the suspense by telling you what happens in the end. Still, I cannot avoid some auteurist speculation about a cryptic biographical note that Mr. Kerrigan included in the production notes for the film: "He lives in New York City with his daughter Serena." In his first film, Clean, Shaven, the protagonist has lost custody of one daughter and is suspected of the murder of someone else's daughter. In Claire Dolan, the protagonist wants to abandon prostitution so that she can have a child of her own. And in Keane, a possibly real daughter is almost magically replaced by a surrogate daughter with a strikingly similar backpack in the same bus terminal.
The obsession with daughters is plausible enough, but the mobile solitude of Mr. Kerrigan's protagonists raises different questions about the auteur's vision of life and society. It would seem that we are all swimming in a sea of communal indifference, and I suppose this is as apt a description of today's world as any.
More Wilder
"Some Like It Wilder: The Complete Billy Wilder," a 26-film retrospective, continues its run at the Museum of the Moving Image (35th Avenue at 36th Street, Astoria) with A Foreign Affair (1948), Wilder's raucous return to Berlin after the war, with Marlene Dietrich cast against reality as an unrepentant Nazi and Jean Arthur brutalized as an Iowa Republican Congresswoman in an uneven sexual competition with Dietrich for the love of a corrupt American soldier (played by John Lund). Also prominent in the cast is Millard Mitchell, as the comically no-nonsense commanding officer. Dietrich sings "Black Market" and "Ruins of Berlin." The hilarious screenplay was credited to Wilder, Charles Brackett and Richard Breen, and the on-location footage of bombed-out Berlin made its own wry statement. (Saturday, Sept. 24, 2 p.m.)
Stalag 17 (1953) was reportedly superior to Donald Bevan and Edmund Trzcinski's Broadway stage hit. In the film adaptation by Wilder and Edwin Blum (which won an Oscar for William Holden), the initially prickly anti-hero turns unexpectedly heroic in a Nazi prisoner-of-war camp, the aforementioned Stalag 17. The splendid ensemble cast includes the impromptu comedy team of Robert Strauss and Harvey Lembeck (reprising their stage antics), Don Taylor, Richard Erdman, Peter Graves, Neville Brand, Ross Bagdasarian and Gil Stratton Jr., as well as the brilliantly acted and wittily written villains of Otto Preminger (as the sardonic camp commandant) and Sig Ruman (as the deceptively jovial barracks guard). Despite the later Hogan's Heroes—the tasteless sitcom "inspired" by the film's success—Stalag 17 remains one of Wilder's most resonant blends of comedy and melodrama. (Sunday, Sept. 25, 2 p.m.)
The Front Page (1974) is—alas—Wilder's tired remake of Howard Hawk's His Girl Friday (1940), which had deftly heterosexualized (with Cary Grant and Rosalind Russell) the original buddy-buddy romance of the Ben Hecht–Charles MacArthur 20's stage comedy, as well as the 1931 Lewis Milestone film version with Adolphe Menjou and Pat O'Brian (after producer Howard Hughes reportedly turned down Clark Gable and James Cagney, in the early stages of their careers, for the lead roles). In the Wilder version, Jack Lemmon and Walter Matthau restore the venerable buddy-buddy tradition. (Saturday, Oct. 1, 2 p.m.)
The Apartment (1960), being shown in a restored 35-millimeter Dolby Digital print, won well-deserved Oscars for Best Picture, Best Screenplay (Wilder and I.A.L. Diamond), Best Editing (Daniel Mandell) and Best Art Direction–Set Decoration (Alexandre Trauner and Edward G. Boyle). Undeserved was Shirley MacLaine's Oscar loss as Best Actress; her winsome bad-girl performance was infinitely superior to Elizabeth Taylor's ridiculous call girl in Daniel Mann's Butterfield 8, for which Ms. Taylor won one of her periodic Hollywood awards paying tribute to her cynical acquisitiveness and well-oiled publicity machine. Fred MacMurray is saddled with the thankless role of cheating husband and mean-spirited adulterer, but Jack Lemmon and Ms. MacLaine are nothing short of exquisite in their shared vulnerabilities, which they finally triumph over in a burst of spectacular camera movement. (Saturday, Oct. 1, 4 p.m., and Sunday, Oct. 2, 4:30 p.m.)