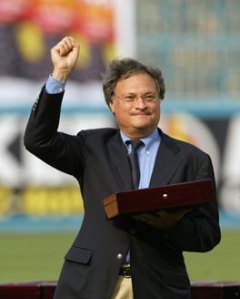 Shortly before the Florida Marlins began spring training, Sivia Loria filed for divorce from her husband of 25 years, team owner Jeffrey Loria. So it seemed inevitable that she would eventually move out of the couple's duplex apartment in one of the Upper East Side's best co-ops.
Although leaving behind a 7,000-square-foot spread is difficult, having a luxurious alternative nearby could ease the transition. Ms. Loria recently purchased a spacious bachelorette pad in the Chatham for $7.1 million, according to deed-transfer records.
"It's a wonderful apartment in an exceptional building," said Laurance Kaiser IV, president of Key-Ventures Realty.
The 2,940-square-foot apartment includes three bedrooms, five bathrooms, a library and a maid's room. Located on a high floor, the apartment provides excellent Central Park and river-to-river views.
Architect Robert A.M. Stern designed the 34-story tower, which was completed about six years ago. The full-service condominium boasts its own Equinox fitness center, hair salon, laundry room and garage.
Elizabeth Lee Sample and Brenda Powers of Brown Harris Stevens represented the sellers of the apartment, which brought in slightly above the asking price. The brokers declined to comment on the deal.
A longtime New Yorker, Mr. Loria made his fortune as an art dealer and continues to work in the industry (as does his now-estranged wife).
However, a love of baseball would lead him to spread his wealth around the country. In the late 1980's, he bought a Texas Rangers minor-league franchise, and then he tried unsuccessfully to purchase the Baltimore Orioles in 1993. In 1999, he snatched a controlling stake in the Montreal Expos, later selling the struggling team to Major League Baseball for $120 million in 2002, a precursor to the franchise's move down to Washington D.C. Next, Mr. Loria purchased the Marlins for $158 million and happily watched them become World Series champions a year later.
Although the couple is getting divorced, some family members will stay in close contact. David Samson, Sivia's son from a previous marriage, is the Marlins' team president. In the early 1970's, Ms. Loria divorced attorney Allen Samson and walked away with a six-figure settlement and several valuable works by Pablo Picasso and Andy Warhol, according to a report earlier this month in the Palm Beach Post.
Why would a local newspaper be concerned with what Ms. Loria receives after the divorce?
Well, some Floridians fear that Mr. Loria—reportedly worth $400 million—might not have enough money left after the divorce to build the new stadium for the Marlins, who are currently battling for a wild-card playoff spot in the baseball season's waning days.
Certainly, New Yorkers have been uneasy about allowing Wal-Mart onto the island, but that shouldn't extend to the kin of the superstore chain. Josh and Whitney Kroenke—grandchildren of late Wal-Mart founder Bud Walton and children of Denver Nuggets owner Stan Kroenke—are going where the discount store has not: straight into Manhattan.
The siblings purchased a 1,700-square-foot apartment in Chelsea for $2.70 million, according to deed-transfer records.
The two-bedroom, two-and-a-half-bathroom apartment comes equipped with brand-new amenities. It also features a terrace and a balcony.
The apartment was first listed at $2.95 million in May and then reduced to $2.85 million, before selling for $150,000 less. Michael Moore of Prudential Douglas Elliman had the listing. He is currently out of the country and didn't return calls for comment.