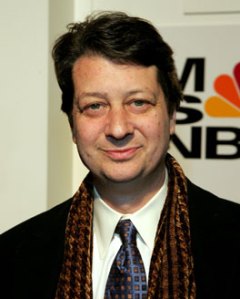 In a move that came as a surprise to exactly no one in the television news industry, on Tuesday morning, amid a mind-spinning confluence of big news stories, Neal Shapiro formally announced his intention to step down as president of NBC News.
In a letter to his staff, Mr. Shapiro said that since last spring, he has been considering whether he wants to continue in the job.
"Specifically," he wrote, "I wondered if I would find the next few years as personally fulfilling as the first four I have spent as the President of NBC News. I also found myself missing the opportunity for the kind of creativity I've had in previous jobs."
Mr. Shapiro's last day will be Friday. His temporary successor is Steve Capus, a network hotshot who has catapulted through the NBC ranks, moving from executive producer of the Nightly News to senior vice president of the news division to interim head of NBC News in three months.
Speculation over who will ultimately fill the position continued apace on Tuesday afternoon, with staffers bandying about the same list of names of possible permanent successors that they have been for months: Mr. Capus; Paul Slavin, the senior vice president of ABC News; Phil Griffin, the NBC executive in charge of Today; former NBC Entertainment president Scott Sassa; Henry Schleiff, the chairman of Court TV; and a few handfuls of others.
One open question is whether NBC is searching for a replacement news chief or an "über-czar" who would oversee the cable network CNBC as well as MSNBC and the broadcast-network news.
Rumors that NBC wouldn't be renewing Mr. Shapiro's contract began last spring, when ABC's morning and evening news shows began gaining ground on their long-dominant NBC counterparts. Shortly thereafter, Mr. Shapiro, known as a low-key leader, promoted executives David Verdi and Mark Lukasiewicz to senior vice-president positions, in which they assumed some duties previously handled by Mr. Capus. That move set Mr. Capus up as at least Mr. Shapiro's temporary successor.
Thus, the announcement of his latest ascension surprised some network insiders only by the swiftness with which it was made. NBC president Jeff Zucker sent the announcement to NBC's news-division staffers a matter of minutes after Mr. Shapiro notified his colleagues of his plan to step down.
Where Mr. Shapiro will go is also unclear. In his goodbye note, he said he might continue at NBC Universal or he might move elsewhere. But in Mr. Zucker's note, he thanked Mr. Shapiro for nearly 13 years of service to NBC—which, said one insider, "seems like the sort of thing you say to a person walking out the door."
An NBC spokesperson declined to comment.