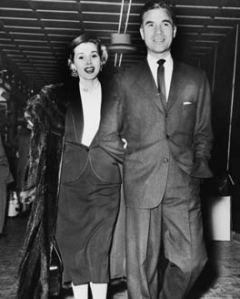 And let us now praise famous men, with particular attention to those who were famous only for being famous. They were heroes, too—they kept tongues wagging and gossip columnists gossiping and rumors flying, until they didn't any longer and slipped into oblivion. But occasionally one of these figures rouses the interest of a journalist or biographer or social historian, and then he's back among us—interesting as an artifact of a vanished zeitgeist if not interesting in himself.
Which brings us to the latest disinterred hero of this species: Porfirio Rubirosa, or The Last Playboy, as his biographer, Shawn Levy, calls him. Raise your hands, boys and girls, if any of you under the age of 50 remember him. It doesn't count if you're from the Dominican Republic, have specialized in the history of polo, or have been studying the memoirs of Zsa Zsa Gabor (either version). Zsa Zsa and "Rubi" specialized in each other when they weren't marrying everyone else; in fact, they would seem to have been each other's nearest equivalent, their lives lived in headlines, nightclubs and between the sheets, although she was sometimes to be found in front of a camera, while he could be found on a horse or behind the wheel of a racing car.
Rubi was born in 1909, the last child of a fierce, dominating father and a pious mother. The father, Don Pedro, was macho to the max, what Mr. Levy calls a tíguere, or tiger, the "essential defining characteristic of the Dominican alpha male." A tíguere "bore the savor of low origins and high aspirations, as well as a certain ruthless ambition that barred no means of achieving his ends: violence, treachery, lies, shamelessness, daring, and, especially, the use of women as tools of social mobility. A tíguere always married to advantage." Tígueres were also "handsome, graceful, strong, and well-presented, possessed of a deep-seated vanity." Don Pedro qualified on all counts, but he was to mellow through the years, becoming a diplomat whose career took him to Paris when Rubi was 6—Paris, which was to remain Rubi's lifelong spiritual home, if "spiritual" is a word that can usefully be applied to him.
To call Rubi's formal education checkered is to flatter it, but he effortlessly mastered the things that counted—clothes, sports, sexual charisma; the things that were essential to becoming what he recognized himself to be: "I am, and will always be, a man of pleasure."
By the time he reached manhood, his country was firmly under the rule of the notorious strongman Rafael Trujillo, who had a string of puppets "elected" president while he chose to reign as the Generalissimo, "adding an unprecedented fifth star to his epaulets and another title to the encomia by which he demanded to be addressed." (That unprecedented use of "encomia" is echt-Levy, a tíguere of English prose. Stand by for further examples of his original way with words.)
From the start, entwined with Rubi's life as a man of pleasure was a sometimes official, sometimes hidden, sometimes antagonistic relationship with Trujillo, his leader, his occasional boss and—oh, yes—his first father-in-law. Trujillo's daughter, Flor de Oro, had been sent off to Paris as a young girl to acquire some French polish. Summoned home by the Generalissimo at the age of 17, she was soon swept off her feet by her country's most polished young man. He seems to have loved her in return, but under the strains of Rubi's womanizing and Flor's divided loyalties, the marriage collapsed, leaving Rubi dangerously out of favor with her father and Flor on her way to husband No. 2 … and eventually on to husbands Nos. 3 through 9. Rubi managed only five marriages, but made up for it with countless affairs, flings and quickies.
His post-Flor wives included France's most highly paid movie star, Danielle Darrieux, and the two most famously rich women in the world, Doris Duke and Barbara ("Babs") Hutton. Doris, whose fortune amounted to more than $3 billion in today's money, demonstrated her love for Rubi with gifts ranging from a plantation back in the Dominican Republic to a "B-25 bomber fitted out as a private airplane." The wedding was huge news everywhere ("Doris Duke Weds Smoking Latin"). The divorce, which took place 14 months later, was quieter, with Rubi netting their elegant house on the rue de Bellechasse and alimony of $25,000 a year (more than $200,000 today). There were attempts at a reconciliation, despite her almost catching him in bed with Christina Onassis, but it didn't pan out. Even so, Doris, according to Rubi's brother, Cesar, was "by far the nicest of any of Porfirio's wives."
Among the (many) other women he was linked to on his detour from Doris to Barbara were "actresses such as Gene Tierney, Dolores Del Rio, and Veronica Lake; the great Portuguese fado singer Amelia Rodrigues; no-name showgirls in London and Paris; the wives and girlfriends of his polo and race-car driving peers; women from noble circles such as the Contessa Nicola-Gambi of Italy, Countess Marita of Spain, and Queen Alexandra of Yugoslavia. ('Rubi,' an old friend joked, 'has become a baron by a process of bedroom osmosis.')" All of this highly publicized activity got him back into the good graces of the Dominican regime, which viewed his notoriety as the best public relations it could muster. "The only way Rubi can fall from favor in the Dominican Republic is if he loses his sex appeal," is how one official put it. The Generalissimo (now known as "The Benefactor") put it this way: "He's good at his job because women like him and he's a wonderful liar." An unbeatable reference.
It was during the lull between billionaire wives that Zsa Zsa came into the picture, "in the throes of fame and stardom." They met in a hotel elevator in New York, and Rubi "found himself agog." Instantly, he installed himself in the suite next to hers and, wouldn't you know it, she couldn't zip up the dress she was wearing to the premiere of her movie Moulin Rouge. A quick phone call and "He was over in a flash, zipped her up, helped her on with her coat: a complete gentleman. But the air between them was as thick and electric as before a thunderstorm. She extricated herself from the pregnant pause and made off for her premiere." You won't be surprised to hear that the storm soon broke. Within months she was telling her mother, "Rubi is a disease of the blood. I cannot be without him."
Many dramas would be acted out before she was without him, the most notorious involving a jab in the eye when Zsa Zsa provoked him by asserting that, despite all, she still loved her ex-husband, movie star George Sanders. "I SAID NO, SO PORFY POKED ME," headlined the New York Daily News. And on page 1 the very next day: "BABS WEDS RUBI—KEEPS MONEY / SAYS 'SÍ' AS DOMINICAN CITIZEN." The Post? "RADIANT BABS YEARNS FOR A BABY; COUPLE PLANNING TO LIVE IN PARIS." The following day in the News? "RUBI MOVES IN HIS WARDROBE; HE IS STAYING." Barbara Hutton had acquired her man (among her previous acquisitions had been Cary Grant) for the modest lump-sum payment of $2.5 million. Within months, the marriage was essentially over—you could say Babs had rented him for the season—and Zsa Zsa was back on the scene. But not permanently. "I could not marry Rubi. He wants me to give up my career and live with him in Paris. I could never give up acting. It is my life."
However heartbroken he may have been, Rubi managed to console himself. "By the time he and his Hungarian soul mate ended their mad intercontinental caravan of sensations, he had dallied among the likes of Eartha Kitt and Ava Gardner and Rita Hayworth and Empress Soraya of Iran." Or he hadn't dallied. In the case of ­Hayworth, "The rumor was that Rubi ­­didn't go through with it because Aly [Khan, Rita's ex] said he'd consider it a favor if he didn't." Anything for a friend. As for Ava, "She denied the whole thing up and down."
Does it really matter whether they did or they didn't? The only real question is what exactly he had that drew all these ladies to him. A hit Cuban song of the 50's put it this way: "¿Que Es Lo Tuyo, Rubirosa?" ("What Have You Got, Rubirosa?") And if you know only one thing about "Porfy," you already know the answer, though it takes Mr. Levy 125 pages to get to it: "There is no way around saying it out loud: The man was well-hung, hung, indeed, legendarily, his superhuman endowment a calling card that recommended him to circles into which he might otherwise never have gained admittance. Women heard about it, wondered about it, whispered about it, had to see it, hold it, have it—and who was he to deny them?"
And who are we to doubt? The evidence is ironclad. Society photographer Jerome Zerbe, "on a dare, followed Rubi into the men's room. He skittered out gleefully, the story went, with the intelligence, 'It looks like Yul Brynner in a black turtleneck!'" Even more persuasive: Doris Duke reported to her godson, "It was the most magnificent penis that I had ever seen … six inches in circumference … much like the last foot of a Louisville Slugger baseball bat with the consistency of a not completely inflated volleyball." I can't quite picture it, but I'm impressed.
Sexual adventures and sports weren't the only elements of Rubi's life, however. He spent a good deal of his time on tawdry moneymaking schemes that never paid off—he wasn't, he ruefully acknowledged, much of a businessman. And he continued to make himself useful to Trujillo, who "had come to rely, curiously, on Rubi's contacts, renown, and blend of palaver and charm as tools of diplomacy …. Who could believe that such a superficial fellow was actually an important cog of Trujillo's machinery of power?" He was named Ambassador to Cuba, then inspector of embassies, a gig happily located in Paris. And when the Benefactor was assassinated, Rubi performed the same kind of services for his semi-psychopathic son, Ramfis. He did extensive lobbying for Dominican interests, trying to persuade Washington that the Trujillo regime was an essential bulwark against Communism in the Caribbean, and impressing the Kennedys, with whom he had become friendly—cruises off Hyannisport, partying with the President and Sinatra and the Lawfords ….
When the Trujillo dynasty was finally dismantled and replaced by a frail democracy, Rubi's career ended. As a result, his diplomatic immunity was gone, and he was finally vulnerable to investigation by the New York D.A. for his presumed involvement, decades earlier, with the murders of various anti-Trujillo exiles. He got away unscathed, but his effective life was over.
He cared for his fifth and final wife, Odile Rodin, an actress 28 years his junior, but she was growing restive with their increasingly circumscribed existence in Paris. He was 56, and his body was slowing down. At 8 in the morning of July 5, 1965, after a night spent celebrating a successful polo tournament, he crashed his silver Ferrari in the Bois de Boulogne. He had been going 80 miles an hour, and he was alone.
A year later, Harold (The Carpetbaggers) Robbins published a best-selling novel centered on Rubi's life. (The word "loins" is in constant play.) It was called The Adventurers, its hero was named Dax, and the cast of characters included barely concealed "adventurers" like the Kennedys, Doris Duke, Oleg Cassini, Maria Callas, Elsa Maxwell, Zsa Zsa Gabor, Danielle Darrieux, the Trujillos—you get the picture. All of them were instantly identifiable, and not one of them was remotely believable. Dax was nobler than Rubi—a true patriot at heart—but, I'm afraid, considerably less amusing. A few years later, this 781-page epic (I'm putting in for combat pay) was translated into a risible three-hour schlock-fest of a movie, featuring as Dax a young Yugoslavian actor named Bekim Fehmiu who, as Mr. Levy puts it, looked like "a degenerate cross of Ringo Starr and Jean-Paul Belmondo." What a sad comedown for the elegant, charming, worldly Rubi.
On the other hand, there is this new biography, which makes what may be a lasting contribution—not with its content, but with its insidious use of a kind of alternative English. Again and again, Mr. Levy gets words and phrases almost right; you start to wonder whether it's he or you who's crazy. Just a few examples: "It seemed the destiny of the country always to roil"; "the kidskin coat he wore as a redoubt to the astonishing cold"; "a caravan of trucks … wended from the capital"; "It helped to have an equanimous sense of humor about yourself"; "He gadded for a while"; "Then Barbara arrived, and that inkling of joy quickly vanished"; "she shed herself of Alexis"; "his presence was decidedly vestigial"; "leaving behind a note that read, in its gist, 'I am bored'"; "He steered Ramfis with a ginger hand"; "By eleven-thirty everyone had filtered away."
Did the editors at Fourth Estate filter away before The Last Playboy went to press? No. In his acknowledgments, the author credits Rachel Safko, who "served the office of traffic cop genially," and David Falk, who "was equally genteel in his copyedit." Mr. Levy is also "in the perennial debt" of his agents Richard Pine and Lori Anderman, "my longtime partners in genteel crime." Which reminds me to acknowledge here my perennial debt to Adam Begley, my own longtime genteel editor.
Uh-oh—can this kind of thing be catching?
Robert Gottlieb was editor-in-chief of Knopf and the editor of The New Yorker. He is The Observer's dance critic.