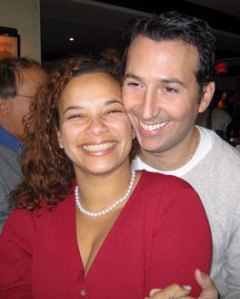 Maritza Fanith and Paul Edelstein
Met: April 20, 2003
Engaged: Dec. 20, 2004
Projected Wedding Date: Sept. 10, 2005
Buried in personal-injury casework at his downtown Brooklyn office, attorney Paul Edelstein suddenly realized that he had left a package of the Puerto Rican delicacy pasteles, a gift from a colleague, at the courthouse across the street.
As he rushed into the building, he noticed Maritza Fanith, a green-eyed Dominican brunette, rushing out, and decided that the pasteles could wait. "Hey," he said, catching up to her, "you look like another satisfied juror."
"Oh, man—don't tell me you're a lawyer," said Ms. Fanith, a residential real-estate broker.
Guilty as charged!
"Where are you going?" asked Mr. Edelstein, who is tall with brown hair. "Can I come?"
"I'm getting coffee," Ms. Fanith said.
"Really? Me, too."
"Look, I have to go get my cell phone fixed."
"Me, too!"
Ms. Fanith finally agreed to coffee, which segued into sushi at Osaka on Court Street. "I'll get you out of jury duty!" Mr. Edelstein promised.
The next day, when Ms. Fanith entered the courthouse, she was called up to a window where Mr. Edelstein was waiting and relieved from duty. (Gotta love the integrity of our criminal-justice system …. ) They went for lunch at Caffé Buon Gusto nearby. The next evening, it was Mexican food and tequila at Dos Caminos on Park Avenue South.
"We had sex that night!" Mr. Edelstein said.
"You wish," said Ms. Fanith, 33. Actually, they just kissed.
"That was the only kiss I got in six months," said Mr. Edelstein, 37.
It didn't take her long, though, to introduce him to her mother, three brothers and twin sister at her family home in Sunset Park (that's also in the Borough of Kings, you numbskull).
When one of the brothers decided to get hitched, Mr. Edelstein had a sudden brain wave.
He and Ms. Fanith were traipsing through the Metropolitan Museum of Art one day when he suddenly paused at the Temple of Dendur. "Wait," Mr. Edelstein said, "I learned something new about the temple." He then told her some cockamamie tale about young Egyptian lovers who used to make a wish under the structure's Sign of Isis; apparently, if they were really in love, it would come true.
Ms. Fanith closed her eyes. When she opened them, her sweetie was on his knee, clutching a princess-cut diamond sandwiched between two baguettes. Total: 2.1 carats. Take that, King Tut!
"Is this what you wished for?" Mr. Edelstein asked.
Actually, she had asked the gods to bless them with twins.
The couple endured the fond awww!'s of out-of-town museumgoers enjoying an authentic New York moment before proceeding to the Central Park Boathouse, where her family was waiting to congratulate them.
Their wedding will be a cross-cultural extravaganza at the Tobacco Warehouse in Dumbo, with a rabbi presiding over the ceremony and a spit-roasted pig at the reception.
Only after their affair is made legal will Ms. Fanith move into Mr. Edelstein's Heights one-bedroom. "It was a raucous bachelor pad when we met," he said. "Now it's being painted yellow."
Suzanne Fitzpatrick and Lee Siracuse
Met: March 9, 2004
Engaged: March 9, 2005
Projected Wedding Date: Sept. 10, 2005
Money honeys! Suzanne Fitzpatrick, 39, the coiffed blond associate publisher of Investment News, will marry Lee Siracuse, 37, a dark-haired asset manager for Equity Office Properties, at the Manhattan Penthouse, an airy and luxurious party space incongruously located above the Lucille Roberts Fitness club on 14th Street and Fifth Avenue.
"It was love at first sight," said Ms. Fitzpatrick between sips of a champagne cocktail at Aquavit the other day. "Since the day that we met, Lee and I have spoken every day—no exception."
"I haven't had a choice," said Mr. Siracuse, who was drinking club soda, his BlackBerry close at hand.
"Honey, that's not funny," Ms. Fitzpatrick chided.
They met at the midtown saloon P.J. Clarke's. Bill Withers' "Lovely Day" was playing on the jukebox, and Ms. Fitzpatrick, desperate to "name that tune," approached the gentleman next to her—Mr. Siracuse's drinking companion. In the conversation that ensued, she owned up to a fondness for Pearl Jam.
Undaunted, Mr. Siracuse took her out to dinner at Beppe that very weekend. Over red wine (which he spilled all over his light blue shirt), Ms. Fitzpatrick rhapsodized about all the European vacations she'd taken. "You've been to Italy, right?" she asked.
"Um, yeah," Mr. Siracuse said.
A few dates later, Ms. Fitzpatrick returned to a favorite topic. "Venice is beautiful—have you been there?"
"Look," Mr. Siracuse said, "I won't do this again, but I lied to you. I've never been to Italy."
"What?" Ms. Fitzpatrick said with a gasp. "You've never been to Italy?"
Before her next trip, she left her new beau in charge of her cats, Woody and Mia (nothing foreboding there!). "He was a dog person, but now he's in love with the cats," she said.
"I like the cats," he corrected.
"If we could, we would dress them up and have them in the wedding," Ms. Fitzpatrick said.
Mr. Siracuse grimaced and shook his head.
Fur follies notwithstanding, he soon forsook his Upper East Side studio for her one-bedroom in the same neighborhood and began entertaining thoughts of marriage. After consulting with a friend of Ms. Fitzpatrick's who works for KR Diamonds, he came up with a delicate beast made up of a total of 95 diamonds, with a large center oval diamond and smaller stones set around it and along the platinum band. He proposed back at P.J. Clarke's with a card that read: After I saw you, I wanted to meet you, after I met you, I wanted to know you, from the moment I knew you, I was in love with you. From then until now, I want to spend the rest of my life with you. (He had bought it three years earlier on a whim and saved it for the right woman.)
It was a dark and stormy night, and the anniversary of their first meeting.
"That way," Mr. Siracuse said, "I only have to remember one date instead of two."