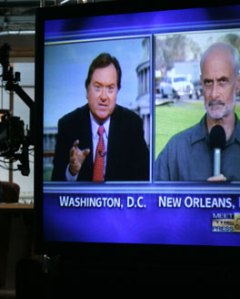 "People inside were literally dying," ABC News correspondent Chris Bury told The Observer over the phone.
He was talking about the New Orleans Convention Center, where he spent the day on Friday, Sept. 2, and from which he filed an impassioned report on the evacuees from the sinking city who had sought refuge there and found horror.
"When you're confronted with American citizens who are doing the right thing and are neglected and abandoned, it makes you mad. It made me mad."
Mr. Bury and a Nightline crew had ridden out the storm in Biloxi, Miss., and arrived in New Orleans long after the storm had passed—but just as the real terror had begun. His reports of the city's desperation earlier in the week had been tinged with hope: buses were promised, he told the Nightline anchor desk one night, for evacuees standing on the interstate. The next morning, Mr. Bury was there again. Not enough had come. Some people—many old or infirm—had now been waiting for a full day.
Things were bad in the city, he reported on Thursday. By Friday morning, his resolve seemed to stiffen: Things weren't just bad, they were horrific. And someone—the President, in fact—was to blame.
"This morning," Mr. Bury told Nightline viewers as the Labor Day weekend got underway, "it seemed an entire city was reduced to begging the President of the United States for help."
Reporters like Mr. Bury covering the aftermath of Hurricane Katrina are ripping away the kinds of journalistic niceties that have attended most of the major news events since President George W. Bush took office. The kinds of questions that came up at the dawn of the war in Iraq—is it O.K. to report from the flatbed of an Army truck and follow troops around if it means you can penetrate into the center of the conflict?—seemed perverse in the New Orleans left behind by Hurricane Katrina. Now the question was: Where are the trucks? New Orleans was getting angry. Reporters were getting angry. And that anger was part of the news.
"We certainly tried to keep our personal feelings out of the reporting," Mr. Bury said. "But if some of that came through, I'm not sure it's an altogether bad thing."
Scott Gold, the Houston bureau chief of the Los Angeles Times, has been filing raw, unmediated accounts of what he witnessed there over the past week and a half.
"I really just wrote down what I saw, and what I saw was the saddest and most tragic thing I had ever seen," Mr. Gold said by phone from downtown New Orleans on Sept. 6.
What did he see?
"A 2-year-old girl slept in a pool of urine," he wrote in the Times, describing the scene at the Superdome a day before Mr. Bury had arrived. "Crack vials littered a restroom. Blood stained the walls next to vending machines smashed by teenagers.
"The Louisiana Superdome, once a mighty testament to architecture and ingenuity, became the biggest storm shelter in New Orleans the day before Katrina's arrival Monday. About 16,000 people eventually settled in.
"By Wednesday, it had degenerated into horror."
Speaking to The Observer later, Mr. Gold said there was no conscious effort to transmit anything but the news.
"I saw no need to dress it up or approach it with any point of view, or to make it sound any more dire or tragic than it was," he said. "This is what it was."
On Thursday night, Michael Brown, head of the Federal Emergency Management Agency, confessed to CNN anchor Paula Zahn that he had learned of conditions in the Superdome from reports issued that day by reporters like Mr. Gold.
"For the most part, we generally arrive at this type of story either just after or as the first responders are responding," said David Verdi, a senior vice president for NBC News. "We're usually standing shoulder to shoulder with the firemen or the policemen or the Marines, which allows us to record the incident. In this story, however, we were here before there was a first responder, and what made this particularly tough was that after Day 2, when it became very apparent to us that there were people in need, there were no first responders that we could see. The situation was going to deteriorate very quickly."
The combination of a sudden catastrophe, diminished communications and a lack of any authority on the ground for days to disseminate, filter or spin Katrina's aftermath has remade the press, and its relationship to the Bush administration.
"Our job is to aggressively pursue the story," said Mr. Verdi. "It's a major story on Day 2 and Day 3 when no help shows up to a very easily accessible location like outside the Superdome that all the major networks have been showing to the world. Valid question: Where the hell are ya?"
Across the Gulf Coast, other television reporters had already combusted. On CNN, in an oft-forwarded capsule of television reporters' growing antagonism, Anderson Cooper reamed Louisiana Senator Mary Landrieu in a Sept. 1 interview.
"For three nights, I'd been listening to politicians on Larry King and the other shows, going back and forth thanking each other," he said. "That's the first thing out of their mouths. But that's not the reality on the ground. There are a lot of angry people down here. I certainly understand where they're coming from."
In a satellite-phone interview from New Orleans' beleaguered Ninth Ward, Mr. Cooper said the disparity between what far-flung officials continued to say and what was happening on the ground became exasperating.
With a 13-man crew sleeping in a pair of R.V.'s, Mr. Cooper and his team wake at dawn and troll through the city looking for stories, burning gas doled out five gallons at a time. In the middle of the phone call, Mr. Cooper stopped to thank a local firefighter he had just interviewed on air.
"How much fuel you got now in your car?" he asked. "That's it? You're on your own? You haven't seen FEMA around this area at all? Unbelievable."
"I was born and raised in New Orleans; my family has been living in southern Louisiana since 1836," said Nicholas Lemann, the dean of the Columbia Graduate School of Journalism. He had two reasons to watch the coverage of the hurricane closely: his father and his stepmother, who had been away on vacation from New Orleans. They had decided to return to the city on Saturday so they could get into town before the hurricane shut out air travel.
"On Tuesday and Wednesday, which are the key days in question, what we now know is, if you were fortunate enough to live in the one-third of the city that was never flooded, you could always have gotten in that car and driven out of town in case of trouble," Mr. Lemann said. "They always had a way out. But that was really, really unclear at the time for my 79-year-old dad, trying to decide about leaving the house and not knowing."
Their debate about whether to leave on Wednesday night was motivated in part by a report of an armed gang attacking a children's hospital a couple of blocks away from his father's home; the report was later corrected, and now Mr. Lemann's father and stepmother are in Houston.
"In my own case, I was really looking for news you could use. I wanted to know what roads were dry and how do you get out of town, and it was incredibly hard to find that," Mr. Lemann said. People on the ground—bloggers, "individual self-appointed journalists" publishing on the Web—were responsible for a lot of his information.
But certainly not the government.
"In theory, the government should never be able to act as a filter for information," said Mr. Lemann. "In practice, of course, it often is. It's never totally successful—but with something like the war in Iraq, for a whole bunch of reasons, it's much easier for government to be the filter for the press. But that was not the case here."
And while the level of emotion in the reporting from the hurricane zone didn't surprise him, the level of anger did.
"I agree there's this unfiltered quality to it, but I think that's more common in disasters than you might think," Mr. Lemann said. "But the other thing is reporters saying, 'I'm angry about this.' My impression is, if you were there, the conditions were so shocking, it led people to emote more than [the] general professional standard in journalism, which is now being widely applauded."
In fact, the circumstances were so shocking to reporters that according to one staff member, The New York Times e-mailed information about dealing with trauma to reporters in the field, outlining warning signs; employee-assistance counselors also placed calls to reporters.
Sig Christenson, a military reporter for the San Antonio Express-News, has covered virtually every hurricane to hit Florida from 1994 to 1997, and did three tours covering the war in Iraq.
"I mean, there's nothing to compare with it. Not even the fall of Baghdad," said Mr. Christenson.
Last week, he was filing a report from outside the New Orleans Convention Center.
"I was dictating a story back to the desk, and I'm in the passenger-side seat of the truck and the truck was running, and there were cops and National Guard all over the place. They had finally showed up," said Mr. Christenson. "And the door opened … and a guy plops himself into the front seat—a six-foot-tall dude. And I knew I had a problem. And he reached over the steering wheel and said, 'I need your car.' And I had to chase him out with a drainpipe and the cops tackled him. It was a real close call. If he'd gotten it into gear, we would have run over someone. Nothing that weird happened to me over three trips to Iraq since the invasion."
In some cases, the unusual reporting environment allowed journalists in both print and television to exercise muscles that had long grown stiff.
"In some ways, it's refreshing in a way to not have the official line, where your only choice is just to see it in front of you," said The New York Times' Kate Zernike, who drove from Atlanta to Gulfport, Miss., last Tuesday and is now back in New York. "We've all gotten used to doing Google searches and so forth. This was the unfiltered experience. It's just the story in front of you."
"The press was much, much better than the official government sources you'd want to go to get information, and it showed the power of the press to get into places and get information and disseminate it," said Mr. Lemann.
Felicity Barringer, The New York Times' environmental reporter, arrived in New Orleans proper last Wednesday. She worked out of Houma, La., a town about 45 minutes outside of the city, in the offices of the Daily Courier newspaper in Houma, which had opened its doors to out-of-town journalists.
"You're kind of operating in a world of one-source accounts," Ms. Barringer said, adding that her editors were crucial in helping her to put the information into context. "So what gets out is the raw information. It's a no-spin zone."
Sometimes the reporters were so far out ahead of the story that they found themselves ignoring official statements, instead filing reports of what they were seeing themselves.
"The problem was there was such a disconnect with what we were seeing and what we were hearing from local officials," said New York Times reporter Shaila Dewan, who returned to Atlanta from covering Katrina in Gulfport and Biloxi, Miss. "You always have tension when you're a reporter about how much weight to give an official's viewpoint. In this case, it was exacerbated by the disconnect. You could walk out and count five dead bodies, and the officials were saying there were 60 dead bodies in the county, and you said, 'No way, I just saw five dead bodies myself."
Jonathan Darman, a national correspondent for Newsweek, said he was struck by the unmediated experience of reporting from the disaster scene.
"I think there was a certain frustration, and some of the television coverage certainly reflected this, where you were hearing stuff in the national media about a huge relief effort being organized, and all this effort these officials were making, and that didn't jive at all with what we were seeing on ground," Mr. Darman said.
Ms. Dewan recalled an instance driving on I-10 and hearing officials broadcast over the radio that I-10 was closed.
"Another big disconnect was that you'd call the Red Cross, and they said they had set up a Web site and an 800 number. But there's no phones and no power and no place to go. People were going to the coroner for information, and that was only being used to check against people in the morgue."
Often, reporters found themselves giving out more than information.
"I loaned my sat phone out to people. We found a woman's baby. Her infant child had been in Children's Hospital in New Orleans and she lived in Gulfport. I called back to the Atlanta office, and I had the researcher call 20 hospitals until we found the baby. I had to drive back to her house and leave her a note that told where her baby was. She came out when I was writing the note. Everyone in the neighborhood was extremely happy.
"In those situations, you don't draw an imaginary line. You need to be a reporter, but also a human," Ms. Dewan said.
Normally a sportswriter for The New York Times based in New York, reporter Jere Longman grew up in Eunice, La., 170 miles west of New Orleans.
"It's true to say [we] had better communications than the politicians. I just came back from I-10," Mr. Longman said. "There's no answers. They're coming up to reporters. People are looking for anyone that can help. They're asking, 'Where am I going? My husband has my medicine—how can I find him? There's no restroom for my daughter—where do we go?'
"You just try to be honest with people and not give them false hope. For me, it's the place I grew up. It's difficult to see these people suffering. What they're asking for, they're just asking for food and water and shelter, and when they can't get the basics, it just hits you in the gut. I'm a sportswriter; I'm usually writing about wins and losses in a baseball game. People are desperate for basics; they're desperate [for you] just to tell them where their husband is.
"It's heartbreaking to see people who came out of the storm pretty well …. People are just trying to get place to place. They're being reduced to the most dire elemental concerns."
"We came in originally with a FEMA convoy on Monday night," said Ralph Blumenthal, the second New York Times reporter in New Orleans. "It took about four or five hours. We got lost a few times … there was a lot of confusion. It was very dark, and they didn't know the way. There were a lot of downed lines and a lot of water.
"We got into New Orleans, into a temporary base of operations that FEMA set up at 11 p.m. It looked very scary. There were no lights on; from what you could see, there were a couple of fires burning. The convoy had to stop several times. Some of the trucks couldn't pass under wires safely."
On Friday, Sept. 2, Fox News correspondent Steve Harrigan woke up at 5 a.m. in the Baton Rouge home of a friend of a friend. With a crew of two, he started toward New Orleans. On the outskirts of the city, one of the two—a man with a wife and kids—chose to stay behind because they kept hearing reports of creeping lawlessness.
Mr. Harrigan, who arrived in Gulfport the previous Sunday, continued with his cameraman through the police checkpoints and into New Orleans. "Thirty or 40 women were chasing our van down the road," he said, "yelling, 'Water! Water!'"
They pulled into a hotel parking lot, hooked a videophone up to the van battery and trained the camera on a burning building. Elsewhere in the parking lot, he said, a group of men in a green Lincoln Continental traded gunfire with police.
"I've been in a lot of wars," he said. "I'm a very controlled person. But at one point, I found myself stomping with my right foot on the pavement. I was talking to Bill O'Reilly about how people were sleeping on the highway, and I was going stomp, stomp, stomp with my foot on the pavement, as if that would help me get the message through this little video phone. I was surprised with myself."
Everywhere, he said, he ran into people who needed help and weren't getting it.
"There was an old guy and an old woman with one chair between them, standing for three days on the highway, in the heat," he said. "And you'd go to do a segment and come back, and they're still standing there. And you'd leave and come back the next day, and they're still standing there."
A war correspondent on his way to Baghdad next month, Mr. Harrigan said his personal inability to do anything for these people began to drive him crazy.
"It just burns in your head," he said.
Mr. Christenson, of the San Antonio Express-News, is now back in San Antonio, feeling tired, anxious.
"You can't be around these people without just absorbing all of their angst," he said. "The same questions cross my mind that cross everyone else's mind. Like, how did it take a week? What the hell was going on with the federal government? Where was FEMA?
"I saw a woman walking up the Huey Long Bridge with a baby, and she wanted us to take her away, and I couldn't," Mr. Christenson continued. "There was no one to help her. She was crying, and you could see how tired she was. And all she wanted was some help for her baby. I told her to go and talk to the soldiers on the bridge, and as we were watching these people walking up the bridge, there was a building just behind them on fire, with smoke plumes going up into the sky.
"It was a scene right out of a war zone," he said. "I think I'm going to be living with this for a long time."
—Additional reporting by Gabriel Sherman