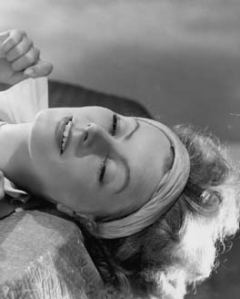 The parodists have it wrong. They've turned the phrase most identified with Greta Garbo—"I want to be alone"—into something that might have issued from Bela Lugosi. Garbo did not pronounce the "w" as a "v" (she says "want," not "vant"); she did not declaim those words, from 1932's Grand Hotel, in a Slavic tugboat of an accent. Instead, she delivers the line in an ascendant, lyric voice, as if she were reaching for some restful starry haven beyond the storm clouds weighing her to the earth. "I want to be alo-ooo-ne" is how she says it, drawing out the "o" as though she were a particularly mournful, unexpectedly elegant coyote.
Garbo reserved that elongated "o" for moments of melancholy and longing. "I've been memorizing this r-ooo-oom," she says to John Gilbert in Queen Christina on the eve of leaving their lover's retreat in the snowy Swedish countryside. (If you want to hear how a Garbo imitator should sound, listen to the marvelous Eva Green speak that line in Bernardo Bertolucci's The Dreamers.) The palpable contours of that drawn-out "o," its sense of elevation, contain Garbo's essence: her singular mixture of the earthly and the ethereal.
There is no classic Hollywood star who is harder to get a fix on than Garbo, which is why writers have been content to evoke her "mystery" and "remoteness." Louise Brooks, who revered Garbo, quoted Proust to express her irritation with that laziness: "The degree of mediocrity produced by contact with mystery is incredible." James Harvey, as astute a critic of classic Hollywood movies as we now have, quoted the critic Stark Young to explain Garbo's deceptive detachment as "the distance that style in art assures."
Garbo only seems familiar to us until we see her again. Watch almost any of the movies included in Greta Garbo: The Signature Collection, the 10-disc DVD set just released to celebrate her centenary, and the fact of Garbo breaks through the caricature that has been sketched in by myth and parody.
Garbo is an essentially lyric artist. Evoking her means accepting that the only specificity you find will be in paradox: how her seeming artificiality leads her to emotional truth; how her soulfulness exists side by side with her startling physicality. In her love scenes, Garbo almost always contrives to be atop her partner, hovering over the man who finds himself in the recumbent position traditionally reserved for a woman being made love to. Sitting on Robert Taylor's lap in Camille, she rains petite nibbling kisses all over his face, as if he were a dessert she doesn't know where to begin tasting. Even looking up at her lover, as in a scene from the 1928 A Woman of Affairs, she conveys hunger, kissing John Gilbert open-mouthed.
Garbo is just as capable of showering that physical adoration on objects: the camellias she gathers to her face in the opening of Camille; the Spanish grapes she cradles to her cheek in Queen Christina; and, most memorably, the bouquet of roses she embraces in A Woman of Affairs. In that movie, Garbo is fading away in a sanatorium after aborting, for honor's sake, the child of her married lover (John Gilbert). Waking to find the white roses he has sent her gone, she emerges from her room distraught. Spotting the bouquet, she walks straight to them, oblivious to the visiting Gilbert and his wife, and clutches the flowers to herself in the tenderest of embraces. "I don't want much, only you," reads the title card. Even more heartbreaking is the way she carries the roses back to her room after composing herself for the sake of Gilbert's wife—cradled in her arms, as though they were her lost child.
That film, by Garbo's favorite director Clarence Brown, isn't included in the new DVD collection, and its absence hurts (as does the absence of Love, the silent version of Anna Karenina). Her enormous success from the previous year, Flesh and the Devil, also directed by Brown and co-starring Gilbert, is here, and she is startlingly, frankly erotic in it—but the film lacks its successor's grace, and you have to put up with a great deal of Teutonic folderol between Gilbert and his best friend (Lars Hanson) to savor Garbo.
Garbo was one of the few stars who made the transition successfully from silents to talkies, and no other star did as much to bring to the new form the poetry of the symbolic shadow play of silent film. You see it in her portrayal of the bone-weary ballerina in the lavishly entertaining soap Grand Hotel (where she is superbly partnered by John Barrymore, with his peerless mixture of sophistication and a common touch). Alternating between moments of physical misery and physical abandon, Garbo pierces to the heart of a woman who dramatizes her suffering but is in real pain nonetheless. Yet even in a performance as stylized as this one, Garbo never loses her subtlety. She didn't play to the camera (her movies were almost always shot by the great William Daniels), but trusted it to magnify the emotion banked beneath her deceptively placid surface. Which is why, playing a scene opposite Lionel Barrymore in Camille, without even trying, she exposes him as the scenery-chewing old faker he was.
Compared to the fast-talking, wisecracking, disrespectful style of American movies in the 30's, Garbo was an exotic, which may be why so many of her 30's pictures are period pieces. You can find bits of her melodious emotionalism in Rouben Mamoulian's 1933 Queen Christina, particularly in the startling screen-filling close-ups and the ease of her scenes with her former co-star and former lover, John Gilbert (who's charming and relaxed with her). But despite the movie's hallowed reputation, it's a stiff, smothering Garbo under layers of graceless pageantry.
None of the costume dramas that took up much of Garbo's screen time in the 30's—maybe none of her movies, period—gives us as much of her as the 1936 Camille. The director, George Cukor, siphons out the wages-of-sin moralism that creeps into the novel (and later play) by Alexandre Dumas fils. As Cukor told Gavin Lambert, the glory of Dumas' novel lies in what Henry James called its "champagne and tears" quality—the very quality that Cukor distills.
A few years later, MGM proclaimed "Garbo Laughs!" to advertise Ninotchka. But in Camille, as the French courtesan Marguerite Gautier, who comes to grief by falling in love with the young and dashing Armand Duvel (Robert Taylor, whose undisguised Americanism suits Armand's youthful naïveté), Garbo laughs more often—and more convincingly. It's her greatest performance. The slight suggestion of Marguerite's submerged vulgarity throws Garbo's exquisiteness into relief. She was never as emotionally present, nor as physically at ease.
In Camille, Garbo reaches the apotheosis of her ability to give herself fully to the most heart-rending scenarios while holding everything beautifully in check. After sacrificing her happiness to save Armand's future by returning to the odious Baron de Varville (Henry Daniell), Marguerite descends the stairs at a Parisian gambling house. Garbo wears the composed, nearly glacial mask that was to mark so many of her studio portraits. When Marguerite catches sight of Armand, Garbo's face undergoes a pentimento effect, crumbling into a visage of undisguised, wounded longing.
Garbo's combination of emotion and taste is matched at every turn by Cukor's direction. Neither director nor star allow the period setting to turn their craft into waxworks. This is MGM France, but the conviction—the refusal to hold the period at arm's length—gives a sense of the past as a real place. Next to the vividness of Garbo, it's everything else that can seem illuso