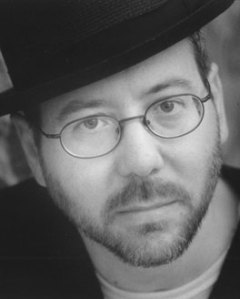 Marty Ehrlich is one of the most creative and technically accomplished reedmen in jazz today. A staple of the "downtown" music scene for a little over half of his 50 years, he's in frequent demand as a sideman, and he leads several of his own, quite different bands. His new CD, News on the Rail (on the Palmetto label), is his most ambitious album yet—and one of the best new jazz albums by anybody this year.
Yet Mr. Ehrlich—who plays mainly alto saxophone and clarinet—has never made much of a splash, even by the modest standards of modern jazz. The reason, I suspect, is that he doesn't have a signature sound; you wouldn't easily identify him in a blindfold test, as you would other top-notch horn players. For most jazz musicians, this would be a death knell—but not here. The central element in Marty Ehrlich's music is not Marty Ehrlich but the music. His tone can be classically pure, sweetly romantic, growlingly dirty or piercingly insistent, depending on what he feels is appropriate for the music at hand. And while he's a superb performer, it's as a composer and arranger that he shines.
Listen to "Enough Enough," the first track on News on the Rail—and one of the most boisterous album-openers in ages. It's an up-tempo rouser, with the six musicians (three horns, piano, bass and drums) careening in what you might think are scattershot directions, until you realize that their crisscrossings are swaying perfectly in sync—thanks to a solid-anchor bass line, harmonies that are as lush as they are discordant and, above all, a crisp, clear melody.
This is what makes Mr. Ehrlich's music so appealing and accessible: He comes out of an avant-garde tradition—he can lay down atonal scales, off-pitch chords and staggered tempos with the knottiest of them—but he also has a supreme feel for ensemble balance. You hear every line in his pieces, and there's no confusing which line is the lead—the melody—even if it takes curves that melodies don't often follow.
Unlike many jazz musicians, who jump at the first chance to lead their own bands (often before they're ready), Mr. Ehrlich spent many years in happy tutelage, playing sideman to such masters as Julius Hemphill, Muhal Richard Abrams, Jaki Byard, Anthony Braxton, George Russell and Andrew Hill. (Mr. Hemphill, the original leader and most harmonically imaginative arranger of the World Saxophone Quartet, was a particularly strong influence and longtime friend; after his death in 1995, Mr. Ehrlich led the Julius Hemphill Sextet, which was—and, at occasional gatherings, still is—devoted to playing his music.) The common strand connecting these mentors is that they all devised novel ways of combining tight composition with free improvisation—an approach Mr. Ehrlich artfully emulates.
Classically trained before he immersed himself in jazz, Mr. Ehrlich wrote and arranged all eight songs on his new CD—a mix of straight-ahead, avant-blues, funk, Monkish ditties and stirring ballads. You can hear traces of his mentors in this music, as well as bits of Charles Mingus and Eric Dolphy. But he's too original to be tagged as derivative. The band—James Zollar on trumpet and flugelhorn; Howard Johnson on tuba, baritone sax, and bass clarinet; James Weidman on piano and melodica; Greg Cohen on bass; and Allison Miller on drums—is the strongest he's assembled to date: top-notch players in fine form.
The ballads on this album, especially the last tune, "Keeper of the Flame," sound much like the mournful ballads that Mr. Ehrlich plays with his Dark Woods Ensemble, a clarinet-led trio with Erik Friedlander on cello and Mark Helias on bass. But the sextet's three extra musicians allow him to weave in a subtle counterpoint, a denser layer of harmony, an emotional twist.
In the liner notes, Mr. Ehrlich refers to this particular sextet—which played at the Jazz Standard recently—as a "large small" ensemble (as opposed to a "small large" ensemble). I take this to mean that he arranged the music so that the group would sound like an expanded trio or quartet instead of a scaled-down octet or big band. The distinction isn't semantic, or doesn't have to be. A scaled-down big band, often the result of a financial pinch, can sound thin; you notice the missing parts. An expanded small band, if embellished with flair, can sound rich, even ravishing. That's what this band and this album sound like.