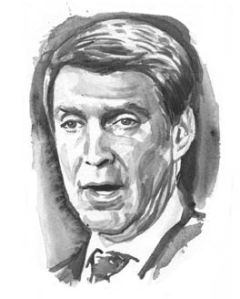 Apprehended again in dubious ethical circumstances, Bill Frist has assured the nation that he is faultless. Although he is suddenly under suspicion of insider trading for dumping his stock in Hospital Corporation of America, the Senate Majority Leader predicts that he will be vindicated when probes by the Justice Department and the Securities and Exchange Commission are completed.
Whatever those investigations may conclude, however, the facts that have emerged so far cast a deep shadow on the integrity of Dr. Frist and the standards of the U.S. Senate.
Ever since the telegenic surgeon from Tennessee entered the Senate in 1995, he has been plagued by questions about H.C.A., the gigantic, highly profitable hospital and insurance conglomerate founded by his father and brother. While Dr. Frist billed himself as a health-care expert with a "free-market" orientation, he also had tens of millions of dollars invested in H.C.A. stock.
For a legislator involved in creating national health policy, the conflicts of interest were obvious, and those conflicts only intensified after Dr. Frist replaced Senator Trent Lott of Mississippi as the Senate Majority Leader during the winter of 2003.
Cultivating his image as a kindly and caring physician, he never failed to mention his pious concern for patients while casting his vote against their interests. He is the most reliable Senate ally of the pharmaceutical and insurance lobbyists. He voted to kill the Patients' Bill of Rights. He voted to limit awards to medical-malpractice victims to $250,00, a "reform" that directly benefited his family business. He sought to limit regulation of profit-making hospitals and other providers by Medicare, which would likewise protect the Frist empire.
In return, he has collected millions of dollars from health-care industry lobbyists to finance his own campaigns and his war chest at the National Republican Senatorial Committee, which he chaired before taking over the Senate leadership.
Dr. Frist has broadly promoted the ideology of the health-care industry as well as its legislative agenda. He wants government to "get out of the way" of privatized health care, except when it's providing billions in subsidies to shareholders like him.
Of course he knows that H.C.A.'s profits depended on such unsavory practices as bribing doctors and inflating costs. (Over the past several years, the company has disgorged about $1.7 billion to settle fraud charges brought by the Justice Department, the largest such payments in American history.)
He also knows that ruthless cost-cutting is inconsistent with adequate care—and that his family's company dumped poor patients from its hospitals to improve profits. But whenever anyone has pointed out that his connections with H.C.A. clashed with his duties as a Senator—not to mention the Hippocratic Oath—Dr. Frist forcefully demurred: "There is a stone wall that comes between any money that I get or interests that I have, and what I do [in the Senate]."
Upon taking over as majority leader in January 2003, he repeatedly responded to press queries about H.C.A. by noting that he had put all his investments, including any H.C.A. stock, in a blind trust. He told a television interviewer that his holdings, along with those of his wife and children, had been placed beyond his authority and oversight.
"Well, I think really, for our viewers, it should be understood that I put this into a blind trust," he said. "So as far as I know, I own no H.C.A. stock … I have no control. It is illegal right now for me to know what the composition of those trusts are [sic]. So I have no idea."
The Jan. 4, 2003 issue of National Journal similarly quoted Dr. Frist claiming ignorance of his holdings: "Right now, I don't know if I own HCA [stock] because it's a qualified blind trust."
Yet he did know, according to documents recently uncovered by the Associated Press, because the "blind" trust's manager had informed him about his H.C.A. stockholdings during the months prior to those interviews.
Now that the press has exposed how he dumped those H.C.A. shares last June, he no longer claims that he didn't know he owned them. Naturally, he insists that he possessed no inside information about the bad earnings report that H.C.A. made public just two weeks after he had sold off the stock at the peak price. And most amusingly, he claims that when he sold the stock, he simply was trying to satisfy his implacable critics.
"The complaints and questions have persisted," he told reporters on Sept. 26. "Because of these continuing questions, and looking ahead at my final years in the Senate and what might come next, I have for some time wanted to eliminate even the possibility of an appearance of a conflict by totally divesting of any H.C.A. stock in my family's trust."
So he was just trying to purify his ethics—and preserved his capital purely by accident. That's an explanation only a Senator could believe.