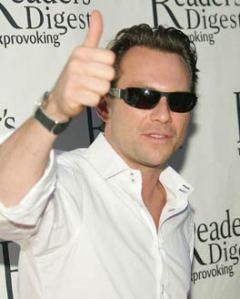 Less than three weeks after his headline-grabbing arrest in May, for allegedly groping a woman on the sidewalk after a night out in the bar-hoppy East 90's, actor Christian Slater signed an $882,500 contract on a 1,100-square-foot piéd-a-terre on West 54th Street.
Now, both deals are closed. Prosecutors have agreed to drop sexual-abuse charges against the mischievous actor, as long as he stays out of trouble for the next six months; and, according to deed-transfer records, the purchase of the apartment is complete.
The 36-year-old was able to talk down the seller as well as the prosecutor, it seems; the apartment had been listing for $895,000 when he bought it. The modest living space includes two bedrooms and two bathrooms as well as northern and southern exposures. Newly renovated, it boasts a Sub-Zero refrigerator, G.E. "Profile" appliances and a washer-dryer.
Mr. Slater is no stranger to the city: In fact, he was born here and attended both the Dalton School and Professional Children's School. Since scoring his first big screen roles as a teenager (and receiving countless "young Jack Nicholson" comparisons), Mr. Slater has appeared in over 40 films, including Interview with the Vampire, True Romance and Heathers.
But these days, the play's the thing for Mr. Slater. Last spring, he starred in The Glass Menagerie at the Barrymore Theatre, just a short stroll from his new pad. Most recently, he appeared in a production of One Flew Over the Cuckoo's Nest in London's West End.
Should Mr. Slater head back to Broadway, he'll be living in the perfect location. And that appears to be the plan, as he strays farther and farther from Hollywood.
Last week, Mr. Slater put his 6,500-square-foot Brentwood property on the market for $5.7 million, according to the Los Angeles Times. The massive home, purchased three years ago for $4.5 million, includes five bedrooms, six and a half bathrooms, a pool and a spa.
Despite trying to unload the Brentwood property and spending more time in Manhattan's theater district, Mr. Slater has no intention of becoming a full-time New Yorker again. He is currently searching for another California home, according to a source close to the actor.
The Odd Couple is the quintessential sitcom about two strangers sharing a Manhattan apartment. So it seems fitting to pair actor Jack Klugman with an open house at the Empire condominium (although far more extravagant than Felix and Oscar's humble digs).
On Sept. 29, while prospective buyers ogle a $7.495 million condo, Mr. Klugman will be signing complimentary copies of his new book, Tony and Me. The 83-year-old actor penned the heartfelt memoir about his friendship with the late Tony Randall assisted by writer Burton Rocks, who has previously worked with Paul O'Neill and Bob Feller.
Two members of the Friars Club—Mr. Rocks and broker Toni Haber of Prudential Douglas Elliman—devised the unusual promotion.
"It was just sort of helping a fellow Friar out," said Ms. Haber, who has the listing. "It became co-marketing and co-branding."
In support of his new literary project, Mr. Klugman plans to embark on a 19-city tour, including a book signing at Rockefeller Center's Barnes & Noble prior to the invite-only open house.
"I think there is a really nice synergy," said Adam Klugman, Jack's son and the publisher of the book. "It was an opportunity to have a party in New York to celebrate Jack and let people know he's got this great book out."
About 200 people were invited, based on an in-house list of potential buyers. A striking feature of the ritzy apartment is its 2,231 square feet of outdoor space. In addition, the luxury condo has four bedrooms, four and a half bathrooms, and a modern kitchen equipped with state-of-the-art appliances.
The 78th Street building was completed in 2000 and quickly attracted high-profile buyers like Jason Giambi, real-estate mogul Steve Witkoff and YES network head Leo Hindrey. However, things at the Empire haven't always been peaceful. The building's developers have been sued over marketing and construction-related issues.