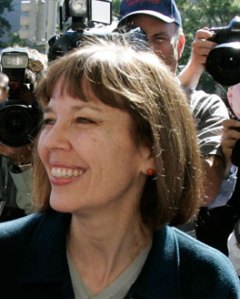 On Oct. 3, New York Times executive editor Bill Keller announced to the staff that at 3:30 that afternoon, reporter-cum-story-cum-victim-cum-witness Judith Miller would be making her return appearance in the newsroom, after spending 85 days in jail. "[S]he would like to thank you," Mr. Keller wrote in an e-mail, "for standing by her during an ordeal that—as you know from the vultures still circling—is not entirely over."
But who was circling? Special prosecutor Patrick Fitzgerald—cast by the Times as Inspector Javert in the whole affair—was done with Ms. Miller; his grand jury had collected her notes and her long-delayed testimony three days before. Whatever Mr. Fitzgerald had wished to know about Ms. Miller's role in the White House's leaking of C.I.A. agent Valerie Plame Wilson's identity, Mr. Fitzgerald presumably now knew.
That appeared to leave the public and the press in the role of scavengers—and Ms. Miller, Mr. Keller and publisher Arthur O. Sulzberger Jr. in the role of rotting meat.
The trio held forth near the national-desk area, in the spot where the editors stand to announce the Pulitzers. Ms. Miller described prison as a "soulless" place and described her love of the newsroom. A witness described the applause as "above polite but below wildly enthusiastic."
It was a Judith Miller moment: part crisis, part special occasion. The event captured the singularity of Ms. Miller's standing inside the Times—an insider with the publisher, she had become an outsider to her colleagues. For the past 12 months, she had been cast as a journalistic everywoman, standing in for all her fellow Timesians. But what had she stood for?
One of those colleagues, Adam Liptak, could be seen at the afternoon fête, hovering at the front, taking notes—presumably attempting to find out. Mr. Liptak is part of a multi-reporter team working on The Times' own wrap-up of the Miller case—"a thoroughly reported piece in the pages of The New York Times," as Mr. Keller was quoted promising in The Times' own Oct. 4 story about Ms. Miller's return to West 43rd Street.
If The Times does come up with a thorough and satisfying account of Ms. Miller's journey from the St. Regis Hotel, where she had her first conversation with Vice Presidential chief of staff I. Lewis (Scooter) Libby, to the Alexandria Detention Center, where she served her sentence, and finally to the witness stand, it would be the first one.
Perhaps not the last: Ms. Miller's release from prison had been so sudden that the dinner she had on the weekend afterwards in Sag Harbor wasn't planned as a welcome-home meal; her husband, Jason Epstein, had scheduled it beforehand on his own. Among her companions was Simon and Schuster editor Alice Mayhew.
Soon after, the Huffington Post—which had been far out ahead on rumors that Ms. Miller was negotiating to testify—reported that Ms. Miller had landed a million-dollar book deal with Simon and Schuster. In The Times, Ms. Miller said she was uncertain whether she was writing any book; according to her agent, Ms. Miller doesn't even have a book proposal.
Until she tells her story in full, herself, her colleagues and readers of The Times will have to rely on the tidbits that have so far been revealed about Ms. Miller, Mr. Libby, Vice President Dick Cheney, former ambassador Joseph Wilson, First Amendment law, imaginary uranium and the rest of Mr. Fitzgerald's portfolio. And the more of them that emerge, the less sense the entire story seems to make.
To compound the confusion, for more than a year, the "newspaper of record" has handled itself as a participant in the case first and a newspaper second. While the editorial and opinion pages carried ringing denunciations of Mr. Fitzgerald's efforts to get information from Ms. Miller, the news section was stymied in its attempts to report the story.
In July of this year, in one of the most striking examples, Times reporter Douglas Jehl received a series of no-comments from Mr. Keller and Times lawyer George Freeman on nearly every major factual question surrounding Ms. Miller: Had she been assigned to report about Mr. Wilson's trip to Africa, in which he'd sought and failed to find evidence of Iraq's nuclear-weapons ambitions? Had she tried to write a story about it? Had she shared with editors or colleagues any information she'd obtained about Ms. Wilson's role?
Ms. Miller had for some time been operating outside The Times' normal editorial structure, according to staffers in the Washington bureau. Though based on the investigative desk in New York, she cultivated sources and worked on stories in Washington without notifying reporters and editors there. When staffers in the bureau sought information from bureau chief Phil Taubman about Ms. Miller's role in the Plame affair, he declined to provide any, a source familiar with the bureau said.
"She was quite a free agent," one Washington bureau staffer said.
At the same time, Ms. Miller enjoys a well-known personal bond with Mr. Sulzberger, whom she worked with when he was a reporter at the Washington bureau himself. A source close to The Times said that when Mr. Sulzberger became publisher, he tried to dampen his friendships with the people who now worked for him. "Judy, which is both her strength and foible, she didn't hear Arthur," the source said. "She persisted in trying to be Arthur's friend and broke through …. I think you're talking about a relationship that Judy pushes harder."
It adds up to a sort of one-woman-bureau status for Ms. Miller, leaving the Times staff unsure of how her case has been handled by the chain of command. "There is a concern that the highest-ranking people at the paper and the company have not explained all they know," another Washington bureau staffer said. "There's a parallel concern that they don't know all they should."
The separation of Ms. Miller from normal Times channels culminated, on Sept. 29, in The Times getting scooped by the Philadelphia Inquirer on the story that she had gotten out of jail and would testify about her conversations with Mr. Libby.
Matthew Cooper, the Time reporter and Ms. Miller's former co-defendant, heard the news at an evening Georgetown book party he hosted for former Washington Monthly editor Charlie Peters. "People were wondering why The Times hadn't gone with it," Mr. Cooper said. "I was making a toast around 7:20 when the news came out."
Amid conflicting claims about the bargain that Ms. Miller had struck with Mr. Fitzgerald—had the prosecutor scaled back his inquiry? Had the reporter lowered her standards for revealing a confidential source?—the hush surrounding her release seemed the most telling thing of all, like Sherlock Holmes' dog that didn't bark.
A year before, Mr. Sulzberger and then-Times president Russell Lewis had written that beyond the paper's personal interest in Ms. Miller's liberty, "there are even bigger issues at stake for us all." It was, the editorial page insisted over and over, a case in which The Times was fighting for essential press freedoms, the right of citizens to seek redress through the Fourth Estate. As recently as Sept. 19, the editorial board was comparing Ms. Miller's "outrageous" plight to that of a Times employee in China jailed for a year on charges of leaking state secrets: "[T]his newspaper has to fight the same battle on behalf of an American employee that it is fighting for a citizen of a totalitarian society."
Other reporters at other papers had worked things out with Mr. Fitzgerald, negotiating away their sources' anonymity, but Ms. Miller and The Times were fighting for principle. In 1978, the ubiquitous boilerplate explained, Times reporter Myron Farber went to jail for 40 days and never gave up his sources.
Now, for decades to come, stories about reporters facing prison will include a different citation: Ms. Miller went to jail for 85 days and … what? There's no such thing as half a martyr. But The Times had gone publicity-shy. Through a spokesperson, Mr. Sulzberger declined to discuss the resolution of the case. Asked via e-mail if the publisher no longer considered the case the public's business, the spokesperson replied that The Times plans to answer any readers' questions in its own piece.
"A community which is assured a free press is entitled to a frank press," Mr. Sulzberger's grandfather, publisher Arthur Hays Sulzberger, wrote in 1955. At the time, he was defending his decision to fire a copy reader who'd taken the Fifth before an anticommunist Senate subcommittee, according to Gay Talese's 1969 history of the paper, The Kingdom and the Power.
Now The Times has gone the other way on both freedom of conscience and disclosure. Thus the discussion about what changed during Ms. Miller's 85 days in jail to end the stalemate falls to dueling lawyers.
Ms. Miller's representatives have said that they believed Mr. Libby had never before released her from her confidentiality and that Mr. Fitzgerald hadn't been willing to restrict his inquiries to specific conversations. Ms. Miller has repeatedly cited such a restriction as a key sticking point before she was able to make a deal—implying that there are other sources she continues to protect.
Mr. Libby's representatives have said that they believed Ms. Miller knew she had been released from her agreement.
Mr. Fitzgerald captured the elliptical and confusing nature of the situation in a Sept. 12 memo to Mr. Libby's lawyer, Joseph Tate. Acting as part ombudsman, part prosecutor, the special counsel used comments and quotes from The American Prospect, the Los Angeles Times and Reuters to tease out an explanation for why Ms. Miller might have been refusing to testify: "Counsel for Ms. Miller appears to be operating on the assumption that there has been no 'proper' or 'clear' release from any promise of confidentiality. If this is so, it may be that Ms. Miller remains in jail because of a misunderstanding."
Robert Bennett, the defense lawyer who joined Ms. Miller's team around the beginning of the year, said that he'd first reached out to Mr. Tate on Aug. 31.
"I made the call when I felt I had good reason to make the call, and when I was hopeful I could reach an agreement with Mr. Fitzgerald," Mr. Bennett said. "Until I felt that I could maybe reach an agreement, it was pointless to make the call earlier."
What took so long? Apparently, they believed that to have picked up the phone earlier to double-check whether Mr. Libby had already waived confidentiality would have been tantamount to hounding or even coercing the anonymous source themselves.
That interpretation puts lawyers for The New York Times in a position of claiming that making repeated phone calls is unreporterly behavior.
"Reporters generally don't go back to their sources and pound on them to get greater clearance or greater permission and change the rules of the game. There was a normal reluctance to do that," said George Freeman, assistant general counsel at The Times.
They don't?
Regardless, the theory was eventually chucked. The best explanation that Floyd Abrams, the First Amendment specialist defending Ms. Miller, could provide: "On one level, there was a continuing effort to test the waters on our part by saying at different times, always in the press, 'We don't have a sufficiently clear, broad and plainly uncoerced waiver,' 'We don't have a sufficiently personal waiver' …. And finally a decision was made to take the next step and to make a soft communication with Tate. The fact that Bennett was new on the case made it easier too for him to call and talk broadly about what had gone on and was going on."
Mr. Bennett wouldn't elaborate on what had finally made the timing right. "I'm not going to go into that," he said. He had the same response when asked whether it represented a difference in philosophy between himself and Mr. Abrams, who had been on the case from the beginning.
Mr. Fitzgerald may have been increasing the pressure on Ms. Miller. In Newsweek this week, Michael Isikoff cited two lawyers close to the case saying the prosecutor had indicated that he would call another grand jury when the current one expired later this month, potentially adding 18 more months to Ms. Miller's confinement.
But a lawyer familiar with the case said it was Mr. Fitzgerald who seemed to be getting desperate.
"It was coming close to the end of the term; obviously, his putting her in jail had not worked. And I think he really badly needed any sort of arrangement by which he could wrap up his investigation, and keeping her in jail longer was not really a good solution for him. I think he was in a position, and he was anxious to get some sort of arrangement going."
The lawyer added: "I think it's fair to conclude from the number of calls he placed that it was clear he was getting impatient. And it was clear that he was really looking to initiate, that he was willing to compromise and to make the arrangement he ended up making."
Ms. Miller told The Times that she had obtained concessions that other reporters had not—"things that no other journalist has ever gotten out of a process like this." Her ability to redact her own notes was a critical point, she said.
But other reporters had negotiated to narrow their testimony, and a source familiar with Mr. Cooper's case said that Time had likewise been able to redact Mr. Cooper's notes.
Mr. Fitzgerald's spokesperson declined to discuss details of the case.
Meanwhile, Mr. Tate has aggressively maintained in his own communications with the press that his client's waiver offer had never changed, that Mr. Abrams is using "spin control" to explain his client's change of heart, and that Ms. Miller's lawyers failed to communicate to her that Mr. Libby sincerely desired that she testify. (Mr. Tate didn't respond to numerous interview requests.)
But is it really likely that Ms. Miller's lawyers bungled the job so badly?
"Judy knew Libby from the start," said Mr. Abrams. "Judy thought Libby would pick up the phone and call her if he wanted her to testify or was willing, except in the most grudging way, for her to testify, and she took the absence of that call very seriously in determining her own course of conduct."
Another lawyer familiar with the case said, "I do think that Libby and his lawyer are doing some awesome spinning that doesn't quite hang together …. The only thing I can think of is that … Libby had somehow communicated with Judith—that we don't know about—that suggested he wanted her to keep this confidential. That there was some other communication there that we don't know about." The lawyer speculated that a Sept. 15 letter from Mr. Libby to Ms. Miller, telling her that he had never wanted her to withhold testimony, may have been meant to signal "that that other communication was 'no longer operative,' as they say in the White House—'Go ahead and talk.'"
The lawyer added: "There's a missing chapter to that story that we're not hearing, and that would explain why Judith felt she needed that extra something more, something new to happen."
So who will clear up the lingering mysteries? Mr. Fitzgerald is expected to deliver at least one final account of the events, in the form of an investigator's report. If he was right about the importance of the case and the need for Ms. Miller's testimony, that should be accompanied by an indictment—of someone, for something. A judge and jury, then, would decide whether his version is correct.
MR. LIBBY'S LETTER IS NOT A HUGE HELP.
Mr. Libby, a sometime novelist, offered his own semi-public statement in the form of his oddly florid letter to Ms. Miller.
Her testimony, he repeated twice in a single paragraph, would leave him "better off" than her continued silence would.
"Like many Americans, I admire your principled stand," he wrote. "But, like many of your friends and readers, I would welcome you back among the rest of us, doing what you do best—reporting."
Whether Mr. Libby counts himself among those friends is not clear. Ms. Miller has a history of cultivating close ties with her sources.
But in general, Mr. Libby is one of the few Bush administration staffers to eagerly engage with reporters, according to Washington journalists. He dines with members of the press at the Bombay Club and the Oval Room; in February 2002, a party at the Vice Presidential residence for the paperback release of his novel The Apprentice drew The Times' then bureau chief, Jill Abramson, as well as columnist Maureen Dowd, Washington Post hostess-scribe Sally Quinn, Newsweek's Evan Thomas and Time deputy managing editor Stephen Koepp.
A friend of Ms. Miller's said that she was no closer to Mr. Libby than other reporters were, and that she maintained a "professional reporter-source" relationship. "They were not buddy-buddy," the friend said.
Yet Mr. Libby chose to end his message to Ms. Miller with a personal and self-conscious-sounding literary flourish: "Out West, where you vacation, the aspens will already be turning. They turn in clusters, because their roots connect them. Come back to work—and life."
ON SEPT. 30, MR. SULZBERGER brusquely informed a Wall Street Journal reporter that his inquiries were interrupting Ms. Miller's steak dinner. On Oct. 1, Ms. Miller took a walk along the beach in Bridgehampton, then dined with friends at the Americana Hotel.
The evening of Oct. 4, Ms. Miller put in an appearance with Lou Dobbs on CNN. Mr. Dobbs had kept a clock on his program marking how long Ms. Miller had been in jail.
Ms. Miller sounded hoarse but was beaming. She praised Mr. Sulzberger, Mr. Keller, Ms. Abramson and managing editor John Geddes, "who sent me a joke a day."
"I was just very proud," Ms. Miller said, "that I was working at The New York Times and that we had been consistent about the issue of not turning over notes for, you know, ordinarily to grand-jury investigations. We had never done it, and we didn't do it in this case."
As for the disposition of the whole matter, Ms. Miller said, "Let's wait and see what Mr. Fitzgerald has. If he brings indictments, if he has a very serious case, then I might have to say that perhaps his zealousness with respect to this mission was justified …. If he doesn't do anything, I will wonder why I had to spend 85 days in jail."
Reached on the phone before her cable appearance, Ms. Miller declined to comment on the case or her plans. "I can't talk with you. I'm talking to my own newspaper now. I can't talk."
In New York magazine this week, New Republic senior editor Noam Scheiber wrote a 2,400-word feature on Columbia University's campaign to revamp its economics department "[b]y making an unprecedented number of job offers within a short period of time."
Columbia, Mr. Scheiber wrote, recently hired 10 new economists with the aim of "cracking the Top-Five" set of elite departments, including Harvard, M.I.T. and Princeton.
New York editor Adam Moss has seen this happen before.
In June 2003, The New York Times Magazine documented N.Y.U.'s economics hiring spree in a 4,000-word piece by writer Mark Levine. Mr. Levine reported that N.Y.U. hired eight new economists with the stated goal of cracking the "Top-Five" rankings of university economics departments.
N.Y.U. hasn't succeeded in penetrating the elite echelon, at least yet.
And Mr. Scheiber is hedgy on Columbia's future prospects.
—G.S.
New York Times pundit standings, Sept. 27–Oct. 3, 2005
1. (tie) Maureen Dowd, score 3.0 [rank last week: 2nd]
Frank Rich, 3.0 [1st]
3. Paul Krugman, 1.0 [tie—5th]
4. (tie) David Brooks, 0.0 [tie—5th]
Thomas L. Friedman, 0.0 [4th]
Bob Herbert, 0.0 [3rd]
Nicholas D. Kristof, 0.0 [tie—5th]
John Tierney, 0.0 [tie—5th]
Pay doesn't pay! TimesSelect continued to suppress the pundit scores this week, as only three columnists managed to scrabble their way into the even the bottom reaches of the Most E-Mailed list. That left the five others scoreless, as one-off contributors Nora Ephron, Brian Greene, John L. Allen Jr. and Rick Moranis rode their freebie columns into the top 25.
—T.S.