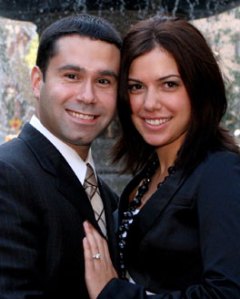 Joel Rivera and Valerie Vazquez
Met: April 21, 2001
Engaged: Jan. 30, 2003
Projected Wedding Date: July 15, 2006
Joel Rivera, who in 2001 became the youngest person ever elected to the City Council (District 15 in the Bronx), plans to marry Valerie Vazquez, a stylin' brunette community coordinator for City Comptroller William C. Thompson, at the Church of St. Bernard on 14th Street, with a reception to follow on a yacht docked at the Chelsea Piers. "You're only as good as your team," said the groom-to-be, a hunky 26. "My team makes me look good and sound good. She's definitely part of that."
The couple met at a Hispanic leadership conference in Albany, which Ms. Vazquez attended as the student-body president of Queens College. Mr. Rivera observed that she was the only member of the audience not taking notes on his speech about youth in politics. "He fails to realize that I didn't have a pen at the time," she said. "He chose to see it as a personal attack."
When Ms. Vazquez gave her own impassioned speech about the importance of being involved in government, Mr. Rivera was totally mesmerized. "Here's this strong, independent woman," he said. "She was like, 'Hear me roar!'" Afterward, he approached her. Midway through their conversation, she offered him that totem of modern mating: a Listerine breath strip.
"These better not be drugs," he said. Later, he requested a date. "Ask me again when you're serious," Ms. Vazquez said.
"I had that apprehension," she told the Love Beat. "There was the whole 'politician' stigma." But she did agree to help with his campaign, traveling two hours from her studio apartment in Rego Park to help gather signatures in the Bronx (she got 38).
Meanwhile, Mr. Rivera continued to petition for Ms. Vazquez's heart, taking her for Italian dinners in the West Village and many trips to Barnes & Noble, where they'd split a cupcake and read: political biographies for him, The Devil Wears Prada for her. After one date at Windows on the World (R.I.P.), Ms. Vazquez's mother showed up to say hi, much to her daughter's chagrin.
"She looks like she could be my sister!" complained the younger woman, who is 25.
"Whooo-hoo!" Mr. Rivera thought to himself.
After many months of this, Ms. Vazquez began sneaking peeks at his BlackBerry to see if he had blocked out any time for, er, personal propositions—perhaps around holiday time? She also checked his Web surfing history, growing excited when she found several jewelers' sites listed. But Christmas and New Year's passed quietly. "That would have been too easy," Mr. Rivera said. "That's what everybody does."
One evening, he got a colleague to cover for her and then summoned her to the now-defunct political hangout Jimmy's Downtown (actually in midtown). The owner, a close friend of Mr. Rivera's, seated them in a private area and regaled them with seafood specials. "What's going on?" Ms. Vazquez said. "It's not Valentine's Day."
Midway through dinner, Mr. Rivera took out a platinum band containing a brilliant-cut, 2.17-carat diamond wedged next to triple baguettes, plus two smaller round stones on each side, and began to slip it on her finger. "Will you marry me?" he asked.
"Ask me again when you're serious," Ms. Vazquez joked, after her initial Yes. There followed a surprise engagement party at her mom's place in Woodside, Queens.
The next day, Mr. Rivera got his first mention in Page Six. "If it's the only time I'm in Page Six, I'll be happy," he said.
Sang Jin Park and Carie Arseneau
Met: Sept. 13, 2004
Engaged: July 13, 2005
Projected Wedding Date: December 2005
After the dot-com bubble burst (splat), Sang Jin Park, a former information-technology manager at Bear Stearns, decided to become a New York City teaching fellow. He landed at Middle School 136 in Sunset Park, Brooklyn, teaching English to seventh graders and occasionally training other faculty members how to use the copier—"such a step down from what I used to be doing," he said breezily.
It was during happy hour at a restaurant-bar called 200 Fifth (apparently the Bungalow 8 of Sunset Park) that Mr. Park, who is 33 and Korean-born, first decided to pursue Carie Arseneau, a doe-eyed art teacher with a gentle manner, a sweet voice and a bevy of admirers. "We talked about everything and anything," he said. "Our families, our growing up …. She would tell a story; I would tell a story."
They eventually moved on to another bar (hic!), Quench in Carroll Gardens, where a well-lubricated Mr. Park rolled up a discarded piece of gum-wrapper foil into a circle. "This is a promissory ring," he told Ms. Arseneau. "You are now promised to me."
"O.K.!" she said with a big smile.
That Sunday, they went on their first real date: a screening of The Motorcycle Diaries at a theater near Prospect Park, repairing afterward to his pad for a little you-know-what.
Some weeks into their relationship, Ms. Arseneau casually remarked: "I've always wanted to go to Paris." Five minutes later, Mr. Park was on the computer, figuring out flight details. "I love that he's just really energetic," she said. (Also: "Meticulous—to a fault.")
After beaucoup de bon temps in Gay Paree, they decided to spend their summer vacation together, first stopping in Ms. Arseneau's hometown of Sturgis, Mich., where Mr. Park made his intentions plain during a late-night kitchen run-in with her mother—"Welcome to the family!" she cried, enfolding him in her arms—and an uneven golf game ("I enjoy it, but I suck," he said) with her father.
The young couple was parked on the beach looking out on Lake Michigan when Mr. Park suggested that they write messages to each other in the sand with the rocks that surrounded them. "No peeking," he said. But Ms. Arseneau couldn't resist. "M-A- … " she saw him begin.
"I-W-I-L-L," she boldly scrawled.
In the dot of the exclamation point punctuating his proposal was a brilliant-cut single-carat diamond embedded in an elegant, twisted platinum band, which Mr. Park had bought at the Clay Pot in Park Slope and smuggled north.
Shortly afterwards, they embarked on a camping trip through Ontario—"like an engagement honeymoon," said Ms. Arseneau, 29, who has since ditched a roommate situation in the Slope for her fiancé's one-bedroom in Sunset Park. They share the place with Maisie, a hound-pointer mix, and Benny, a redbone coonhound; both dogs take turns gleefully chewing on Ms. Arseneau's various fiber-arts installations.
The wedding details are still up for grabs.