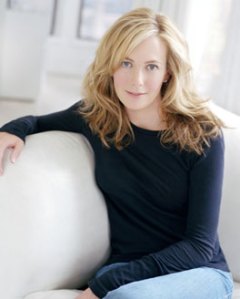 This week, Everyone Worth Knowing, the second novel by Lauren Weisberger—she of best-selling The Devil Wears Prada fame—arrives in bookstores, the latest offering from the gods of chick-lit.
Ms. Weisberger's publisher, Simon and Schuster, paid over a million dollars at auction for Everyone Worth Knowing—a staggering sum for a novel. The house felt so strongly about its seven-figure author that it bought Ms. Weisberger's third novel for another million or so back in May, months before Everyone's release date, before the critical reception, and before the author even had an inkling of what she'd write about next.
It seems, though, judging by the glutted sea of candy-colored books about young women in the big city, the content of them matters very little. Not surprisingly, Everyone Worth Knowing tracks a twentysomething single gal in New York City who lives in a small apartment, has wisecracking gay friends, hates her job, spends her evenings in nightclubs and searches for True Love.
"It's still very much a door open into something that readers wouldn't experience for themselves," said Ms. Weisberger's agent, Deborah Schneider, when asked what separates Ms. Weisberger from other writers. "Inside New York nightlife, public relations, youth culture, downtown culture—I don't think anybody is writing what she writes at this point."
And yet Everyone's plotline—template—is so familiar that most people could fill in the rest of the details themselves. A newly engaged best friend? An obsession with the Styles section? Bad takeout dinners and large, sugary drinks? These types of books have affected the way even New Yorkers view New York. And while Everyone Worth Knowing is an obvious whipping boy because of how much Simon and Schuster paid for it, it's also a perfect representative of this dusty, overly familiar and perhaps occasionally appealing genre.
David Rosenthal, the publisher of Simon and Schuster—which has, along with most other major publishing houses, thrust forth a number of such novels with almost identical themes—made the decision to buy the book, and was more than happy to explain why he thinks this one is special.
"I think it's a good milieu," Mr. Rosenthal said. "I think the nightlife scene in New York is of great interest to many people—the velvet ropes and so on. I think it's a hoot. And she wants a boyfriend."
And, Mr. Rosenthal added, "Very few people write a first novel that has the commercial success that Prada did."
Indeed. The Devil Wears Prada, which was published by Doubleday in 2003, spent six months on the best-seller list. Simon and Schuster's aggressive move for her second and third books signals either a deep faith in Ms. Weisberger's abilities or a deep faith in the lasting power of The Devil Wears Prada.
"We believe in this girl," Mr. Rosenthal said.
Of course, chick-lit, boss-lit, gossip-lit and every other permutation of easy-to-read single-girl writing has always been a lightning rod in the book world—adored, scorned, debated as if it were Flaubert. (There are currently dueling anthologies in the pipeline called This Is Not Chick Lit and This Is Chick Lit, and the novelist Curtis Sittenfeld, in a review of Melissa Bank's The Wonder Spot in The Times, suggested that using the term was akin to "calling another woman a slut.") Every publisher has tried to cash in on the success of Melissa Bank and Helen Fielding and Jennifer Weiner, and considering the past sales figures of some of their books, it seems unlikely that we'll ever stop reading about expensive shoes and toxic bachelors—even as the culture has moved on.
"Publishing is famous for wanting to not reinvent itself very much, to do things that replicate things that have been successful before," said Carole DeSanti, vice president and editor at large at Viking Penguin, who edited both of Ms. Bank's novels. "Now sometimes that works like a charm, and sometimes it doesn't. But it does kind of work, if you want to do a sort of formulaic type of publishing that is conservative and protective. Publishing has a long history of publishing schlocky fiction for women."
But as with every attempt to capitalize on previous successes, there are uncertainties: Will Ms. Weisberger prove to be an incredibly expensive one-hit wonder, in the style of Emma McLaughlin and Nicola Kraus, the authors of The Nanny Diaries, whose follow-up novel, Citizen Girl, flopped spectacularly without the gossipy faux-realism of the earlier book? Or is she a nascent Candace Bushnell, who continues to sell and sell? A sequel must be more than just a sequel to succeed, a reality illustrated by the tepid response to The Wonder Spot, Ms. Bank's second novel, the follow-up to The Girls' Guide to Hunting and Fishing.
"I think the audience is smart, and they really do know the good from the bad, and they can tell the tired form from the fresh form," said Jonathan Burnham, who bought Plum Sykes' Bergdorf Blondes and her as-yet-unpublished next book while he was at Miramax Books. "I think it's really important that those novels don't just present a series of parties and fashion. They have to have a really good plot."
But what is a good plot within the narrow confines of single-girl-in-the-city? So far, The New York Times Book Review has called Everyone Worth Knowing a "fatuous, clunky second novel" in a joint review that made Candace Bushnell look like Edith Wharton by comparison. Both Publishers Weekly and Entertainment Weekly called the book a "rehash." And The Wall Street Journal wrote: "the taxonomy of fame, the cult of consumerism and New York night life are tired topics."
"What [Ms. Weisberger] did with her first book—it was a very important book. She was the first one to crack the Condé Nast tower," said a literary agent familiar with the genre. "But in this case, it's much more about the writing."
The Devil Wears Prada was something new, a critical early entry in the canon of disgruntled-former-wage-slave literature, a gossipy novel whose story took place at an elite New York City fashion magazine, based on Ms. Weisberger's own past experiences as an overworked assistant at Vogue, where she served editrix-in-chief Anna Wintour. Although getting through the sentences was often like hacking your way through a forest, the novel crackled with its central villain's pure, eccentric evil; the Wintour-like magazine editor Miranda Priestly was so bizarre in her demands, her glossy employees so anorexic and fashion-obsessed, that the book had a certain twisted appeal.
Random House's Doubleday, which paid something in the realm of $250,000 for The Devil Wears Prada, did bid on the second book, but the house and the author couldn't agree on financial terms. After doing fantastically well with the breakout best-seller, the house decided "to walk away when it was good," according to an executive there, declining to pay the newly inflated sum that Ms. Weisberger was asking for, leaving the author and her agent, Deborah Schneider, to look elsewhere.
Simon and Schuster took the opposite tack, "wooing and paying," as Mr. Rosenthal put it, and beating out a handful of other houses. The deal was struck based on little more than a 10-page rough outline and the impressive sales of The Devil Wears Prada. (Fox 2000 just started shooting the film version, directed by David Frankel and starring Meryl Streep, Anne Hathaway and Adrian Grenier, which just last Monday was shooting a scene at the Mayrose diner, much to the delight of Entourage and Prada fans everywhere.)
But apparently, a million dollars in today's New York gets you a one-bedroom in a doorman building … or some book buzz.
"There's a way of looking at it where you see that the scale of the advance in itself becomes an event, and that creates a certain electricity around the book," said Mr. Burnham, using the recent Dracula novel The Historian, which sold for $2 million, as an example. In fact, Mr. Burnham just won a frenzied auction for a 1,200-page literary novel by Vikram Chandra, paying $1 million for the North American rights. "It can backfire, of course, but it helps give the book a certain spotlight before it's even published. Booksellers see those deals, and they remember that this book was part of a major auction, and it feeds into the way the book will be sold in."
Fortunately for Ms. Weisberger, her own contribution to the body of New York City publicist-literature is being shepherded through the marketing process by a very enthusiastic team. When asked what excited her about Ms. Weisberger's writing, Marysue Rucci, Ms. Weisberger's editor at Simon and Schuster, said: "I mean, I think she's a terrific writer. We took this book on, and there are very few writers who sell at the level of her first novel."
In many ways, Everyone Worth Knowing is actually Ms. Weisberger's true first novel, an original work of fiction based on a world she had to create (or research specifically for her book.) In this case, it's one of Manhattan event-planners and publicists, women with blow-outs and tiny wireless phones who organize parties for corporate clients such as BlackBerry and Playboy, secure them mentions in gossip columns and spend their evenings getting plastered at Bungalow 8. Stock characters abound. Out of "the single girl," "the bitchy publicist," "the aristocrat bad-boy," "the hilarious gay guy," "the down-to-earth friend" and "the down-to-earth love interest," Uncle Will, the hilarious gay guy, was cited as the most interesting character by those involved with the book.
A sampling of Uncle Will: "'You are an absolutely intoxicating creature, so fascinating, so fabulous, and I think that dreary job of yours was suppressing it all.' He placed his huge, well-manicured hands around my middle and almost shrieked. 'What is this I see? A waist? By God, Simon, the girl's got her figure back. Christ, you look like you've spent the last few weeks getting lipoed in all the right places. Welcome back, darling!'"
The writing suggests a certain relaxed attitude on the part of the author toward her craft: "It was seven-thirty in the evening on day four of my working at Kelly & Company as a party planner," begins one chapter in painful earnest. The depiction of life in an investment bank, among other things, is completely implausible: "Mrs. Kaufman, I truly understand your concern over the market's slight decline, but let me assure you that we have everything under control … I assure you our traders are excellent," Bette, the protagonist and a supposed five-year veteran of UBS in Manhattan, tells a client over the phone.
As for Bette, a hapless character whose appearance goes undescribed for almost a hundred pages—she's caught, like all stereotypical New York women heroines, in a perpetual state of faux-angst: "I tried to assure myself that my unhappiness stemmed from my genuine concern that Penelope was marrying a truly terrible guy and not from some deep-rooted envy that she now had a fiancé when I didn't have so much as a second date."
The real test might be whether readers identify with Ms. Weisberger the same way they do with Ms. Weiner or Ms. Bushnell—which, in the end, will prove whether Prada was a gimmicky, one-shot deal or the result of a truly likeable young voice.
Ms. Weisberger, for her part, declined to comment. But Simon and Schuster kindly included a list of "suggested questions for Lauren Weisberger" with its press materials. "Is this book an accurate portrayal of the life of an 'it' girl in NYC?" was one. "What advice would you give to young people who aspire to become successful writers like yourself?" was another. And finally: "What's up next for you? Do you have another novel in the works?"