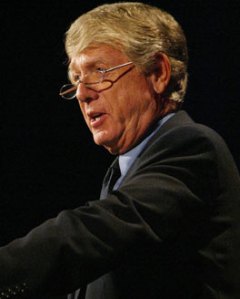 As the Nov. 28 launch date for the brand-new Nightline looms, incoming executive producer James Goldston is assembling a team of four correspondents to help carry out his plan to reinvent the single-anchor, single-topic news program as a multi-anchor, multi-topic, late-night television event.
According to sources familiar with his efforts, Mr. Goldston has signed longtime Nightline correspondents John Donvan and Chris Bury to fill two of those spots.
A third has been offered to Lisa Ling, a correspondent for the National Geographic Channel and Oprah and a former co-host of ABC's The View. And as for the fourth spot, Mr. Goldston's initial choice, CBS correspondent Byron Pitts, chose to renew his contract with that network earlier this month, sources said. Now, according to multiple ABC sources, Mr. Goldston is looking to poach another CBS reporter: Vicki Mabrey, a former London-based correspondent and a contributor to 60 Minutes II until the program was cancelled last spring.
A network spokesperson said that the correspondent spots were still under discussion and that ABC is not ready to make an announcement yet.
Ms. Mabrey, who lives in New York, has worked for CBS since 1992, when she reported on the Branch Davidian standoff in Waco, Tex., as a Dallas-based correspondent. She has won Emmys for pieces on the death of Princess Diana, the Atlanta Olympic bombing and the crash of T.W.A. Flight 800.
A regular fill-in on Mr. Koppel's nights off, Mr. Bury was seen by some as the likely heir to the anchor desk when Mr. Koppel announced last spring that he would be leaving the show. But the winds shifted abruptly for Mr. Bury sometime this summer, and for a period it seemed that he wouldn't even have a place as a correspondent in the show's next incarnation.
But the offer for Mr. Bury to remain could be interpreted not only as a commitment to a talented journalist, but also as an overture to the much-acclaimed 25-year-old broadcast's "basic DNA." It may help to ease what has been an awkward transition period for a tight-knit group of correspondents and producers who are fiercely proud of, and loyal to, the old version of the show. As it is now, several staffers interviewed by The Observer—all of whom requested anonymity—described an atmosphere that is at turns "mournful" and "warily optimistic."
"It's like there's been a death," said one. "The meme of loss is well-justified."
Another cautioned that "people here do want the new show to work. It's just too early to be critical."
On Oct. 17, Mr. Goldston and ABC News president David Westin made official what had been reported (by The Observer and others) for weeks: that the new version of the show will have three anchors—Primetime co-host Cynthia McFadden, 20/20 correspondent Martin Bashir and ABC chief White House correspondent Terry Moran—and will be dual-broadcast live out of the old studio in Washington and a new one in Times Square. Two of the anchors—Ms. McFadden and Mr. Bashir—and much of the show's senior staff will be based in New York, where Mr. Goldston lives.
The appointment of Mr. Bashir was a trying development for some on staff, in part because the British journalist's credentials include a controversial documentary about Michael Jackson, which Mr. Goldston edited and which became evidence at the heart of the pop star's recent child molestation trial. Troubling to some was a comment that Mr. Bashir made during an Oct. 5 conference call announcing the new format to the staff. According to two staffers on that call, Mr. Bashir mentioned that the year Mr. Koppel started at ABC was the same year he was born.
In an interview with The Observer after the anchor announcement last week, Mr. Goldston said that he was "a great fan of the idea of putting the event back into late-night television," and that the Nightline staff under his tenure would be "putting a lot of time and energy into doing those big journalistic-coup-type shows."
As an example of the coup-type shows he wants, Mr. Goldston said Ms. McFadden had just left for India to prepare a piece on the AIDS epidemic there. According to network sources, she was traveling with actor Richard Gere.
Contributing to the anxiety at the ABC offices in Washington is the difficulty of producing one Nightline format while preparing for the launch of another. One staffer compared this challenge to "going back and forth between divorced parents' houses."
Mr. Koppel, who is often characterized by members of the staff as a father figure, will anchor his last broadcast on Nov. 22. After that, he and executive producer Tom Bettag will leave ABC to work on documentaries for their independent production company. The duo recently invited a half-dozen Nightline staffers to join this venture, a selection and notification process that one staffer compared to parents choosing from among their children. According to sources familiar with their plans, Mr. Koppel and Mr. Bettag have worked out a distribution deal with HBO, which they will formalize after they leave Nightline.
In Mr. Koppel's 42 years with ABC—and particularly in the years since the network's failed 2002 bid to lure David Letterman to Nightline's 11:35 p.m. time slot—the anchor and his staff have occasionally clashed with ABC executives in New York and Burbank. ABC is celebrating Mr. Koppel's career with a reception at the Kennedy Center in Washington one week before his last show. A network spokesperson said that there are no plans for a primetime send-off, such as those produced for the Big Three anchors, all of whom have left their desks in the last year.