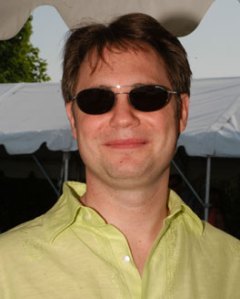 Magazine publisher Jason Binn is known for luxury living, and his real-estate broker wife, Haley Lieberman Binn, understands bricks and mortar. As chief executive of Niche Media, Mr. Binn publishes high-end glossies like Gotham, Hamptons and, most recently, Boston Common and Capital File; Ms. Binn is a broker at Stribling & Associates.
With a recent purchase, the couple found a way to pool their talents. The Binns bought a loft in a new Tribeca development for $2.074 million, according to deed-transfer records. A contract was signed on May 15, with the deal closing three months later.
LB Group, a joint company between Uzbeki-born Israeli billionaire Lev Leviev and developer Shaya Boymelgreen, purchased the two properties that make up the Tribeca complex in 2002. The architectural firm Tsao & McKown spearheaded the project, which consists of a converted 19th-century warehouse on Washington Street and a brand-new 13-story building on Laight Street (which is where the Binns' condo is located).
The full-service building includes a 24-hour concierge, landscaped garden, smart-card secure elevators, indoor garage and state-of-the-art fitness center. The kitchen is equipped with sparkling amenities by Sub-Zero, Bosch and Miele.
The Binns are not the first notable buyers to scoop up one of these lofts from spec sheets, long before the construction was complete. Actress Meryl Streep made headlines last year when she purchased the 4,000-square-foot penthouse for $9.95 million. Now, buyers can move in immediately.
In 1998, Mr. Binn founded Niche Media, which currently publishes six titles geared toward wealthy consumers. An N.Y.U. graduate, Ms. Binn followed in her parents footsteps—both are involved in real estate—and has previously worked with high-profile clients like restaurateur Jeffrey Chodorow and Madison Avenue jeweler David Yurman. In December 2003, the couple was married in a ceremony at the Fontainebleau in Miami Beach, and had their first child, Penny Olivia, in late August.
Mr. Binn declined to comment.
Over the past few months, the move by Jane Pauley and her husband Garry Trudeau across Manhattan has been closely watched. Now, as the couple heads to Beekman Place, they have also completed a deal on their former home. Ms. Pauley and Ms. Trudeau have sold their $13 million Central Park West duplex to financier Kevin Davis and his wife Susan.
The spacious co-op went on the market on May 20, and a contract was signed less than two weeks later. However, despite the signed contract—which The Observer reported in June—the deal didn't close until recently. Brokers Lee Summers and Caroline Rocco of Sotheby's International Realty listed the property. Ms. Summers declined to comment on the transaction.
Obviously, since the couple was selling their West Side home, they would need another place to live. Also in June, The Observer reported that Ms. Pauley and Mr. Trudeau were outbid on a $3.85 million Beekman Place triplex. Estranged couple Angela Rich and Jeffrey Siger previously owned the maisonette, which was listed with broker Patricia Cliff of the Corcoran Group. Ms. Cliff declined to comment.
But circumstances have apparently changed, and the powerful couple have indeed bought the triplex, according to The New York Times. Although fortunate to get their desired residence, Ms. Pauley and Mr. Trudeau leave behind an exceptional apartment that includes seven bedrooms, five and a half bathrooms and park views.
The Central Park West building has housed numerous celebrities over the years, including Lucille Ball, Robin Williams, Chuck Close and the aforementioned Ms. Streep—who recently sold her East Village townhouse and is presumably heading for the River Lofts.
Mr. Davis is the managing director of Man Financial, a global brokerage firm dealing in futures and options. A spokesman for Mr. Davis confirmed the deal but declined to comment.
Not long ago, a well-placed campaign contribution might have led to a good night's sleep in the Lincoln Bedroom. But there's an easier (and perfectly legal) way to get close to the 16th President's legacy.
The Todd Lincoln House on 38th Street, commissioned by his son, Robert Todd Lincoln, recently dropped in price by $1.15 million to a more market-friendly $5.35 million.
The 5,500-square-foot home is far more grand than a log cabin. Built in 1893-94, the 14-foot-wide landmarked townhouse comes with many of its original details, including a spiral staircase, moldings, Corinthian columns and seven wood-burning fireplaces.
The townhouse is listed with Susan Postman, Jane Koryn and Eileen Teich of the Corcoran Group. Ms. Postman declined to comment.
After selling their lavish apartment at 640 Park Avenue to J. Crew chief executive Millard Drexler for close to $20 million, Jonathan and Caroline Sack had to find another place to live. Mr. Drexler managed to pass muster with the strict co-op board, which once turned down a Saudi Arabian prince, and the deal was done. And having purchased the apartment for $11.7 million in 2001, the Sacks ended up making a hefty profit to put toward a new place.
Heading north, the wealthy couple purchased a 15-room duplex at 895 Park Avenue for $12.5 million, according to a source with knowledge of the deal. The luxurious co-op includes five bedrooms, five and a half bathrooms and two maid's rooms.
Sloan & Robertson designed the 19-story Art Deco building in 1930. The opulent structure features a 24-hour concierge, a wine cellar, a gym and squash courts.
Laurance Kaiser IV, president of Key-Ventures Realty, represented the buyers; he declined to comment on the transaction. Angel Joseph and Arlene Reed of Warburg Realty represented the seller, who passed away during the summer, shortly after the deal was completed.
High-end developer Dominion Management continues to reap big profits on the Upper East Side, recently selling a 74th Street townhouse to investment banker Eric Gleacher for just over $11.1 million, according to deed-transfer records.
The 8,000-square-foot-mansion, now converted into a single-family home with 15 rooms, has changed hands three times in recent years.
In 2003, mega-developer (and contemporary-art enthusiast) Aby Rosen purchased the property for $5.5 million. About a year later, Mr. Rosen flipped it for a quick profit, selling to Dominion for $6.7 million through Richard Steinberg, senior managing director of Warburg Realty. Mr. Steinberg represented Dominion again on this deal, but declined to comment.
The 20-foot-wide townhouse originally listed at $12 million and lingered on the market for about 10 months. Patricia Patterson of Sotheby's International Reality represented the buyer.
Although Dominion profited nicely, a lot of work went into the townhouse. Dominion secured approval from the landmarks commission to add a sixth floor and garden, a process that took nearly six months.
Dominion's first renovation project was at 12 East 73rd Street. The company's growing portfolio now includes 115 East 70th Street, 20 East 65th Street, the Henry T. Sloane House at 18 East 68th Street, and the massive, 50-foot Beaux-Arts townhouse at 3 East 75th Street, which is now undergoing a condo conversion.
Mr. Gleacher previously worked as an executive at Morgan Stanley and Lehman Brothers, and is currently a trustee at the University of Chicago and New York University. In 1990, he formed Gleacher Partners, a boutique investment-banking and asset-management firm. Mr. Gleacher declined to comment about the purchase.
Recent Transactions in the Real Estate Market
Tribeca
132 Duane Street
Two-bedroom, two-and-a-half-bathroom condo.
Asking: $1.975 million. Selling: $1.975 million.
Charges: $766. Taxes: $957.
Time on the market: ten months.
THE STRETCH IS WHEN YOU GO TO THE WHIP AND SPURS Persistence can pay off in real estate. A single investment banker was so taken with this Tribeca loft that he waited out the current tenant and dealt with other contractual issues for seven months. In February, the buyer uttered the words most sellers love to hear: all cash and non-contingent. Unfortunately, issues surfaced that complicated the deal. There were approximately 300 square feet of roof rights that had to be dealt with, as well as a renter currently occupying the space. Eventually, the condo title was amended to withdraw the roof rights, and the tenant moved up to a higher floor. After months of waiting, the buyer can finally enjoy the 1,986-square-foot loft that includes a security system, key-locked elevator and 12-foot ceilings. Other amenities include a Sub-Zero refrigerator, Bosch dishwasher and Viking Stove. Francine Hunter McGivern of Prudential Douglas Elliman represented the buyer. Her colleague, Joseph Race, represented the seller.