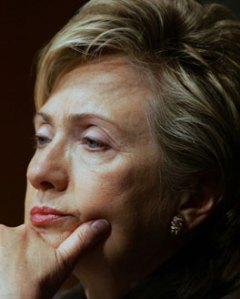 When asked if she has decided to run for President, Senator Hillary Clinton has a stock response: She's focused on her re-election fight here in New York in 2006.
But on Oct. 14, when Mrs. Clinton revealed her early 32-to-1 financial edge over her likely rival next year, another unspoken answer crystallized: Mrs. Clinton is already running for President, and next year's election is just part of that campaign.
Campaign-finance regulations encourage members of Congress to store up money in Congressional accounts for use in a Presidential race. From Mrs. Clinton's perspective, then, her prospective Republican opponent, Jeanine Pirro, is looking less like a threat and more like a fund-raising gimmick. Mrs. Clinton's campaign, spread between New York and Washington, is staffed with veterans of Presidential campaigns and of the White House. And Mrs. Clinton's national agenda is making no compromises with New York's parochial needs.
"Hillary isn't raising this money for a Senate race—let's be honest," said a Democratic political consultant who advised Senator John Kerry in his Presidential run last year. "The 2006 election is an excuse to develop the infrastructure of a Presidential campaign—to raise the money, do the thinking, do the planning, and do the work that's involved in laying the groundwork for a Presidential run."
Federal campaign-finance regulations limit donors to about $4,200 each election cycle. Mrs. Clinton spent $30 million in her 2000 campaign and, with more than $13 million currently in the bank, is on pace to raise much more than that this cycle—and likely more than she can spend. Such multimillion-dollar races—even close ones like the 2004 Presidential campaign—often leave candidates with spare cash.
What's more, the individual cap on donations applies to only one cycle. Ms. Clinton's big-money supporters—the Harvey Weinsteins, Patricof families and Barbara Lees—can give the maximum contribution again, whether or not their 2006 contributions remain in the Senator's federal account.
"Let's say you're running for Senate in 2006 and you want to run for President in 2008 and you've got money left over," said George Smaragdis, a spokesman for the Federal Election Commission. "You can put that money over. It's perfectly fine as far as the federal campaign-finance law is concerned."
Mrs. Clinton's aides say she hasn't made a decision about the 2008 race, and they uniformly refuse to discuss it publicly.
"You know I'm not going there," said Ann Lewis, a senior Clinton aide and former White House communications director, in response to a question about a potential Clinton Presidential campaign. "Those words never cross my lips."
They also say she's raising the money to fend off fierce attacks from a national Republican Party which is, Mrs. Clinton's aides insist, intent on using the 2006 race to wound Mrs. Clinton even if she wins re-election.
"Two words: Max Cleland," said Ms. Lewis, referring to the Georgia Senator defeated in 2004 by a barrage of television advertising that questioned his record on security, and that Democrats said questioned his patriotism.
But privately, aides and supporters concede that the campaign for President is up and running, and while Mrs. Clinton has made no final decision to run—and there's no reason to make such a decision this early—the machine already is running. The more dramatic decision would be to stay out of the 2008 race, to pull the plug on her vast, humming campaign.
"She keeps looking at [the Presidency]," said one advisor to Mrs. ­Clinton. "If she decides to go, she'll just transition right in."
Mrs. Clinton's huge third-quarter fund-raising report, and her wide lead on Ms. Pirro, are a reversal of her struggle to stay even with her Republican opponents in 2000, when she was outspent by Rudy Giuliani and, after Mr. Giuliani dropped out of the race, Rick Lazio. And the numbers may actually understate her advantage: Mrs. Clinton's campaign reported contributions from 70,052 people, with 95 percent of those contributions coming in quantities of $100 or less, mostly through direct-mail and e-mail solicitations.
One clear measure of the campaign's fund-raising ambitions is its investment: The most recent filing shows almost $4 million in expenses, more than many Senate campaigns spend in total, suggesting that Mrs. Clinton expects to receive a return many times that number.
"With so many low-dollar contributions, it seems like a bottomless well," said one experienced Democratic fund-raiser who isn't working for Mrs. Clinton.
It's a pace that may allow her to amass a serious lead before the 2008 Democratic Presidential primaries, and also scare off other Democrats by signaling that she might refuse public matching funds in 2008 and the roughly $35 million primary spending cap that comes with them.
"She'll raise $60 million or $70 million, and if she's running against Jeanine Pirro, there's no way she needs to spend that much money," said another Democratic fund-raiser. "If she winds up spending $30 million, she's wasting money."
That could leave Mrs. Clinton with $30 million or more after a 2006 victory, an estimate that also showed up in a report in the Hotline Web log, a political Web site.
And Mrs. Clinton's donors—a prosperous, liberal and national crowd—will hardly object if their money is spent on a national campaign.
"If there is any remaining, I would be delighted to have her roll it over into a Presidential campaign, because that would imply she's running, and then I would jump up and down for joy," said Susan Andersen, a professor of psychology at New York University, who wrote Mrs. Clinton several checks for a total of $1,700 earlier this year.
"If it's legal and correct, it's not going to faze me," said the doyenne of the New York Democratic fund-raising scene, Robin Duke. "I think Hillary has got the skills, the intellect and the capacity to move forward beyond the Senate."
Early Money Matters
The most important element of the 2008 campaign is, at this point, the money. Early money, in the famous slogan of Emily's List, "is like yeast." Mr. Kerry is often mentioned as a possible contender for the '08 nomination because he still has $16 million in his 2004 campaign account. But Mrs. Clinton's national network and an easy campaign for re-election—hardly guaranteed at this point, but not unlikely either—put her in a strong position.
The Senate campaign offers other opportunities at well. While some advisors, particularly among the Senator's New York–based aides, have a relentless focus on 2006, Mrs. Clinton's Washington agenda has been unswervingly national.
She has linked herself to a parade of former bêtes noires in a kind of ritual purification of the 1990's scandals, pushing health-care legislation with Newt Gingrich, who as House Speaker helped caricature her as a socialist harridan, and joining with Republican Lindsey Graham of South Carolina, a manager of the impeachment case against her husband, on armed-forces issues.
Meanwhile, she has emphasized security issues rather than softer, traditionally Democratic appeals, and has offered a critique of the Bush administration that describes the Republican leadership as divorced from objective, scientific reality.
Rarely is her criticism of the Bush administration focused on specifically New York issues. More often, it's a national case against the national Republican Party.
Before a friendly crowd at the Eleanor Roosevelt Legacy Committee's annual luncheon recently, Mrs. Clinton won repeated applause for denouncing Mr. Bush in the strongest terms.
"What happened along the Gulf Coast has ripped the mask off compassionate conservatism," she said.
Meanwhile, even as Mrs. Clinton's Senate staff fights local battles over security funding and the price of milk, the Senator has made few concessions to the local race. Only one, in fact, comes to mind: Mrs. Clinton has avoided the Presidential hopeful's pilgrimages to Iowa and New Hampshire. That may be a tacit nod to polls showing that some New Yorkers would like her to serve her full Senate term if she is re-elected next year. Ms. Pirro has criticized her for using the state as a "doormat."
Ms. Pirro's aides believe they can make Mrs. Clinton's potential Presidential race an issue next year. They promise to close the fund-raising gap and to focus on the likelihood that Mrs. Clinton will be too busy running for President to be much of a Senator in her next term.
"She is already taking no actions inconsistent with an '08 Presidential run. Her voting patterns are more geared toward Democratic primary politics in '08 than anything else; so is her fund-raising, and so is her fund-raising for others," said Kieran Mahoney, an advisor to Ms. Pirro.
"The point is [that there] are issues on which New York needs a full-time Senator, and in the event that Hillary Clinton gets elected to the United States Senate, it's important to know that she has no intention of ever serving in that seat."