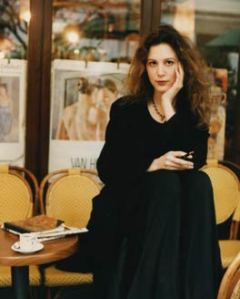 On Wednesday evening, Sept. 21, the designer Diane von Furstenberg hosted a cocktail party in honor of Justine Lévy, the author of Nothing Serious, a roman à clef based on Ms. Lévy's recent, sensational personal life. Ms. Lévy, 31, is the dewy daughter of the French celebrity-philosopher Bernard-Henri Lévy, and her book whipped up quite a scandale in France, illuminating certain universal truths about men, women and sex, and even jostling The Da Vinci Code from the best-seller list in the process.
Earlier in the day, however, on the eve of the book's publication in North America, Ms. Lévy had expressed some anxiety about the party.
"Je déteste les fêtes," Ms. Lévy said in her breathless, molten French. "I don't know what to do with myself, with my hair, with my body, with what I say to people …. "
In Ms. von Furstenberg's West 12th Street carriage-house studio, adjacent to her boutique filled with wrap dresses, finely groomed men in black dress shirts glided around the room, serving little triangles of salmon on pumpernickel and baby mushroom quiches. Then the hostess—who seems like French royalty, but was actually born in Belgium—stood in front of a small, rectangular indoor pool and, before such guests as Christopher Hitchens, Lewis Lapham and other wine-sipping Europhiles, toasted Ms. Lévy, describing her as a "very brave girl."
"And we looove brave girls," Ms. von Furstenberg said, to applause, before disappearing upstairs.
Ms. Lévy stood back in one corner, demonstrating excellent posture, in a dark denim jacket zipped all the way up, her blondish hair falling around her shoulders in pointy tendrils. Delicate and shy, she is in firm possession of that elusive French quality that makes many women from that part of the world appear much younger than they are, despite a lifetime diet of cigarettes, espresso and UVA. She has dainty rosebud lips and creamy white skin that scarcely hints at the ravages—both emotional and chemical—that she has endured over the past handful of years.
After her book came out in France (under the title Rien de Grave) a year and a half ago, Ms. Lévy joined a small sisterhood of daughters, and/or lovers, of prominent men in French society (the group includes Mazarine Pingeot, the long-secret illegitimate daughter of former French President François Mitterand) who exposed themselves and their intimate entanglements through works of fiction or memoir. Ms. Lévy's own tale was sordid at best: In addition to being the offspring of B.H.L., one of the most heavily photographed men in France, Ms. Lévy had a rather tragic encounter with the supermodel-cum-chanteuse Carla Bruni—the Angelina Jolie of Europe.
Ms. Lévy was married to a rising philosopher named Raphaël Enthoven, who was the son of her father's best friend, Jean-Paul. She had a late-term abortion at the insistence of her career-obsessed husband and went through a messy two-year addiction to amphetamines. That was before Ms. Bruni arrived on the scene. Ms. Bruni had somewhat of a home-wrecking reputation and was credited in the press with causing Mick Jagger's split from his wife. In 2003, she remade herself into a pop singer and won the 2004 Victoires de la Musique in France. She was also, at one point, the mistress of Ms. Lévy's father-in-law. She dumped the father for the son, shattering Ms. Lévy's marriage and sending her into an extended depression. (Ms. Bruni and Mr. Enthoven Jr. are married and have a 3-year-old son. A French tabloid reported that the couple broke up last winter, but Ms. Lévy said they are still together.) Nothing Serious, which is being published this month by Melville House, is a fictionalized version of this story, with characters thinly disguised through pseudonyms.
"One day, I felt like it was in my head, et c'est devenu physiquement nécessaire, to write," Ms. Lévy said earlier that day, over a lunch of Halibut and ratatouille and Nicorette (she quit a two-pack-a-day habit nine months ago) at Daniel Boulud's Bistro Moderne. "And it was very uncomfortable to have all these words in my head and in my body, so it was like a catharsis. I don't know. It was very physically painful, not to write about it."
The book reads like the transcript of an engrossing therapy session, or perhaps a feverishly scribbled diary. The writing is intense and emotional, very light on punctuation, and utterly French (one can almost hear the grainy Godard movie playing in the background). And then there is the added frisson of voyeurism. Although Ms. Lévy likes to refer to her book as a "novel," the similarities to her real life (even the father is called "BHL" in the book) make it hard not to think of it as the ultimate comeuppance memoir.
"The people around me knew that I had to write this book," Ms. Lévy continued. "Because I was destroyed, I wanted to die …. It was awful to be left by my ex-husband, and when I began to write this story, it changed things, and voilà. They knew it would help me to grow up and to behave, maybe like an adult. It's true, it helped me."
While the Euro-celebrity aspect will have less relevance to the book's North American audience, there is some early American critical interest: Publishers Weekly said that a "delicious cynicism creeps onto every page … and the novel is distinguished by that particularly intriguing brand of French fatalism," while Kirkus Reviews called the language "worthy of a feminist philosopher-poet." Vanity Fair described it as a "slim, sexy little book." The novel resonated with many (particularly female) readers in France, according to Ms. Lévy, and sold a vigorous 200,000 copies.
"I receive lots of letters from women who thought I had written their story," Ms. Lévy said. "It was the best compliment you can make to a writer. I was happy. I had the impression that people bought [the book] in France for bad reasons—for the scandale and all that. And then they liked it for other reasons."
Even her dog of an ex-husband was fine with the novel, at first, although he got a bit grumpier as the media depicted the book as a form of revenge rather than a work of fiction. (They aren't really speaking anymore, Ms. Lévy said.) Of the Ms. Bruni–type character, the book's femme-bot Paula, Ms. Lévy writes: "I thought she was beautiful and dangerous with that immobile face, as if sculpted out of wax, when she smiled her bones sort of moved to reveal her teeth …. I thought she was beautiful and bionic, with the look of a killer," referring to her as the "Terminator." Ms. Bruni made some disdainful remarks to the press about the novel, but had she expressed any feelings about the book to the author?
"No!" said Ms. Lévy. "If I see her, I kill her. But, um … she's afraid of me, I think."
Ms. Lévy clearly seems to have regained her strength, but her self-proclaimed timidity transformed the whirlwind New York trip—which included a Charlie Rose taping and dinner with her friend, the shoe designer Christian Louboutin—into something of a test of nerves. For one thing, New Yorkers were making fun of her accent, according to Ms. Lévy. "They laugh when I speak," she said. "Even the taxi—they laugh." But Ms. Lévy found her brief experience with New York book publishing rather pleasant.
"Everyone is so nice here!" she exclaimed with surprise from behind a table full of her novels at the party. A hulking fellow came over and requested that the author sign one. "Not like in Paris. There, they are more snob."
The reception had begun to thin out, and The Observer found Mr. Hitchens lurking in the doorway outside Ms. von Furstenberg's studio, in a rumpled tan suit and a French blue dress shirt. Was he enjoying the party?
"I should say not," Mr. Hitchens said. "There's nothing to drink, and you can't smoke!" (The bar was indeed only serving wine and an array of non-alcoholic beverages, and smokers were banished outdoors.)
Mr. Hitchens said he'd come to the party in the hopes of running into Ms. Lévy's father, B.H.L., whom he has met several times. He hadn't yet read Ms. Lévy's book, Mr. Hitchens said, but he thought that it sounded "fascinating."
At the Bistro, Ms. Lévy had mentioned that having a father who was a famous man of letters in France had been a mixed blessing in terms of her career. It made the publication of her first book, the 1995 novel Le Rendez-vous, much easier, she said, but it also generated resentment of her present notoriety. "They think it's unfair, and it is unfair. But I wasn't going to give up writing because people thought it was unfair," she said.
"People are suspicious of success," Ms. Lévy added, referring to Parisian society. "The media, the people in the street, they are very snob. It's not chic to sell lots of books, it's not chic to have money … but everybody wants to have money and sell many books! It's suspect to sell books. It maybe means that you are not a writer, because in France to be a writer you have to be poor. You have to be dead, of course.
"I don't care. I'm happy that the book was well received by critics, and I'm happy that the book was popular," Ms. Lévy said. "Voilà."
Ms. Lévy has a day job as an editor at a French publishing house (Editions Stock, which put out Nothing Serious in France), and is "not married, but like married," with a 9-month-old daughter by someone who resembles the savior-boyfriend that her protagonist Louise meets in the novel. Louise, in fact, breezes through a series of lovers, trying to muster up enthusiasm for each, before she seems to find the right one. Both Ms. Lévy and Louise are a little cynical about monogamy.
"It is important to lie very well, to be a good liar," Ms. Lévy said about the state of modern relationships. "If my husband cheats on me, above all, I don't want to know about it. That he lies about it well—that is all that I ask. If he loves me, he lies to me. Voilà, c'est ça, l'amour, pour moi." When a person is young, they might naïvely believe that love can last indefinitely, Ms. Lévy continued, but after suffering a little, they learn not to plan too far into the future.
Upon request, Ms. Lévy was willing to share some of her observations about romantic life in France versus America, which she said were based in part on watching movies and episodes of Sex and the City, as well as on her experiences with her first boyfriend, at age 16, who was Américain.
French men, and European men in general, are dragueurs, Ms. Lévy said, unafraid to approach women and not paralyzed by the possibility of rejection. Here, men and women are estranged from one another. There is no "dating" in France, although "a l'américain" is sometimes used to refer to a blind date. "When somebody likes you, he comes and tells you," Ms. Lévy said.
"It's in the eye. You meet somebody, and then you feel there is something, and then you kiss, and voilá. C'est comme ça," Ms. Lévy continued. "You don't eat. You eat after. You make love and then you eat.
"You are alone in a café, and a man comes and begins to talk to you," she continued. "If you don't want, you tell him, 'O.K., thank you, I'm not interested, I'm married.' And so that's all. People aren't afraid of rejection. They try. Often."