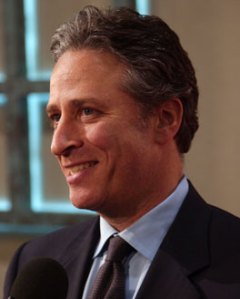 Comedian Jon Stewart has finally found a buyer for his $3.995 million apartment on West 13th Street, brokers involved with the deal confirmed, though they wouldn't identify the buyer who signed a contract to buy it.
The ersatz newsman had spent $5.8 million to upgrade to a 6,000-square-foot condo in Tribeca in March, just upstairs from slugger Mike Piazza.
A week later, he put his Village place—a 2,240-square-foot penthouse with two bedrooms, two bathrooms and a 1,500-square-foot terrace—on the market for a sliver under $4 million, listing it with Abigail Agranat and Andrew Darwin of Prudential Douglas Elliman.
He may have jumped the gun. The Tribeca apartment wasn't exactly move-in ready: The previous owner had housed over 1,000 turtles in the apartment.
At first, a note appeared in the listings shared among brokers that he wouldn't allow the apartment he was selling to be shown until May 23.
As the summer progressed, a further stipulation appeared with the listing on the company Web site: "Cannot be shown until further notice."
In September, open houses finally began. Letting potential buyers actually see the apartment must have helped, and an offer was accepted that month.
Meanwhile, plans to spruce up the Tribeca place were finally taking shape. This month, plans were filed by Deborah Berke Architects to renovate the interior, at an estimated cost of $300,000, according to the Department of Buildings.
The posh architecture firm has completed numerous residential and commercial projects, most recently working on the new Marianne Boesky Gallery in Chelsea. Ms. Berke didn't return calls for comment.
With the new apartment coming together, a contract on the old one was signed on Oct. 11. If Mr. Stewart got anywhere near the $4 million he wanted for the Village apartment, he'd have made quite a haul: He bought it just three years ago for $2.6 million.
Soros Takes Townhouse Off Market
Hedge-fund manager and left-wing activist Jonathan Soros has taken his West Village townhouse off the market.
Over the summer, Mr. Soros listed the 2,700-square-foot townhouse for $5.495 million, with brokers Sara Gelbard and Meredith Hatfield of the Corcoran Group. The four-story building includes a garden and roof deck, according to the listing (which has now vanished from the Corcoran Web site).
Mr. Soros purchased the home with his wife Jennifer in 2000. He wisely followed in the billion-dollar family business started by his father George: A year ago, Mr. Soros became co-deputy chairman of Soros Fund Management.
Ms. Gelbard declined to comment on the listing. A spokesman for Mr. Soros also declined to comment.
Jewel Bako Owner Slashes Townhouse Price
Across Manhattan, there's been a significant price drop on a notable East Village establishment. The three-story building that houses Jack's Luxury Oyster Bar, owned by restaurateurs Jack and Grace Lamb, is now on the market for $1 million less than just three months ago.
In July, the restaurant/personal residence came on the market with a $3.5 million price tag, listed with the brokerage firm William B. May. The townhouse is currently being offered for $2.5 million through Tatiana Cames of the Corcoran Group. Ms. Cames declined to comment.
The couple lives above the 24-seat restaurant, and Mr. Lamb would often be seen racing between the oyster bar and the couple's sushi restaurant, Jewel Bako, which is located across the street.
Considering that an award-winning restaurant is located below, it seems fitting that the personal residence includes a remarkable chef's kitchen, complete with a Diva de Provence stove and Sub-Zero refrigerator. In addition, the master bedroom includes a wood-burning fireplace.
Whoever buys the property will have the option of utilizing that downstairs space for commercial purposes or converting the entire building into a single-family home.
Ante Up in Brooklyn Heights
Over in Brooklyn Heights, a familiar four-story townhouse has re-entered the market with different brokers and a $12 million price tag.
Despite recent fears of a cooling market, the asking price for this unique property, located on 82 Remsen Street, has increased $2 million since February.
Built in 1837, the 11,660-square-foot property has had only four previous owners, and the current residents have lived there for almost five decades.
In 1958, sculptor Neil Estern and his wife, Anne, moved into the 371¼2-foot-wide home, which also includes a two-story carriage house.
"The magnificence of the house, obviously, was something I fell in love with," said Mr. Estern. "And the increasing prosperity of the neighborhood, the resurgence of Brooklyn Heights at that time, [made it a] distinctive place to live."
On Remsen Street, the Esterns raised three children, all of whom attended nearby St. Ann's. As the kids moved out, the Esterns utilized the ample space by carving out three rental apartments and an office. However, a wealthy buyer may wish to restore the townhouse to its original state, where it has been a well-known fixture in this highly-sought-after neighborhood.
"We had quite a distinguished bunch of people—cultural people—living here," said Mr. Estern. "Obviously, they've been to a large extent replaced by very wealthy people in the banking business, on Wall Street, [and] very prestigious lawyers. The makeup has changed quite a bit."
But the Esterns aren't leaving because of any demographic shift. Although grand, and in excellent condition, the palatial love nest feels empty with their family outside the city.
"We have a house in Connecticut, which we've had for 30 years," said Mr. Estern. "Two of my children live up there, and my grandchildren. We're all alone here, and it's a very big place."
Personal attachment aside, the couple decided to sell. The Federal mansion initially landed on the market last winter for $10 million; it was listed with Kevin J. Carberry, an independent Brooklyn broker who has been working in the area for over 30 years.
"I was showing it for about two months, and I gave them two offers during that time," said Mr. Carberry, who declined to specify the exact price. "Other brokers convinced them that it was worth more."
Next, the property was listed for $11 million with Liz Fishman of Stribling and Associates, before being scooped up a few weeks ago by Corcoran brokers Ellen Newman and Yolanda Johnson Vogelzang.
Considering that Mr. Carberry was able to get offers at $10 million, increasing the asking price became a viable option.
"Pricing is not an exact science," said Ms. Newman, who admits that they have already shown the luxurious property to several potential buyers. "They had a lot of direct interest at $10 [million]. When we took it, they wanted to go back to $12 [million]."
Either price would break the record ($8.5 million) for the sale of a Brooklyn residence. Currently, the highest asking price in the borough is $16 million, for a five-story townhouse in Columbia Heights, which was originally listed for $20 million earlier this year.
While the property is on the market, Mr. Estern will be continue to work on new commissions in his upstairs studio, complete with 18-foot ceiling and skylights. Throughout his career, he has depicted prominent entertainers and politicians, with two statues currently in the F.D.R. Memorial. When not in Brooklyn Heights, the Esterns plan to renovate their farmhouse in West Cornwall.
"There, you have a very diverse group of similar to what we had here—many painters, sculptors, actors and wealthy investment bankers, Wall Street people," Mr. Estern said. "So it's a nice mix."