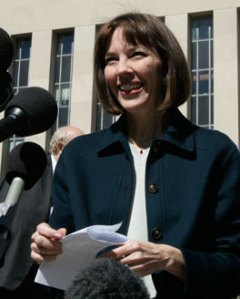 Last week, as reporter Judith Miller prepared to return to The New York Times newsroom—having gotten out of jail and supplied notes and testimony to prosecutor Patrick J. Fitzgerald—executive editor Bill Keller told the staff in a memo that her case was "not entirely over."
Mr. Keller was right. Eight days later, on Oct. 11, he was preparing another staff missive. Ms. Miller had played a key, if entirely murky, role in Mr. Fitzgerald's investigation of the leaking of C.I.A. agent Valerie Plame Wilson's name to the press. Why had the paper still not published a full account?
Ms. Miller, Mr. Keller wrote, "remains under a contempt-of-court order and is not yet clear of legal jeopardy." As a result, the paper's effort to report the piece was on hold: "[T]he story is incomplete until we know as much as we can about the substance of her evidence, and she is under legal advice not to discuss that until her testimony is completed."
Ms. Miller's testimony had appeared to be complete on Sept. 30. But even as Mr. Keller was composing his message, she was back in Washington, D.C., for another meeting with Mr. Fitzgerald—lasting into the early evening hours.
In an Oct. 7 news story, The Times had disclosed the news that Ms. Miller would be meeting Mr. Fitzgerald for further talks. Later that day, The Observer reported on its Media Mob Web site that Ms. Miller had turned over a second set of notes to Mr. Fitzgerald.
The existence of the new batch of notes appeared to surprise the prosecutor, according to a lawyer familiar with the case.
Mr. Fitzgerald had already obtained notes and testimony from Ms. Miller about a pair of July 2003 conversations she'd had with Vice Presidential chief of staff I. Lewis (Scooter) Libby, the once-anonymous source she had spent 85 days in jail to protect. But the new material dealt with an earlier conversation between the two, reportedly on June 23, 2003.
Newsweek reported this week that the new material had been found at The Times' Washington bureau. That struck many as odd, since Ms. Miller doesn't really work out of the Washington bureau. Washington bureau staffers said that they were unaware of any notes turning up on their turf.
"She's not been here since her confinement," a Washington bureau staffer said. "We've been left out of this story, and then suddenly it seemed like the bureau was involved, when in fact we weren't."
A lawyer familiar with the case said the new material came from Ms. Miller's own notebook, turned over by her legal team.
Mr. Keller didn't return calls seeking comment. A Times spokesperson didn't return messages seeking information about Ms. Miller's testimony today. Lawyers for Ms. Miller and Mr. Libby didn't respond to calls seeking comment. A spokesperson for Mr. Fitzgerald wouldn't comment on the investigation.
The shift of Mr. Fitzgerald's attention from Ms. Miller's July conversations to ones held in June embroils The Times even more deeply in the origins of the Plame leak case. Originally, the leak of Ms. Wilson's identity appeared to have been inspired by a guest op-ed in The Times by her husband, former ambassador Joseph Wilson, on July 6, 2003.
But Mr. Wilson's revelations—poking holes in the Bush administration's claims about Iraqi attempts to purchase African uranium—had appeared in The Times even earlier. On May 6, 2003, Op-Ed columnist Nicholas D. Kristof had written a column telling the same story, with an anonymous Mr. Wilson as his principal source.
"I'm told by a person involved in the Niger caper that more than a year ago the vice president's office asked for an investigation of the uranium deal, so a former U.S. ambassador to Africa was dispatched to Niger," Mr. Kristof wrote. "In February 2002, according to someone present at the meetings, that envoy reported to the C.I.A. and State Department that the information was unequivocally wrong and that the documents had been forged."
Washington journalists said that Mr. Kristof's column marked Mr. Wilson's debut as a Bush-administration-debunking background source.
"The first sign [of Wilson] was Nick Kristof's column in May," Washington Post reporter Walter Pincus said. "I read that, and it took me two weeks to find out who the ambassador was."
Mr. Kristof was traveling—in Niger, by coincidence—and couldn't be reached at his hotel for comment on the role his piece may have played in the Wilson affair.
Mr. Pincus said that following Mr. Kristof's lead, he eventually wrote a June 12 front-page piece in The Washington Post that discussed Mr. Wilson without naming him. "It took me another week to work that piece out," Mr. Pincus said. "I talked to every agency involved, and I never had to mention who the ambassador was. They all knew about it."
Last week, on Oct. 2, The Post reported that during the weeks when Mr. Wilson was appearing as a background source, the State Department had prepared a memo about his Niger expedition, including Ms. Wilson's identity as a C.I.A. agent—which was "in a section marked '(S)' for secret."
"Around that time, Libby knew about the trip's origins, though in an interview with The Washington Post at the time, he did not mention any role played by Wilson's wife," The Post reported.
Times editors wouldn't comment on what Ms. Miller was assigned to do in June of 2003 or why she may have talked to Mr. Libby then. It was a relatively fallow spell for Ms. Miller—and for The Times' news pages as a whole—on the subject of Iraq's alleged weapons programs.
The split between Mr. Wilson and the administration was mirrored in the split at the time between The Times' news and opinion sections.
While Mr. Kristof was using his Op-Ed column to dismantle the case for the Iraqi nuclear threat, Ms. Miller was in Iraq, on her much-discussed embedded mission with the Mobile Exploration Teams. It was her last major flurry of W.M.D. claims: "an unconfirmed report that looters may have taken anthrax samples" … "offers of sales of uranium and other nuclear material to Iraq" … "a tractor-trailer truck … [that] could be a mobile biological weapons lab" … "growth media that might have been used to culture germs" … "what is thought to be radioactive Cobalt-60."
Those hints, however, failed to hold up. On June 7, in a joint-bylined piece with William J. Broad, Ms. Miller reported that analysts had concluded that the purported mobile bioweapons lab was nothing of the sort. It was her last dispatch of the sort. On July 19, she reappeared in The Times, with the "with" share of a joint byline, writing from the U.S. about the suicide of British weapons expert David Kelly; on July 20, she did a postmortem on why the Army teams had failed to find convincing evidence of W.M.D.
In the meantime, Mr. Wilson had picked up Mr. Kristof's crusade under his own name. "As you know, we never coordinate anything with the news side," editorial-page editor Gail Collins said, when asked about the divergent coverage at that time. "We don't cover topics like the news department. We don't offer the ultimate answer on the Op-Ed page. We're very happy when people in the news can offer special insight or their own unique perspective and want to write for us."
But so far, since Ms. Miller's decision to leave jail and testify, the opinion and news pages have been in harmony—if silence counts as harmony. As speculation about the case burns up the blogosphere, none of the Times columnists have weighed in on the subject.
Ms. Collins said there's no edict barring the Op-Ed crew from writing about Ms. Miller.
"They choose their own subjects," Ms. Collins said, "and they're edited only by a copy editor. I have no idea what they will write until I see it in the paper."
Apparently, Mr. Keller has a better idea what's going into the news report. Before word came about the second set of notes and Ms. Miller's return trip, Mr. Keller had told a Times reporter that the paper might be running a Miller piece as soon as the weekend, Oct. 8 or 9. Instead, the paper and Ms. Miller have remained silent indefinitely.
Deputy managing editor Jon Landman—who is overseeing a Miller-case reporting team that includes Adam Liptak, Janny Scott and Don Van Natta Jr.—said that the delay is a matter of full access, not permission.
"What Bill is talking about is not when we can write a story," Mr. Landman said. "What he is talking about is when [Ms. Miller] can be expected to tell what happened."
The Times is handling the situation the way that other publications caught up in Mr. Fitzgerald's investigation handled their own reporters' cases, Mr. Landman said.
"What is holding up the Times reporting on this is Judy's continued legal entanglements," he continued. "The reporting goes on, but the publication of the story that you're talking about will be determined when she's out from contempt. It's the same as [Time magazine's] Matt Cooper. When the contempt citation was served, he didn't write something. Once it was lifted, he wrote something. And Time also did something with it."
The difference is that Mr. Cooper didn't surprise anyone by coming up with an extra set of notes after his grand-jury appearance.
Amid the confusion, The Times' failure to write about the case is wearing on the rank and file.
"None of us is aware what the story is," one Times staffer said. "We're awaiting information just like our readers are. There are a huge number of mysteries that need to be resolved. The paper needs to resolve it for their readers—and staff."
Tipsters fearing that The New York Times doesn't listen to them have had their suspicions confirmed lately by the sound of an endless busy signal. Last month, news clerks were notified that the paper had disconnected 556-3690, the line known on West 43rd Street as the "kook fax."
The kook fax, which also received automated press releases, served as the escape option for clerks fielding phone calls that offered unwanted or incomprehensible scoops. Clerks would advise the caller to fax the relevant information to 556-3690.
The various desks at The Times have at least one fax line each, for reporters' use and other authorized paper traffic. The numbers to those are kept semi-private.
The public's unsolicited documents would arrive instead at the newspaper's comm center, the department that also handled broken televisions and fax machines. There they would be tucked into manila envelopes, then hand-delivered to the clerks for review.
The envelope, one ex-clerk said, would contain "a lot of handwritten pages … and like pages with things Scotch-taped and photocopied."
"[I]f you gave them a fax number that we actually use," another clerk wrote, "then you'd have them faxing us their dissertations."
But last month, the paper abolished the comm center, reassigning its repair duties to the systems-support department. Now habitual faxers get the busy signal, and callers are often told that The Times doesn't have a fax machine, which can leave them "indignant," according to the clerk. Any information, the clerks inform them, should be e-mailed to the general mailbox for the relevant desk, such as metro@nytimes.com.
—Tom Scocca
New York Times pundit standings, Oct. 4-10, 2005
1. Maureen Dowd, score 6.0 [rank last week: tie—1st]
2. Frank Rich, 3.0 [tie—1st]
3. (tie) David Brooks, 0.0 [tie—4th]
Thomas L. Friedman, 0.0 [tie—4th]
Bob Herbert, 0.0 [tie—4th]
Nicholas D. Kristof, 0.0 [tie—4th]
Paul Krugman, 0.0 [3rd]
John Tierney, 0.0 [tie—4th]
The No. 1 story on the Most E-Mailed list for the week: Sandra Blakeslee's Oct. 4 piece about how bicycle seats can dig into the perineum, causing lasting damage to a rider's erectile apparatus. Sort of like TimesSelect and the Op-Ed columnists' performance! Only the supremely stimulating Maureen Dowd and Frank Rich were able to fight off the spreading numbness, as the number of pundits on the week's list drooped from three to two.
—T.S.