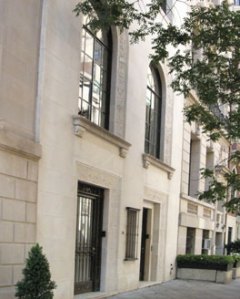 On a picturesque block off Central Park, two East 64th townhouses are changing hands. Each property has been sitting on the market for at least a year, with price tags topping $20 million.
A neo-Federal style residence at 16 East 64th Street recently sold for $21.5 million. And only two doors down, at 20 East 64th Street, there's a signed contract for another lavish home that has been listed most recently for $27.9 million.
Since 1990, Linda Schlesinger, a broker at Prudential Douglas Elliman, has been living with her husband, attorney Stuart Schlesinger, at No. 16. Ms. Schlesinger chose a wise time to utilize her real-estate knowledge. The couple purchased the lavish home 15 years ago for around $3 million.
But at the time, Ms. Schlesinger wasn't thinking there would be a sevenfold increase on their investment. (Who would have thought it possible during the Dinkins years?)
"It was lovely having outdoor space and having a home within Manhattan," said Ms. Schlesinger about her first thoughts after moving in.
With the kids now grown up, the two empty-nesters found that a six-story, 10,000-square-foot home offered far more space than they needed. In April 2004, Ms. Schlesinger first put the property on the market for $27 million.
"We were just testing the market at that time," said Ms. Schlesinger. "We were just trying to get a price that was realistic."
After stalling, the price was reduced to $23.5 million—the final asking price—and a contract was signed in mid-July. Eventually, the property changed hands for $2 million under asking to real-estate investor Martin Cohen, through a corporate entity. Sallie Stern of Brown Harris Stevens represented Mr. Cohen.
Originally built in 1878-79, the 20-foot-wide townhouse was restored to its original detail shortly after the Schlesingers purchased it. Included among the building's striking details are limestone columns, a detailed, wrought-iron front door and gate, a limestone and marble entry foyer, and a bronze and wrought-iron main staircase. In addition, the townhouse boasts ornate moldings, high ceilings, skylights, oak Versailles parquet floors and six wood-burning fireplaces.
Over the years, the couple has enjoyed the master-bedroom suite with his-and-hers bathrooms, a dressing room, and a steam and sauna room. The palatial home also includes five bedrooms, nine bathrooms, a living room, dining room, library, duplex kitchen, two terraces and a balcony.
But it's one thing to sell other people's homes, and quite another to sell a place of one's own. Leaving behind the many amenities is the least of it; there is also a good deal of sentimental attachment involved.
"Of course, showing your own property is emotional," Ms. Schlesinger said. "But in this case, I was ready to sell, ready to move on."
However, where exactly the couple plans to move remains up in the air, according to Ms. Schlesinger. They are even considering moving downtown, where a flashier empty nest would be a great departure from 19th-century townhouse living.
The second big deal on East 64th Street is taking place just a few steps away, and upon closing, it will be one of the biggest townhouse deals of the year—trumped only by the sale of Gianni Versace's palace at 5 East 64th Street, which sold last month for $30 million. (There's still a few months left for the three $50 million–plus mansions to find deep-pocketed buyers).
Investment banker Robert de Guardiola and his wife, interior designer Joanne de Guardiola, have a contract signed on their $27.9 million home at 20 East 64th Street, according to a source with knowledge of the listing.
The five-story mansion is co-listed with Kirk Henckels of Stribling & Associates, and Julie Kammerer and Barbara Kemp of Prudential Douglas Elliman. Independent broker Cheryl Tanenbaum brought in the buyer, an Irish businessperson.
As with the aforementioned sale, No. 20 came on the market in 2004, with a slightly higher asking price of $29.5 million.
Mr. Henckels declined to comment on the listing; however, according to a source, the purchase price is believed to be near the final asking price.
The 13,000-square-foot residence features a marble façade, a circular staircase, coffered ceilings and two terraces. Because of its exquisite details, the opulent townhouse once earned a spread in the pages of Architectural Digest.
There are four to five bedrooms, as well as staff quarters, a state-of-the-art stainless-steel kitchen, an office, gymnasium and massage room.
So what do these two sales mean for the real estate market in general? Local headline writers have been busy in the past few weeks, ever since third-quarter market reports showed a 12.7 percent drop in average sales price. During the third quarter, trophy properties simply were not moving.
While it's still too early to tell, these two high-end transactions—both taking place between Madison and Fifth avenues—could provide a nice bounce to the fourth-quarter market reports, when averaged in with the rest of the sales in Manhattan.
Recent Transactions In The Real Estate Market
Sutton Place
418 East 59th Street
Three-bedroom, three-bathroom cond-op.
Asking: $1.895 million. Selling: $1.895 million.
Charges: $3,491.74; 50 percent tax-deductible.
Time on the market: six weeks.
PATIENCE IS A VIRTUE At the final asking price of $1.895 million, this three-bedroom, three-bathroom apartment sold in only about six weeks. That's the good news. But for two years beforehand, there were plenty of difficulties. Originally, the apartment came on the market in 2003 for $1.6 million, and a contract was signed shortly after. When that deal fell through, another contract was signed in early 2004, but a slight contractual error made it null and void. Other deals came together, only to fall apart eventually. Next, the sellers—a couple—decided to separate, further complicating matters. But two brokers continued to show the apartment, and at a recent open house, they found a young couple who wanted to buy it. The 1,800-square-foot apartment includes a master bedroom with Jacuzzi tub and separate shower, as well as a dining room, marble bathrooms and a windowed kitchen. The couple moving in are sure to enjoy the building's many features, including 24-hour doormen, a concierge, laundry facilities, a garage and a fitness center. "It was one of the most difficult deals that me or my partner has been involved in," said broker Jorden Tepper of Manhattan Apartments Inc., who worked alongside his colleague, Kathy Koch Pitlake. "I think the moral of this story was that we were patient enough to complete a deal," Mr. Tepper added. It's always nice to find morals in Manhattan real estate.