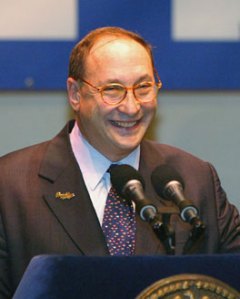 After Bruce Ratner sent the plans for his mammoth live-work-play complex in Brooklyn through a state review process in September, he got nipped by the autumn winds.
Even his most trusted foot soldier, Brooklyn Borough President Marty Markowitz, said the 22-acre project, which includes a basketball arena for the new Ratner Nets, was too big. Then a community group that was supposed to give the $3.5 billion project street cred proved itself incapable of filling out tax forms correctly. Finally, a pro forma public hearing on Oct. 18 turned into a talent show for Mr. Ratner's opponents, and the media declared that the tide of public opinion was turning.
Then again, maybe not. A poll commissioned by The New York Observer and conducted by Pace University finds that more New Yorkers support the plan to bring the Nets to Brooklyn than oppose it—and the trend remains even when people find out more about the project.
Asked outright what they think about the plan, 39 percent of the 538 voters polled said they support it, 23 percent oppose it, and the rest were undecided. Support was even stronger among Brooklynites (50 percent) and black men (59 percent). A set of follow-up questions gave the best arguments in favor (jobs, housing, civic spirit) and against (the large size, a $200 million taxpayer subsidy, use of eminent domain) and then asked respondents to rate their support: 46 percent were somewhat or strongly for it.
Between 30 percent and 36 percent of the public opposed it, depending on how the question was worded.
"Many times, people have very visceral reactions to real-estate development, and what I'm pleased about is that people in Brooklyn have obviously been paying attention and understand the concept and the issues," said Jim Stuckey, executive vice president for Mr. Ratner's company, Forest City Ratner. "Obviously there are questions, and obviously there are concerns—and there should be. And we will be addressing those."
The poll, cosponsored by WNYC Radio and WCBS-TV, has a margin of error of plus or minus 4 percent.
"The poll shows a low level of public awareness, but we conducted it in such a way to get a good sense of where New Yorkers would be if they were well informed," said Jonathan Trichter, the director of the Pace Poll. "There are plenty of tools that the opposition can use to derail this project, but public opinion is not one of them."
The public has rarely been polled about the so-called Atlantic Yards project, a 22-acre, Frank Gehry–designed complex with 7,300 apartments and substantial retail and office space. Its 16 towers jut up out of the ground at strange angles and bend back and forth, as if Mr. Gehry, advancing in years, tried but could no longer crumple tin cans the way he did in Bilbao or Los Angeles. The tallest tower reaches 620 feet high. It would become the tallest building in Brooklyn by 100 feet and conveniently stay that way for many years. Even the recently up-zoned downtown is now capped at 600 feet.
The telephone survey, fielded Oct. 14 to 19, comes months after the West Side stadium controversy and amid deep frustration over the sluggishness of Ground Zero development, which may partially explain why Mr. Ratner's plan comes across so much better than it did on earlier occasions. The New York Times, in an unpublished part of a poll in June, and the Quinnipiac Poll last April both found more naysayers than boosters.
Project opponents also point to the Democratic primary results in September as a sign of how strongly people living close to the project feel about it: Two vocal opponents of the arena plan, City Councilwoman Letitia James and Norman Siegel, a candidate for Public Advocate, overwhelmingly beat their rivals among local voters.
"I suppose the closer you get to the actual site, the more people you will find against it," said State Assemblywoman Joan Millman, a critic of the plan who represents neighborhoods along the western edge of the footprint. "I was at a Christmas party in Sheepshead Bay and the question was asked, and everybody was for it. That's because they don't have to live with it."
Count Mayor Bloomberg among those outsiders who offer their support without sullying their shirtsleeves. When confronted by an arena opponent at a Brooklyn greenmarket recently, Mr. Bloomberg responded, according to The New York Times: "If I lived here, maybe I wouldn't like it either."
Count Governor George Pataki among the supporters as well—and Mr. Pataki appoints the members of the Empire State Development Corporation, the state economic-development agency, which is acting as both a regulator and a participant in this project. The ESDC will condemn any land through eminent domain that the landlord won't voluntarily give up, and it has agreed to serve as the conduit for a $100 million state subsidy. (The city is also kicking in $100 million.) Currently, the ESDC is determining the parameters of the environmental-impact study, which will begin this fall or early winter. A groundbreaking could take place as soon as late spring 2006.
Daniel Goldstein, spokesman for Develop—Don't Destroy Brooklyn, criticized the Observer survey for low-balling the total cost of the project to taxpayers, which has been estimated to reach $1 billion, everything included. Nonetheless, Mr. Goldstein said the poll results show there is substantial opposition—and not just from neighbors.
"Surveys work well in political races, but in a complicated issue like this, it's hard to tell that much," he told The Observer. "It basically appears that there is a split. Maybe it's leaning a little toward supporting it, but when you look below the surface, when you tell people just a little bit more, they get more troubled and have more questions. A survey will never be able to illustrate this."
He added: "Still, considering that the developer is spending hundreds of thousands of dollars, if not millions, on lobbying and on public relations, including two newspapers—and grassroots activists just can't match that—the results are pretty good."
Mr. Goldstein and his ilk had better be prepared. They can expect Forest City to spend more money and stage more press events in the coming months, much of it focused on the developer's promises to deliver jobs and affordable housing to nearby residents. One such event took place on Oct. 25: the announcement of a minority firm, McKissack & McKissack, as construction manager.
On the other hand, opponents may have an even more volatile event coming up. The Council of Brooklyn Neighborhoods, a network of 25 groups that is officially neutral on the Atlantic Yards project, has been gathering its own surveys from members and other residents. Those surveys have been concentrated on those living nearest the project, and the council is expected to announce the results soon. A spokeswoman declined to provide an advance peek at the results, except to say: "There are grave concerns."