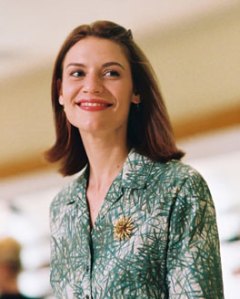 Steve Martin, apparently the guest of honor with his velvet suit and powdery skin, thanked the small crowd seated at bunched-in, circular dinner tables for celebrating his new film Shopgirl. It was at Tina Brown and Harry Evans' quaint Sutton Place mini-palace on Monday night, and another promotion party was under way.
In Ms. Brown's arched doorway stood Mr. Martin's co-stars, Jason Schwartzman and Claire Danes, looking exactly as happy and grateful as actors do at such events. Mr. Martin took his seat beside his ladyfriend, pretty New Yorker staffer Anne Stringfield, who has good glasses, better hair and an upturned nose. The short and large-headed Mr. Schwartzman dissolved into another room, back where he came from. Ms. Danes, Crudup-less and Lohan-blond but wearing a redhead's dream hue of deep forest-green velvet, gingerly attempted to make her way between the chairs, a plate of food balanced in one hand.
But there were no seats. They were already occupied by a curious mix of New York folks: Kurt Andersen, Zac Posen, Times Book Review editor Sam Tanenhaus, Shopgirl director Anand Tucker, New Yorker writer Ken Auletta, Nora Ephron, pundit-intellectual Fareed Zakaria, Slate's Jacob Weisberg and Joyce Carol Oates, among others. In the back, rowdy Regis Philbin and Phil Donohue occupied the same table and talked loudly at each other. Their spouses, Joy and Marlo, hushed them up.
So, at first, no one noticed this dilemma—that the ingénue didn't have a seat—and Ms. Danes' very wide mouth curled small and slightly downward, in the genuinely pained but mock-forlorn female expression of "Oh no, where am I gonna sit?" By the time chants of "I'll get up" and "You can sit here" erupted from a few guests, Ms. Danes was already matching them with quick retorts: "Oh no! … Don't worry about it! … No, I'm fine!" Then Claire Danes, the 26-year-old movie star, laughed big and said to no one in particular, "This is just like high school!" and plunked herself down at a newly vacated seat across from Chip McGrath, the New York Times literary man.
And so it was at Tina Brown's own version of a high-school cafeteria: the brains, the cool kids and Claire Danes, all mixing happily, awkwardly, in one tight space.
"I am a New Yorker and I am an actor," said Ms. Danes a bit later, daintily eating a syrupy dessert while Mr. McGrath rubbed shoulders with Mr. Auletta. "But not some combination of the two." And yet she seems like one of those subway-riding actors; it was hard to imagine Charlize Theron in her place.
There was an impulse at Tina and Harry's to note that Ms. Danes' reference to scary high-school cafeterias recalled her character, Angela Chase, on My So-Called Life. One tried to resist that impulse. But with her, even more so than with most celebrities, it's absurdly easy to confuse the character and the human. After all, she had even noted on My So-Called Life that high-school cafeterias are like prison movies.
No famous person resists the blurring of celebrity, fiction and gossip. Over there was Steve Martin, who wrote a book (Shopgirl) about dating younger women, stars in a movie (Shopgirl, based on the book) about dating younger women, and who actually dates younger women. There was that little Coppola, Jason Schwartzman, at once unattractive and attractive—just like he is onscreen! Regis Philbin looked silly and cute, like a wobbling Weeble … just like …. And all-seeing Joyce Carol Oates looked about to rip seven novels off the shelves and write an 8,000-word essay for The New York Review of Books (which was probably true).
Except—surprise!—Claire Danes, in person, is nothing at all like Angela Chase. It is, of course, a blessing and a curse that those who grew up with the character wish it were so.
"They seem to do it more now than they did even five years ago," Ms. Danes said, furrowing her brow and yet completely unconcerned. "Which is weird. I don't understand why."
And will it ever end? On the eve of Shopgirl's opening, the more serious question of whether Ms. Danes will finally leave behind Angela Chase and become a big-time movie star has become, at long last, a legitimate one. This film is as good a chance as any for the breakout performance that My So-Called Life fans have been waiting for. But does the sometimes beautiful, sometimes odd and quirky girl have a chance against the Scarlett Johanssons and Natalie Portmans of the world? Where does the interesting girl go in Hollywood after she's left high school?
Ms. Danes, for her part, said she never had an idea of how she wanted her career to unfold. She "just wanted to work with clever, searching" people.
Many movie stars have suffered the curse of child stardom, but for Ms. Danes it's a different story. Her Angela Chase was in many ways wise beyond her years, a moody teen and a soulful granny fighting out their differences in one small, uneven body. So while other teen stars, such as Kim Fields (Tootie on The Facts of Life) and Tina Yothers (Jennifer Keaton on Family Ties), always seemed tinged with an aura of inevitable downfall, the teenage Ms. Danes suggested the opposite. Fans of the show, ignorant then of the fickle miseries of Hollywood, trusted that a young person that talented could do whatever she pleased. Who would Claire Danes grow up to become? Who cares, she had time. When she decided to take some time off to go to Yale—good for her. She had her whole long life ahead of her to develop into the next Meryl Streep.
But the last 10 years of Ms. Danes' career—since her lovely, plain-Jane turn in Little Women, and since Romeo + Juliet, when she and Leonardo DiCaprio were hyped and hailed as the finest actors of their generation—haven't amounted to the commercial or even critical success that My So-Called Life fans believed was as inevitable as Angela's flannel outfits. Not that her talent has diminished, or that she hasn't been working, but rather that she isn't the star everyone thought she deserved to be.
In fact, many of her films have been multi-starred ensemble pics, like The Mod Squad or Igby Goes Down. In The Hours, she played Meryl Streep's daughter for about 10 minutes. Stage Beauty landed when Ms. Danes was also being cast in real life as not only a man-stealer, but as a daddy-stealer, in a love triangle with Mary-Louise Parker and Billy Crudup that made Brad Pitt look like Tom Hanks.
For some people happily lost in Tabloidtown, Ms. Danes' reputation was blighted as well. And even so, Claire Danes was almost unidentifiable, a New York star who had virtually no public personality, except that at one time she was a brilliant actress who must have been a lot like the pained, thoughtful character she played on TV. In the absence of a defined persona, and in the confusion of a scandal, Danes fans fell back on what they used to know: that, at heart, Claire Danes was still and would always be the perceptive actress who played Angela Chase. Maybe Claire was Angela. For teens, after a day of staring into the depths of a hallway locker and longing to jump inside, watching My So-Called Life was a swimming pool of solace.
How could her face—wide planes, large features, a hard-won smile—express so perfectly all the wonderful things and terrible things that teenagers felt and thought and congratulated themselves about? Lately I can't even look at my mother without wanting to stab her repeatedly, she said in the first episode. More than once on the show, she smiled widely and cried down deep inside, the strong upward tug of her lips the only thing keeping the entire face from collapsing in upon itself. (She rivals Julia Roberts in the art of beautiful weeping; the more talented Ms. Danes is more gut-wrenching to watch.) She was capable of comedy and remarkable physical control: After finally properly kissing long-time crush Jordan Catalano on the show, she danced in her front yard and up her front steps, part ballerina, part Chaplin. It was joyous whimsy, but also skillfully executed in the way only a true dancer can.
If you'd seen that episode, it wouldn't come as a shock that Ms. Danes danced in Christina Olson: American Model a few weeks ago at P.S. 122 in New York. It was the same venue she'd danced at as a child growing up in New York City before she left for L.A. and TV. For the solo act, Ms. Danes wore a series of plain dresses and spent a decent amount of time on the ground. Critics loved it.
Ms. Danes cooperated on the project with a family friend. She just felt like dancing again; she'd loved it when she was younger.
And yet it seemed obvious to ask, especially for those for whom dance in New York is akin to a jazz solo in a Philadelphia nightclub: Why would a movie star take part in a small-time dance performance—and right before a major movie opening? This wasn't Nicole Kidman dropping her drawers for David Hare. This wasn't even Broadway. It was humble, maybe even humbling.
But in Shopgirl, Ms. Danes is the woman, the only woman, the center of a rather cruel tale, actually, about a lonely artist from Vermont working at Saks Fifth Avenue in Beverly Hills. In the ads for the film, with Ms. Danes smiling sweetly and leaning over a department-store counter, she's the object of desire for mankind as embodied by an actor-cum-New Yorker writer on her right and the dude from Rushmore on her left. In the film, Mr. Martin is an old, rich, blank-hearted man named Ray Porter, and Mr. Schwartzman is a messy boy named Jeremy who paints amplifiers for a living.
But although Ms. Danes said that she thinks Shopgirl is "generous" to all its characters, her character endures a good amount of anguish. This is an incredibly painful and somewhat unfair movie—especially for women. Ms. Danes will naturally win (back?) their sympathy and affection.
In the beginning, she is forlorn. The moving initial shot of the film, which starts above Los Angeles and slowly moves through the city, the sunny glitz of Saks and the hushed rooms of a very, very expensive floor in that store, finally stops on a girl. She is far away, standing behind a glass counter, her head almost imperceptibly tilted, her arms resting lightly on the case; she's staring straight ahead, but at nothing. It's Ms. Danes, and the effect is mesmerizing because it is exactly the kind of physical brilliance that is particular to, and immediately recognizable as, Claire Danes. It's apparent how sad this woman is, even without seeing her face. You can almost feel melancholy radiating from the way she holds her shoulders.
A jarring voiceover, performed by Mr. Martin, tells us that this is Mirabelle Buttersfield, and that since she's moved to L.A., she's been waiting for something to happen to her. That's what she looks like behind the counter: both ready for something, and highly vulnerable to whatever that is. This is Ms. Danes' trademark pose, one she established as a teenager.
What happens to Mirabelle is Ray Porter. Out of every shopgirl in the place, including that hot, pointy-nosed blond actress who's Pete Sampras' wife in real life, this rich man from Los Feliz picks the poor girl in barrettes and 40's dresses. He buys her things. She falls in love.
He, of course, does not. In one sequence, after Ray and Mirabelle discuss the terms of their relationship, the camera cuts to Ray in therapy explaining how he let her down easy, and Mirabelle with her two twit friends, rhapsodizing about how much he loved her. It's a cliché that men and women can't communicate, and an ever bigger one that women always misinterpret men's intentions, and yet in this case, it's so over the top—the women so stupid and the man so cold—that it becomes clear the film is signaling that even uglier stuff is to come.
The imagery is excruciating and humiliating to watch: Mirabelle splayed and hysterically crying on Ray's bed after he cravenly writes her a letter and makes her read it in front of him; scenes of her happiness transforming her face, contrasted by Ray's mute and frozen expression, eyes black; Ms. Danes' adorable vintage clothes and old-fashioned suitcase suddenly seeming silly and immature in Ray's L.A.-sleek home, just after he's hurt her so carelessly. Why don't you love me? she asks.
It's no fun to watch Ms. Danes get hurt again and again in Shopgirl, though that blurring of reality and fiction may allow some people who hate her for the whole Mary-Louise thing to vent some of their own relationship woes. Mostly, the film is a reminder of Claire Danes' very special ability to be Everygirl. It was that which made her so accessible, and which made fans love her so much. She's inhabitable. And while she is very much a girl in this film, by the end, with that stunning smile blotting out any residual pain or naïveté of growing up and getting hurt, she's something else: a thoughtful actress whom even the most nostalgic so-called fans will never really know