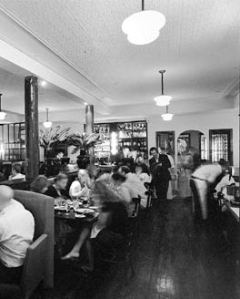 When we sat down to dinner at Le Cercle Rouge, a brand-new bistro in Tribeca, one of my guests announced that he was a vegan. The other said he'd developed a fructose intolerance and his diet was now limited to steak and vodka. Then I discovered that the restaurant—which I thought had been open for more than a month—was barely a week old. By then, it was too late to go somewhere else. The evening seemed headed for disaster.
But Le Cercle Rouge is one of those mix-and-match restaurants where you pick the sauces and vegetables to go with your meat or fish. So the vegan took his choice from more than a dozen vegetable dishes while the steak man gave them all a pass. And as I looked around the dining room, which seats 95, and saw that it was packed solid with customers who seemed to be having a rollicking good time, I didn't feel quite so bad about jumping in early.
The restaurant is named after Jean-Pierre Melville's 1970 film, starring Yves Montand and Alain Delon, about a jewel heist on the Place Vendôme. That louche band of robbers would fit right into this room, with its black leather banquettes, distressed mirrors, bare brick walls, columns, potted palms and raw seafood bar. There were full-arm tattoos at the large front bar. Customers spilled out onto the street, where tables had been set. All that was missing was a Gauloise haze.
The restaurant seems to have been decorated on a shoestring budget, however, with cheap wooden tables and odd embellishments, such as a white-limbed store mannequin in a red feather boa and a black beret, perched above the bar. At first I thought the potted palms resting on a divider in the center of the room were plastic. "They can't be," said the vegan. "One of the leaves is turning brown."
The room is also very noisy. (Luckily, the woman at the table next to me that night, who had a voice like a tuba in a Mozart horn concerto, was already on dessert when we sat down).
Le Cercle Rouge is owned by Georges Forgeois of Café Noir and Bistro Jules in partnership with Fabrice Warin, former maître d' and sommelier of Orsay, and chef David Féau. Mr. Féau, a protégé of Guy Savoy, worked at his Bistro de L'Etoile in Paris and was previously at Lutèce, which closed last year.
His menu here is a mix of bistro favorites (plus sandwiches and salads at lunch) with an occasional esoteric dish, such as a first course of baked clams that came lined up on a long plate in a marvelous deep pink spicy sauce, topped with slivers of chorizo. Among the bistro dishes was a fine frisée salad, made with the green part of the bitter lettuce, tossed with lardons of bacon, soft egg and croutons in a sherry vinaigrette. Warm leeks were also very good, in a mustardy shallot vinaigrette. The crab cakes were unusual, among the best I've had anywhere. They were puffy and light, almost like little browned soufflés, and served with a delicate custard instead of sauce tartare.
From the raw bar, I ordered fluke ceviche ($14). Shavings of fish, so transparent they looked like wet tracing paper, arrived on a wooden plank, along with three espresso-sized cups of different sauces. The fluke was gone in a second; there was enough sauce for another 10 portions. Oysters, $2.50 apiece—blue points, beau soleils and hood canal—were very fresh and briny.
Le Cercle Rouge follows the build-the-meal-yourself tradition established by Tom Colicchio at Craft and continued by Laurent Tourondel with his BLT chain. The main courses are headed "meat composition" or "fish composition." Lamb chops, served with a fine béarnaise sauce, were tiny and leathery, the plate garnished with a whole garlic bulb (that wonderful young garlic I find at Union Square) tied with herbs. I meant to take the garlic home, but then forgot about it. The organic steak (a special) was an excellent piece of meat and very tender, but at $31.50, it's by no means a bargain. Wild salmon "à l'uniteral" (in other words, cooked just on one side), was perfectly done and very fresh, but the olive oil and roasted garlic sauce that came with it was underseasoned and bland. Cod, on the other hand, also impeccably cooked, came with a fine fresh tomato sauce.
The vegetables, priced at $6 to $7 each, build the check nicely. They were all good: asparagus, green beans, potatoes mashed with herbs, steamed spinach, black beans, sautéed zucchini, slivered bok choy seasoned with curry … the vegan was delighted (as he also was by the peppery carrot soup, a special of the day).
Pellegrino priced at $8 a bottle builds the check nicely, too, and the wine list has few bottles in the $30 to $40 price range, which is strange for a casual bistro. I stared at the baffling and expensive list for a while before spending more than my budget on a $75 bottle of Pommard. It was fine, but not as good as it should have been for that price.
For dessert, skip the gritty mango rice pudding and the dull molten chocolate cake. Instead, there's a wonderful apple tart on a light, crisp pastry shell, and a delicious pêche melba made with the last of the summer's peaches. You can also choose among eight flavors of "seasonal" custard, of which my favorite was caramel, although what's seasonal about that (or chocolate, coconut or lychee) is a mystery.
Le Cercle Rouge is off to a lively, colorful start. Visiting on another evening, I spied the couple at the next table drinking Dom Perignon. The man handed his date the cork and she slipped it into her handbag. "I'll pay you to live with me," he said, naming an exorbitant monthly sum. "And even if you decide to leave, I'll still take care of your mother."