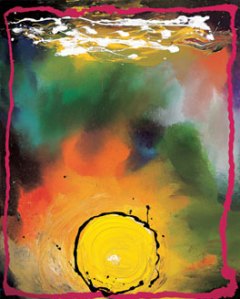 It was the 19th-century British critic William Hazlitt who shrewdly observed that writers "who lack delicacy hold us in their power"; the same might be said of certain painters. One of them is the American artist Jules Olitski (b. 1922), whose paintings are currently the subject of an exhibition at Knoedler & Company. "Boisterous, daring and unrestrained" are the terms used by the gallery to characterize Mr. Olitski's latest paintings, which are highly colored, heavily textured abstractions that exult in their own brashness.
This is not to say that Mr. Olitski is a total stranger to chromatic subtleties—in his earlier paintings, he proved to have an untroubled command of the stained-canvas technique of color-field painting. Yet over the course of his development, Mr. Olitski has rekindled another early interest: expanding the physical properties of the painterly medium. This interest in what he calls matter—the physical substance of his medium—has now come to dominate his handling of color. Hence the rubric Matter Embraced to describe the material and chromatic density of his latest paintings.
It's sometimes the fate of certain highly charged abstract paintings that they come to resemble, in their general character, the processes of nature, even though no naturalistic subject was intended by the artist. In Mr. Olitski's latest abstract paintings, we seem to be transported to some sort of virtual outer space, where storms of color light up the heavens with an unexpected eeriness and portents of cataclysm. This element of the macabre, if one may call it that, strikes me as something new—not only in Mr. Olitski's work but in all of contemporary abstract paintings, which tends to avoid the more disquieting shades of feeling.
What isn't new is Mr. Olitski's appetite for change. He seems always to have been impatient to move beyond whatever came to be regarded as "success" in his painting. If, in the current show, the paintings from the 1950's seem at first glance entirely characteristic of the reigning Abstract Expressionist aesthetic of that period, closer acquaintance with pictures like Ballet Dancer—Waiting, Piano of Stefan Wolpe and The Holy Virgin (all 1959) reveals a built-up surface of spackle, resin and dry pigment, a handling of "matter" that marked a dramatic departure from the accepted conventions of the New York School in its heyday.
Even the handling of color—the central interest in Mr. Olitski's painting—has undergone dramatic changes in the course of his career. Early on, his entire conception of color derived from Hans Hofmann's variations on the Fauvism of the School of Paris. Under the influence of color-field painting, color was put on a diet, so to speak: Bravura handling was abandoned in favor of transparency and fluidity—a change very much influenced by the art criticism of the late Clement Greenberg. So enchanted was Mr. Olitski with this mode of color that he once expressed the desire to create paintings by spraying color into the open air. He settled, however, for using a spray gun to create a veil of color on the canvas surface.
It was inevitable, perhaps, that a pictorial style based on transparent veils of color would prove severely limiting. What may also have effected a change in Mr. Olitski's handling of color was Greenberg's death in 1994. It's hardly news that Greenberg's influence was central to the development of color-field abstraction; without that influence, it's doubtful that color-field abstraction would have acquired the authority it briefly enjoyed. I don't say this as a criticism of Greenberg, whose writings I very much admire (though I often disagreed with him). But I do believe that his departure from the New York art scene made it possible for certain artists—Mr. Olitski among them—to expand their pictorial horizons into areas of style and concept alien to his taste.
Be that as it may, it's my view that in the Matter Embraced paintings at Knoedler & Company, Mr. Olitski has created his finest work.
Jules Olitski: Matter Embraced—Paintings 1950s and Now remains on view at Knoedler & Company, 19 East 70th Street, through Nov. 5.