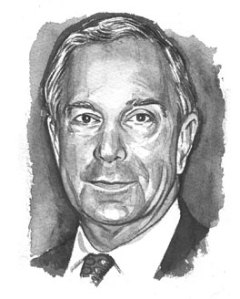 New York enjoys a reputation as a union town, where brawny firefighters demonstrate for better pay or teachers pack Madison Square Garden demanding their long-delayed (and now-awarded) contract. In the city imagination, "big labor" bestrides the scene like a colossus: Officials often complain about its demands, while local newspapers feature any number of pundits inveighing against its power over the municipal purse.
The local images of labor's brawn, however, mask a much-less-muscular reality: Owing to a shrinking industrial base and to all-Republican national government, union power is retreating everywhere, even here. Scratch a union head in New York—a workers' paradise compared to most states—and you will find a put-upon guy or gal who's scared of losing hard-won contract gains and is looking over at his colleague at the other local as the guy who might set the precedent of concessions. Talk among unions of working-class and political solidarity, of "brother" this and "sister" that, is just so much smoke and nonsense. New York's billionaire businessman Republican Mayor, Michael Bloomberg, knows this all too well.
The Mayoral race is exposing fault lines in the local labor movement. While unions have allied themselves with the Democratic Party in national politics, in New York unions have lately endorsed politicians on both sides of the aisle. This year is no different.
The powerful apartment-house workers' union, SEIU 32BJ, which in 2001 spearheaded the Mayoral campaign of liberal Democrat Mark Green and in 2002 supported Carl McCall's gubernatorial campaign, this year is supporting Mr. Bloomberg. So is District Council 37, the major municipal workers' union, which usually finds itself in the Democratic camp. The transit workers, meanwhile, have allied themselves with Democrat Fernando Ferrer, as has the politically potent health-care workers' union, SEIU Local 1199. In 2002, Local 1199 endorsed Republican Governor George Pataki, as did the United Federation of Teachers, which at this writing has not tendered an endorsement in the Mayoral contest. Many expect it to remain neutral, given its new contract.
The union endorsements of Mr. Bloomberg antagonize some labor leaders, who see the nods as a sign of labor disunity and as rewarding an official who doesn't deserve the credit.
"In the public sector, with some unions without a contract, it's a wonder to me that any union would support the Mayor," said Arthur Cheliotes, president of Local 1180 of the Communications Workers of America, which is supporting Mr. Ferrer. Mr. Cheliotes said that in fixing recent budget crises, Mr. Bloomberg had asked for and received union givebacks totaling $600 million, or $2,000 per worker—balancing the budget on the backs of those who can least afford it.
Another Ferrer supporter, Stuart Appelbaum, president of the Retail, Wholesale and Department Store Union, lamented the "Wal-Martization of the economy" that he said would be the outcome of Mr. Bloomberg's economic policies. "We disagree with the notion that economic expansion should come regardless of the cost in terms of the exploitation of workers," he said.
Still others grumble that the unions' support has helped Mr. Bloomberg portray his re-election as inevitable—undercutting contract negotiations. "Once you realize that you cannot beat this guy with your political strength, and you cannot wait him out, then your whole strategy has to change, and you go back to the table," one labor veteran told the Daily News.
In some cases, the divisions in the endorsements reflect a quarrel over strategy: While in general unions think that Democrats offer a better legislative climate for labor, some break ranks to support Republicans who are willing to do a deal that benefits them. In 2002, Mr. Pataki cannily co-opted Local 1199 with a pay-raise deal worth $1.8 billion and bought the U.F.T.'s backing for $200 million.
In endorsing Mr. Bloomberg this year, the apartment-house workers' union cited his support of the Brooklyn waterfront redevelopment, which will provide 1,000 apartment-house jobs, and of New York Safe & Secure, a program in which the union will help train security guards. Mr. Bloomberg's support of the now-defunct West Side stadium, as well as his newly created Mayor's Commission on Construction Opportunity, can be seen as bids for the support of construction-trade unions. Ah, the art of the deal!
So it is that New York unions muddle through. Mr. Bloomberg, a Democrat in G.O.P. clothing, probably was always going to snag the backing of Local 32BJ: The union hasn't forgiven Mr. Ferrer for what it saw as his treachery against its man, Mr. Green, in the racially divisive Democratic runoff of 2001. Mr. Ferrer didn't help himself by what some say was his meddling in internal union affairs. The 32BJ snub wounded Mr. Ferrer, notwithstanding any ground troops supplied by 1199: It denied him the valuable ballot line (but not the endorsement) of the Working Families Party, a labor-affiliated outfit where 32BJ has big influence.
Labor: Divided, it stands.