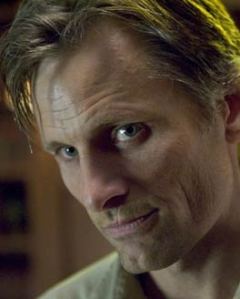 David Cronenberg's A History of Violence, from a screenplay by Jack Olson, based on the graphic novel by John Wagner and Vince Locke, may go down in movie history as the suspenseful thriller in which the bedeviled-by-his past, virtually schizophrenic hero, Tom Stall/Joey Cusack (played magnificently by Viggo Mortensen), makes Batman, Spider-Man and Superman look like woeful wimps.
I never thought I'd rave about a movie based on a graphic novel, though Canadian-born-and-based auteur David Cronenberg has almost always delivered the goods in the more gruesome and disreputable genres in his now 30-year feature-film career, beginning with the soft-core exploitation/horror movie They Came from Within (1975). Now in his early 60's, Mr. Cronenberg, a one-time honors student in English language and literature at the University of Toronto, has retained his obsession with the yearnings and vulnerabilities of the human body and mind in increasingly depraved human societies, in such films as Rabid (1977), The Brood (1979), Scanners (1981), Videodrome and The Dead Zone (both 1983). Of his remake of The Fly (1986), Molly Haskell once observed its relevance to all marriages in which "he changes, and she doesn't."
Dead Ringers (1988), with Jeremy Irons in the dual role of warring identical-twin gynecologists, was an artistic and commercial success that led to Mr. Cronenberg being elevated to more prestigious but less effectively rendered projects, such as Naked Lunch (1991), M. Butterfly (1993) and eXistenZ (1999). In career terms, therefore, A History of Violence represents the first of Mr. Cronenberg's efforts to merit consideration as the best picture of the year, despite being what traditional critics might once have dismissed as a pulpish enterprise with excessive violence and eroticism. After all, there had to be a revisionist revolution in taste to legitimize not only the genres of John Ford, Howard Hawks and Alfred Hitchcock, but also the neo-flourishes of Quentin Tarantino, Lars von Trier and the Coen Brothers. How else could a movie that produces a dozen or so corpses in 96 minutes be accorded such a wide range of ecstatic reviews, both here and abroad?
The key is the sense of stylization involved in the first anachronistically and poetically pastoral shots of Millbrook, Ind., with its polite citizens exchanging cheerful morning greetings on a peaceful, sunny day. But this isn't the first image we see on the screen: Instead, we're treated to a masterly depiction of pure evil unfolding outside a motel, where two men are bickering about the details of their departure. The younger man (Greg Bryk) is clearly if sullenly taking orders from the older, more formally dressed man (Stephen McHattie). The younger man is sent inside with the camera to get some water for the long trip ahead. We are not surprised to discover the evidence of a blood-spattered crime inside, but also a further impromptu act of shocking violence that is brilliantly intercut with a screaming child's nightmare in a hitherto happy and untroubled home far away. Mr. Cronenberg, Mr. Olson, cinematographer Peter Suschitzky, editor Ronald Sanders and production designer Carol Spier have combined their talents and expertise to thrust us into an oncoming collision between good and evil in the most economical manner imaginable. The feeling of inevitability is enhanced by the deliberately slow pacing and oblique method of revelation in this opening sequence.
The dark cloud cast by the evildoers hovers over what would otherwise have been an almost laughably idyllic presentation of a happy family preparing for a normal day in their quiet town. Tom Stall (Mr. Mortensen) runs a small luncheonette on the town's main street, while his wife Edie (Maria Bello) works as a lawyer. Their teenage son Jack (Ashton Holmes) attends high school and their little girl Sarah, grammar school. It is, of course, an old trick for noir films to begin in the bright sunshine of a peaceful life before plunging us into the darkness of menacing death. We know that something awful is about to happen, but the film delays the explosion with an incredibly wicked role-playing marital-sex scene between Edie and Tom, with Edie taking the initiative. This only increases the foreboding.
Meanwhile, their son is being bullied in high school by an obnoxious boy, who casts homophobic aspersions on the unresisting Jack, a self-proclaimed pacifist. One isn't sure if some kind of subtext is screaming for recognition in the narrative, particularly when Jack's girlfriend is shown as a boyishly dressed and coiffed girl. The point is that Mr. Cronenberg is in such tight control of the film that we're never given time to worry about any incongruities that arise.
We don't have long to wait before all hell breaks loose, as our still-bickering travelers from the motel decide to visit Tom's luncheonette. In an electrifying sequence that begins like the opening bravado-dialogue section of Ernest Hemingway's "The Killers," then escalates with the flaunting of a gun and the manhandling of a terrified waitress, the soft-spoken Tom hurls boiling hot coffee in one assailant's face and springs over the counter to seize his gun, which he swiftly uses to kill both men. Tom is an instant hero in the town, though he declines to expand on his feat for television reporters—as it turns out, with good reason.
All the publicity leads to a visit to Millbrook by more conventional mobsters in a menacing black car. Their leader is Carl Fogarty (Ed Harris), who wears dark glasses even indoors. Carl walks into the luncheonette one day and, as he orders coffee, addresses Tom as "Joey" and insists that Tom knows him, which Tom denies in his familiar soft-spoken manner. Carl removes his glasses, revealing telltale scars and a ravaged, blinded left eye that he attributes to one Joey Cusack, Tom's former name as a hit man in Philadelphia. By this time, even Edie is becoming suspicious of Tom's true identity. When Carl's car passes their house, Edie insists that they call their friend, Sheriff Sam Carney (Peter MacNeill), to investigate Carl. Sam stops Carl outside of town, but finds that all of his papers are in order and allows him to drive on.
Meanwhile, Jack finally loses his temper with the school bully and beats him up so badly that he sends him to the hospital, for which he is suspended from school. Tom severely reprimands Jack for his behavior, but as Jack remains uncharacteristically defiant, Tom begins to fear that the contagion of his own past violent behavior is beginning to infect his family. Edie no longer believes his denials about his criminal past, and when he disposes of Carl and his henchmen with his professional skills, she turns away from him, which drives Tom into such a frenzy of frustration that he virtually rapes her in order to regain her love.
Realizing that his marriage has collapsed around the foundation of lies he has constructed it upon, Tom finally and fatalistically drives to Philadelphia to confront his destiny as Joey Cusack, the brother of gangster chieftain Richie Cusack (William Hurt). The ending takes on a darker shade of gray as the rituals of guilt and atonement come into full play.
With all of its sociological improbabilities, A History of Violence isn't so much a comment on America in the proudly ill-informed von Trier ideological mold as it is a comment on American movies and the violent ecstasies they have provided to audiences around the world. There is a spiritual price to be paid for almost a century of guilty pleasure and self-indulgence with the potent narcotic of cinematic violence, however harmlessly vicarious it may have seemed.
The paradox of A History of Violence consists in reminding us of the great action films of the past, while at the same time succeeding, by its perfect execution, in adding a new and highly original link to that chain of transcendent excellence. This is especially true of the complex and flawless performances of Mr. Mortensen, Ms. Bello, Mr. Hurt and Mr. Harris.
But let's face it: Mr. Cronenberg is some sort of sorcerer in beating the bottom-line dream merchants at their own game, which is to say that I can't think of another film this year that has given me so much unalloyed pleasure without leaving a bitter after-taste in my mouth. Its violence is just unreal enough—or, rather, surreal enough—to make its moral fantasies believable on their own terms. Yet above all, Mr. Cronenberg has imbued his narrative with a style of personal conviction that is found in only the greatest auteurs.
Or, Maybe, Hell
Mark Waters' Just Like Heaven, from a screenplay by Peter Tolan and Leslie Dixon, based on the novel If Only It Were True by Marc Levy, plays out fairly pleasantly as a moderately entertaining after-life romance between the spirit of a patient on life support and a gloomy Gus mourning the death of his significant other—until, that is, the life-support issue pops up as a melodramatic reminder of the national trauma over Terri Schiavo. In fact, I was beginning to grit my teeth until I realized that this was a Hollywood movie and, as such, predisposed to sentimentalize every issue until it bears as little resemblance to reality as possible in its quest for the happiest ending imaginable. So not to worry: No one, not even the Supreme Court, is going to pull the plug on love in Just Like Heaven.
The story begins obliquely in a frantically busy hospital in which Elizabeth (Reese Witherspoon), a new physician seeking permanent employment, is working like a demon to get herself a promotion. Brett (Ben Shenkman), her chief rival, prefers to butter up the chief physician rather than care for his own patients. Surprise, surprise: The chief physician chooses buckle-down Elizabeth for the vacancy over suck-up Brett, and he makes no bones about revealing his reasoning to Elizabeth. Still, it's not clear at this point why Brett has been so laboriously targeted as a villain.
After working a long shift, Elizabeth drives to her sister Abby's (Dina Spybey, credited as Dina Waters), where she is to be introduced to a blind date despite her protestations. Along the way, she crashes into a truck. Cut to a moody young man named David (Mark Ruffalo), who is in the process of apartment hunting with a pushy female real-estate agent. A stray breeze magically whips a "To Sublet" flier onto his coat as David is leaving an apartment that he doesn't like. The apartment on the flier proves more to his tastes, particularly the rooftop terrace. He has settled comfortably—that is to say, messily—into his new digs when he is confronted one evening by Elizabeth, who demands to know what he's doing in her apartment. David begins to think he's hallucinating when she walks into another room and then mysteriously disappears.
But when Elizabeth reappears, it is she who comes to realize that she is in an unusual state—one that enables her to walk through walls. Several reviewers have noted quite accurately that Elizabeth is being played by the direct Ms. Witherspoon of Election and not the ditzy Ms. Witherspoon of Legally Blonde. Elizabeth's aggressive attitude plays well against David's inconsolable moodiness. When he finally breaks down to complain about all the foibles of his lost love, Elizabeth smiles to herself with marvelously sweet womanly compassion. But who is she, and where did she come from? To aid him in his search for the identity of the living (or possibly dead) Elizabeth, David enlists the help of Jack (Donal Logue), his best friend and an amateur analyst, and Darryl (Jon Heder), a weirdly knowledgeable clerk in a bookstore devoted to supernatural phenomena.
Finally, they find Elizabeth on life support in her own hospital, and the odious Brett, who has inherited her job, seeking to pull the plug on her, though first he must convince her sister Abby to sign the necessary papers. As you might expect, in the race against time and Brett's determined villainy, all ends well, nor does Elizabeth appear to have suffered any brain damage during her ordeal (which, of course, is convenient for the sake of her future life with David). I don't mean to be facetious about this life-and-death situation: It's a dilemma that any one of us may have to face for ourselves or our loved ones. There are religious and financial issues of great complexity to be considered, but in the end they are private matters, matters of personal conscience—though ones that are currently in jeopardy thanks to the invasions of privacy that have been sanctioned by ultra-right ideologues like our own President. But see Just Like Heaven just the same, to see two charming characters make beautiful music together.
True West
Sergio Leone's magnificent Once Upon a Time in the West (1968), from a screenplay by Leone, Dario Argento and Bernardo Bertolucci, is being shown in a new 35-millimeter Scope Print of the complete version at Film Forum from Sept. 30 through Oct. 6. Leone (1921-1989) is here at the peak of his epic powers, with the invaluable assistance of cinematographer Tonino Delli Colli and composer Ennio Morricone, and a cast consisting of the righteously vengeful Charles Bronson, the smilingly villainous Henry Fonda, the philosophically ambiguous Jason Robards Jr., and the soulfully earthy Claudia Cardinale in a spaghetti western transformed into artistic caviar by the time the final credits roll around. The climactic shootout in particular eclipses every other confrontation of its kind.
And Still More Wilder!
The Billy Wilder series at the Museum of the Moving Image in Astoria, Queens, still has 17 films to go, and all are worth seeing in October and November—but there are three that shouldn't be missed under any circumstances. The first is Love in the Afternoon (1957), Wilder's most underrated masterpiece, from his screenplay with I.A.L. Diamond (the first of 12 collaborations between the two) and starring Gary Cooper, Audrey Hepburn and Maurice Chevalier. It's the closest Wilder ever came to Ernst Lubitsch. (Saturday, Oct. 8, 2 p.m.)
The Private Life of Sherlock Holmes (1970) is Wilder's second most underrated masterpiece, with Robert Stephens, Colin Blakely, Geneviève Page, Irene Handl, Stanley Holloway, Christopher Lee and Clive Revill. (Saturday, Nov. 5, and Sunday, Nov. 6, 4:15 p.m.)
Finally, Sunset Boulevard (1950), with Gloria Swanson, William Holden, Erich von Stroheim, Nancy Olson, Fred Clark, Jack Webb, Hedda Hopper, Buster Keaton, Cecil B. DeMille, Anna Q. Nilsson and H. B. Warner—from a screenplay by Wilder, Charles Brackett and D.M. Marshman Jr., with a musical score by Franz Waxman—is still the best Hollywood movie ever made about Hollywood. (Friday, Nov. 11, 7:30 p.m., and Sunday, Nov. 13, 2 p.m. and 6:30 p.m.)