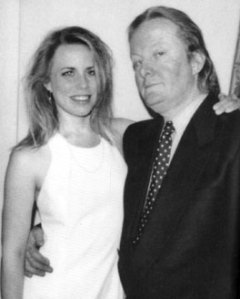 There's good reason to approach Jessica Hendra's How to Cook Your Daughter with caution—especially if you're squeamish. This memoir, and its accompanying tale of scandal and familial darkness, is more disturbing than most.
In the spring of 2004, Ms. Hendra's father, Tony Hendra—a lefty, British-born former editor of the humor magazine National Lampoon, actor in the cult film This Is Spinal Tap and boon companion of hard-living types such as John Belushi—published Father Joe: The Man Who Saved My Soul, a "spiritual memoir" about Mr. Hendra's lifelong bond with a Benedictine monk who helped redeem him from his chronic sexual escapades, drug abuse and train wreck of a family life. The book was a surprise best-seller. In a front-page review in The New York Times Book Review, the conservative pundit Andrew Sullivan gushed: "[I]t would be hard to think of someone more at ease in the world of modern sin than Tony Hendra …. But this extraordinary, luminescent, profound book shows us something wonderfully unexpected and deeply true." He went on to say, "I beg you to read this book."
Jessica, Mr. Hendra's younger daughter, was outraged by her father's transformation into a poster boy for divine salvation; once you've heard her side of the story, it's easy to understand why. She alleges that her father sexually abused her several times from age 6 onwards, and also committed other offenses, such as emotional abuse and general horrendousness as a father—none of which he mentioned in Mr. Hendra's come-clean best seller, aside from a few vague and platitudinous remarks. After Father Joe came out—when Mr. Hendra was being touted by the Christian right as a hero—Ms. Hendra took her account to The Times, which published a lengthy piece on her allegations (ones that her father, in turn, unconvincingly denied).
Early on in How to Cook Your Daughter, we're given a taste of what's to come: Catching sight of Father Joe on the shelf at Borders, Ms. Hendra examines the cover image—the torso of a frocked monk with hands clasped around a Bible. "They reminded me of hands that had once held a child. That had pushed back her white-blond hair and carried her off to bed," Ms. Hendra writes ominously. "That had felt beneath her nightie. That had explored a little girl."
How to Cook Your Daughter (a Judith Regan special) belongs to the icky genre of revenge memoir about childhood mistreatment—Oprah meets Oliver Twist—of which Kathryn Harrison's The Kiss (about her affair with her father) is the prototype. Ms. Hendra's contribution can be dopey at times, particularly when she's reminding us yet again that Tony Hendra is bad, bad, bad. But she's very specific (perhaps too specific) about how and why, and she paints a harrowing picture of the consequences of childhood abuse: She was left to navigate adolescence and adulthood burdened by low self-esteem and sexual problems that evolved into a dangerous eating disorder.
Her story is sure to resonate with survivors of similar ordeals (there's now a healthy body of literature catering to this group), as well as anyone who was taken with Father Joe who might harbor some curiosity about the further adventures of Mr. Hendra. Father Tony's reaction when a grown-up Jessica finally confronted him—"Stop being so self-involved. Much worse things have happened to children," etc.—is infuriating, to say the least. But for anyone else: How much do you really want to read about a man fondling his little girl?
Young Jessica's childhood can only be described as highly unconventional—even without the abuse. In 1971, when she was 6—after a cross-country migration from California—the family rolled into a small New Jersey town called Glen Gardner, stumbling into suburbia like a band of gypsies. Her parents treated the household like an insane asylum. Hendra père was possessed by a dark and often sinister wit, and was busy chasing his career as a satirist, commuting into New York City to work on the Lampoon and often vanishing for days at a time in a drunken stupor.
On the occasions when he was around, the house filled up with rowdy comedians getting wasted out of their minds and brawling. ("By that winter, the Lampoon had become a family affair …. They were playful and fun, but even their humor quickly turned dark and angry.") They got stoned and lay naked on the lawn while Jessica and her older sister (and the neighbors) watched in shame and horror. It was during this period that Mr. Hendra wrote the creepy essay for which his daughter's book is named: "How to Cook Your Daughter" was a sexually suggestive parody, published in the Lampoon, about baking and devouring a little girl. It was also around this time that Mr. Hendra's relationship with his daughter crossed the line—"the night he crawled into bed with me and changed my life forever."
Ms. Hendra endured other unwanted advances from her belligerent, unpredictable father after the family moved into a loft on East Fourth Street. It was the "heyday" of the Lampoon: "When his confidence was high, he became omnipotent and felt morally untouchable. He had more affairs, he drank more, he did more drugs and behaved with a 'fuck you' arrogance that put him above everyone else." Ms. Hendra eventually escaped the chaos by delving into the 1970's punk scene. In some of the most enjoyable passages in her book, she and a girlfriend tear around town to CBGB and the Mudd Club listening to the Buzzcocks and the Clash, putting safety pins through their ears and smoking clove cigarettes, miraculously avoiding serious trouble: "I figure there were two reasons I survived my adolescence. One, I hated drugs. Two, I was too ashamed to have much sex …. I have my childhood to thank for both."
As you may have already guessed, Mr. Hendra eventually walked out on his family. Jessica went on to attend acting school in the U.K., and—with the help of a loving husband and a heroic shrink—faced down both bulimia and anorexia and made several fruitless attempts to confront her father about what he'd done. It was again with the assistance of her husband and her shrink that she made the decision to go public with her accusations against her father, and to negotiate the media minefield that went with it.
What's clear is that Jessica Hendra overcame serious obstacles to find a "normal" life; what's less clear is whether doing it in such a public way will bring her the kind of emotional relief she's really after.
Sheelah Kolhatkar is a reporter at The Observer.