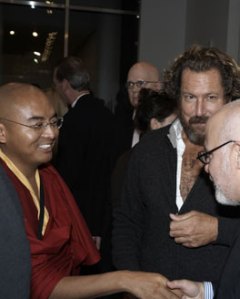 It isn't much of a stretch to call last Thursday's Mitchell-Innes & Nash grand Chelsea opening an era-defining event, the art world's equivalent of Truman Capote's storied Black and White Ball.
The guest list exuded a swish Sotheby's cachet—understandable, since both David Nash and his wife, Lucy Mitchell-Innes, are ex-staffers (he as international director of Impressionist and Modern Art, she as worldwide head of Contemporary) as well as long-time uptown dealers.
A-list collectors like Melva Bucksbaum, who sits on the Whitney Museum board, and critical museum curators like Bonnie Clearwater, head of the Miami Museum of Contemporary Art, coalesced in a singular Sauvignon Blanc–laden moment. Collector Jane Holzer dripped in diamonds. Cindy Sherman was decked out in lime green patent-leather go-go boots and navy velvet sheath; she nestled in a chair next to Anne Bass. Even bad boy Julian Schnabel showed up in shorts and a sleeveless shirt unbuttoned to the navel. He was, of course, accompanied by a Tibetan monk.
At the gallery, though, none of the eight Roy Lichtenstein paintings on the gallery walls were actually for sale. That would have been old-school.
This party, which openly signaled Mitchell-Innes & Nash's entry into an extraordinarily elite clutch of mega-dealers, actually covertly explains an evolution within the gallery world itself. Because, to be a real player now, a dealer must—for starters—have multiple galleries.
And a gallery must sprawl in another ways: It must now also be a production studio. As Barbara Gladstone has long been a film producer for Matthew Barney, more and more bigwig dealers are bankrolling and pre-selling artwork, years before it even exists.
Towards the end of her party, Ms. Mitchell-Innes shed her black velvet gilt-edged Prada heels. "I want to have a kunsthall with activities like lectures and recitals," she had said days earlier. That's certainly on her roster for the Chelsea space—but primarily, isn't it a juggernaut of the new Chelsea commerce?
Only 232 galleries line the streets of West Chelsea. But just about any art-minded person can have one gallery. Members of the multi-venue dealer club include Pace Wildenstein, headquartered at 57th Street and Madison Avenue, which just opened a second Chelsea gallery and now encompasses a jaw-dropping 50,000 square feet. (That's about the size of a small museum.) The staff? "It's about 100," said Pace Wildenstein's director and president, Marc Glimcher, with an uncanny measure of nonchalance.
Dealer Matthew Marks now touts three galleries in Chelsea—and he's adding a fourth. On Sept. 13, dealer Perry Rubenstein opened a third gallery in Chelsea.
Ms. Mitchell-Innes trudged endless blocks of Chelsea herself in search of the downtown space. She even looked at Annie Leibovitz's studio, which is directly across the street from where she settled on 26th Street, but Wal-Mart heiress Nancy Walton Laurie snapped up the space last fall for $11.37 million to house her Cedar Lake dance company.
When she did settle on a space, Ms. Mitchell-Innes hired designer Bill Katz, who rendered the space with a minimalist grandeur. He has trimmed up homes and studios for the likes of Jasper Johns and Francesco Clemente, not to mention Phillips de Pury & Company's former 57th Street abode. Ms. Mitchell-Innes had the concrete floor laid three times before it came up to her exacting standards of a particularly subtle shade of gray. The gallery's renovation budget alone reportedly skyrocketed upwards of $600,000 for a mere 3,500 square feet.
Other dealers wishing to join this club may now be hard-pressed. "Two years ago, I did not have a single dealer thinking of taking on additional space—now I have clients clamoring," said real-estate agent Susan B. Anthony.
It was she who sold Larry Gagosian a one-story garage on West 24th Street back in 1999 for a reasonable $5.75 million.
Today, Ms. Anthony places a value of $50 million on Mr. Gagosian's 21,000-square-foot space in Chelsea. "Larry really started it all," she said. Mr. Gagosian, of course, commands a vast empire, with galleries in Chelsea, Beverly Hills and London, and one more in the former Parke Bernet building on Madison Avenue.
Ten years ago, Chelsea rents ran, at most, $10 a foot. These days, ground-floor space is $55 dollars a foot and up. And the average gallery ground rent runs $137,500 annually. "I have dealers aching to buy, but there's nothing to sell," said Ms. Anthony.
This July, she received an offer of $33 million on a three-story, 45,000-square-foot building on West 15th Street. The owner scoffed; he refused to take less than $45 million.
"Once, a single gallery owner waited for an artist to show up with 10 paintings, sell them and split the proceeds 50-50," said Mr. Rubenstein. But that model is so yesterday. "The time of handling and selling tangible objects with a predictable return is fast becoming less viable for those engaged in conventional dealing," he said by phone from Los Angeles.
"There's a very different dynamic driving dealing now," said Pace Wildenstein's Mr. Glimcher, who was speaking from Marfa, Texas, where he was attending parties for the Chinati Foundation. "Now, dealing is about maintaining a relationship with artists very similar to the one filmmakers have with producers," Mr. Glimcher said. "There are upfront production costs and decisions to be made about how to fabricate an artist's work."
"You're responsible for their lives, and there's no immediate return," said Mr. Rubenstein. He recently hired engineers and subcontractors to install the Paris-based American artist Sturtevant's (she doesn't use a first name) Duchamp 1200 Coal Bags. The bags hung from his gallery ceiling and collectively weighed over a ton. (Of course, he also sold five of her paintings, which run up to $350,000.)
Mr. Glimcher's example is the Israeli conceptual artist Michal Rovner, who has a Paris retrospective at the Jeu de Paume right now. "We provided the investment necessary for her to explore something that was only in her head," he said. Again, it paid off; Ms. Rovner's show last April sold out practically instantaneously. Even Donald Marron, Lightyear Capital founder and chief executive, snapped up one of her video projects.
And Pace Wildenstein's ambitious Keith Tyson show opens on Oct. 15. Fret not—every one of the 45 pieces in the show, including 18 sculptures, is already sold, and prices ran up to $300,000.
What else could lurk beneath this gallery expansionism and the ability to invest in represented artists' work but a solid river of receivables?
"I have a one-year-old gallery," said Mr. Rubenstein, "and in the first week of September, as many 30 invoices for various artworks crossed my desk—and there's no indication that this pace is letting up."
"The number of collectors has shot up 10 times in the last three or four years," said Mr. Glimcher.
The ranks of the hyper-rich collectors are swollen with gentlemen like LVMH magnate Bernard Arnault (with a personal wealth of $17 billion); and Maryland real-estate developer Robert Meyerhoff, who flew in for the Mitchell-Innes & Nash party and recently pledged $300 million in art to the National Gallery in D.C.; and hedge-fund honcho Steven A. Cohen, who has spent in excess of $400 million in the past five years on art.
To get some of that money, dealers know they have to pre-spend it—and they certainly have to spend some of it on their artists.
"Now, the dollars that dealers have to spend to simply stay in the game are humongous," said Thea Westreich, the savvy blond art consultant who is considered the sole reigning high priestess of art-market analysis. She points to her own costs: an in-house Ph.D. in photography and an 11,000-volume library, which is insured for $4 million.
"Today, Larry and Pace Wildenstein are the paradigm for the entire business," said Ms. Westreich from her perch in Soho, referring, of course, to Larry Gagosian. "Everyone is missing the critical point of the art business today: It's artist-driven, and you don't get the best without offering what Larry does." And what "Larry" has always offered is unbelievably vast space, hard-core global contacts and legendarily generous allowances to artists.
So the mega-dealers, in trying to keep up with the Larrys, may have built themselves some wildly gorgeous gilded cages. "You must make yourself indispensable to the artist," Mr. Glimcher had said, "or they will move."