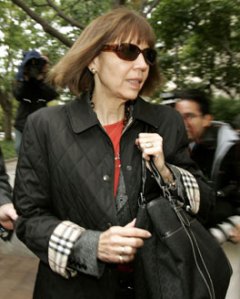 "What kind of reporter are you?" Judith Miller asked Don Van Natta Jr. at the third-floor elevator bank of the New York Times Building.
It was Oct. 14, and Ms. Miller was meeting—and confronting—Mr. Van Natta, one of the co-workers assigned to write about her, just off the Times newsroom at the West 43rd Street headquarters. She was upset, according to a source familiar with the interchange, because Mr. Van Natta had not yet called two of her friends to discuss her case.
But Mr. Van Natta and his colleagues were grappling with the flip side of that question: What kind of reporter is Judith Miller?
And the larger one that followed from it: What kind of newspaper is The New York Times?
But, in many ways, Judith Miller is still reporting her own version of the story: "I think I understand why people are upset," she told The Observer on Tuesday, Oct. 18.
"They're upset about many things. They're upset about the war in Iraq, about the Bush administration; they want to know whether they were misled into this war. They're upset about W.M.D. coverage. But let's try and separate out this case from these questions. I'm doing the best I can do to focus on the issue that is paramount here, and that is protecting journalists."
That is Ms. Miller's take on the story, but it's probably fair to say that it's a minority take on the saga unfolding at The Times. She's weary—fair for a reporter who spent 85 days in jail. And she's got to be dispirited by the lack of support she's received from querulous co-workers within a split newspaper.
Ms. Miller said she does plan to return to the paper, after a recovery period. "Right now, I am exhausted," she said. "I need to put on some weight, and I need to listen to my doctors and my lawyers. I need to chill out."
When will she be back? "I don't know," she said. "Next year. I want to take a couple of months off." Sag Harbor, she said, "is exactly where I want to be. And I'll be doing whatever the paper wants to do on the issue of a federal shield law."
As the newspaper rushed to cover its own crisis this past Sunday, its editors had to do so without knowing whether their own reporter and cause célèbre would be on board. Ms. Miller—apparently struggling with her editors and the advice of her lawyers—agreed to cooperate and publish her own story only after considerable pressure by Mr. Keller.
That reluctance helped make Ms. Miller suspect to her co-workers at The Times, some of whom say that Ms. Miller's passion to find the big questions led her to into the clutches of sources who—her colleagues said—piped information into the most influential newspaper in the United States.
Those feelings have notched a perforation down the very center of the newspaper, the very scars that have been left at the paper by events of the previous two years: the Jayson Blair affair, the switches in management from executive editor Howell Raines to Joseph Lelyveld to Bill Keller.
The shock waves were felt from New York to The Times' Washington bureau, which watched as Ms. Miller continued to report political stories from the power bowels of the White House, with sometimes disastrous consequences, to the Baghdad bureau, still battered from a series of credulous reports of theorized weapons of mass destruction left behind by Saddam Hussein—reports largely written by Ms. Miller, and since disavowed by the paper's editors and Ms. Miller herself.
It was Mr. Van Natta's task, along with a team of other reporters—including Adam Liptak, Clifford J. Levy and Janny Scott—and their editors, to report and explain it. And it has been the two-year mission of a special prosecutor in Washington to do the same.
On Oct. 16, The Times made an exertive attempt to put things in perspective. The result was an enigmatic, impressive attempt at aerating and purging a paper that has had to publish a number of other painful reports in the past two years. The piece that ran indicated the conflicts within The Times, making statements about Ms. Miller that would have been flattening to many reporters—although Ms. Miller is known to have a sense of her own ability to drive her co-workers crazy. The two-page spread that appeared in The New York Times on Oct. 16, included the piece by Mr. Van Natta, Mr. Liptak, Mr. Levy and Ms. Scott, and a 3,400-word first-person piece credited to Ms. Miller. It was a mix of explicit, implicit and tacit embarrassments, a tale of a dysfunctional staffer running loose at a dysfunctional institution, with historic consequences.
Ms. Miller's own account of her grand-jury testimony about the leaking of C.I.A. operative Valerie Plame Wilson's identity was actually co-written with investigative reporter David Barstow, who is perceived in the newsroom as one of Ms. Miller's allies. Mr. Barstow didn't receive a byline or any other mention of his work in the paper.
"It's way beyond weird," one Times staffer said. "We're not being honest with the readers."
"She's under enormous strain," deputy managing editor Jon Landman, who supervised the reporting team, said. "She was in jail for 85 days. It's very easy to say she should have sat down and dashed this thing off like [Time magazine reporter] Matt Cooper."
But even so, many within the paper asked why so much was wagered to protect this journalist, and to what end. The paper's showdown with special prosecutor Patrick Fitzgerald prompted Ms. Miller to say that the paper had "everything to be proud of." But in the same 5,800-word self-examination, managing editor Jill Abramson said she regretted "the entire thing."
"I'm not going to discuss the Times piece," Ms. Miller said as she awaited her flight out of Las Vegas. "I want to discuss The Times' position in support of a shield law. We have got to get this done this year or I will have a lot of company at the Alexandria Detention Center."
And so the contradiction endures: Ms. Miller, the steadfast First Amendment hero; Ms. Miller, the self-impelled loose cannon: or worse, Ms. Miller, the "credulous" political tool of a White House determined to go to war in Iraq, reporting cooked books and sprung from jail by a strangely romantic letter from Vice President Dick Cheney's chief of staff, I. Lewis Libby.
"There's general dismay," a Times staffer said. "Judy's account is full of holes."
Despite her own cheery self-image, and despite publisher Arthur Sulzberger Jr.'s months-long editorial crusade on her behalf, Ms. Miller didn't emerge as a sympathetic or valued figure on West 43rd Street. Her return was emblematic: Her bosses treated her to a massage, a martini and a steak dinner at the Ritz-Carlton Hotel. But her return to the newsroom elicited pallid, polite applause.
Ms. Miller had an adversarial relationship with the team producing the story. Getting the Miller piece into the Sunday Times was an ordeal of delays, spats, roadblocks—and ultimately a blown deadline that kept the package out of 270,000 copies of the paper. Multiple sources recounted a newsroom rumor that Ms. Miller had only produced her own first-person piece under an ultimatum from Mr. Keller.
"This was the hardest story of my career," Mr. Van Natta said. His career has included covering the Monica Lewinsky scandal, the 2000 Presidential-election recount and international terrorism.
In The Times' own portrayal, the newspaper had cast its lot with a chronically insubordinate and often unreliable reporter—one who defied superiors' direct orders, flatly contradicted editors' versions of events, fudged sourcing and confessed to having been "totally wrong" about her most disputed subject, Iraq's W.M.D. program. For Ms. Miller's protection, The Times had backed off from covering an investigation that appeared to be reaching deep inside the White House.
And in exchange, Ms. Miller, as described in the piece, "generally would not discuss her interactions with editors, elaborate on the written account of her grand jury testimony or allow reporters to review her notes."
Ms. Miller, once part of a Pulitzer Prize–winning team, hadn't even been able to get the essential fact behind the episode straight. In Ms. Miller's notebook, The Times revealed, Valerie Plame Wilson's name had appeared as "Valerie Flame" and "Victoria Wilson."
Yet Ms. Miller had scored a victory, in the end. After 85 days in jail, two trips to the grand jury and two weeks of grilling by her frustrated colleagues, her most secret source remained a secret. Yes, she had talked to Vice Presidential chief of staff Mr. Libby, and yes, with her legal options exhausted, she had surrendered that information to Mr. Fitzgerald. But she "could not recall," she wrote, how the words "Valerie Flame" had ended up in her notebook.
"I cannot address that," Ms. Miller said on the phone about the mysterious notebook entry. "It was in another part of the notebook entirely [from the notes she took with Mr. Libby]—it was a floating reference. It's hard for me to remember what I wrote."
If she could have recalled, it might have been the story of how a powerful government official sought to ruin the reputation of an anonymous whistleblower. It's a possibility she acknowledged herself: that Mr. Libby sought to leak information about former ambassador Joseph Wilson, Ms. Plame's husband, to the press, to undermine a prominent, if significantly less powerful, critic of the administration. Ms. Miller, then, would have been not a crusader for the protection of whistleblowers, but an agent of retaliation. Perhaps the results of Mr. Fitzgerald's investigation will tell what the Times investigation could not.
From there, Ms. Miller had narrowed the definition of a reporter's duty down to a single premise: A reporter does not share information. And she had defended that premise to the finish and beyond, though it meant pleading unprofessional—and seemingly improbable—ignorance.
"It does seem that there are continuing problems with her account, don't you think?" said a lawyer in the case. "It just doesn't hang together for me. After all this, she still doesn't remember who told her the name? That seems to be odd, don't you think?"
Robert Bennett, a defense lawyer for Ms. Miller, said her claim of faulty memory is "believable because of the circumstances. It's very believable because it was an isolated reference in the book, it is unclear when it was put in the book, and there is no context to the entry. She might well have gotten that from another reporter."
In the past, Ms. Miller and her lawyers have said they negotiated to limit her grand-jury testimony to her conversations with Mr. Libby in order to prevent the prosecutor from fishing for general information about her sources on other national-security stories. But the Times story, with Ms. Miller's account of the unexplained "Valerie Flame" entry, raised the possibility that Ms. Miller had spoken to another significant source about the Plame affair.
Mr. Bennett wouldn't go so far as to reaffirm that Mr. Libby had been Ms. Miller's only source on the subject. "If she had talked to somebody else a long time ago, it would have been very brief, but she doesn't remember it," he said. "Fitzgerald got all that he could get from Judy on the Wilson-Plame matter."
SO DID THE TIMES BRASS. In the Times piece, Mr. Sulzberger and Mr. Keller both said that they'd remained unaware of whether Ms. Miller had been leaked Ms. Wilson's identity at all. If the United States went to war in part because the press and the public trusted Ms. Miller's reporting on weapons of mass destruction, The Times went to war with Mr. Fitzgerald because it trusted Ms. Miller's judgment and motives. According to the Times report, the paper spent "millions of dollars in legal fees"; a Times spokesperson, asked for a specific figure, revised that estimate down to approximately $1 million.
In the Times piece, Ms. Miller told the reporters that she had pushed to write an article about Mr. Wilson, but her editor had denied it. "Ms. Abramson, the Washington bureau chief at the time, said Ms. Miller never made any such recommendation," the report added.
The managing editor and the star reporter: One of them can't be telling the truth.
"Between those two accounts, I have no doubt people would take Jill's word," a Times staffer said.
Mr. Landman, however, professes a sort-of middle ground.
"I absolutely believe Jill and Bill," Mr. Landman said. "I know them both. What I don't know is whether Judy believes what she said or not."
"I didn't know what the story was," Ms. Miller told The Observer. "I knew there was information [that] needed to be pursued. Maybe we had a White House smear here, or an incompetent trip to Africa that needed to cover itself. I had another story to do [on the military's search for Iraqi W.M.D.], and that is what I wrote then."
One person who might have broken the tie between the two versions was missing from the Times report. Joseph Lelyveld was interim executive editor between Mr. Raines and Mr. Keller, from June 5 through July 30, 2003. That covered the entire span of time in which Ms. Miller had her three conversations with Mr. Libby. But, befitting the invisibility of editors in Ms. Miller's world, the name of Mr. Lelyveld—who is, in a Kremlinological Times wrinkle, the companion of the reporter Ms. Scott—appeared nowhere in the entire package.
Ms. Miller was, after all, a Times reporter. Editors have done more with less information; they are following a part of the journalistic code in which they place almost unlimited trust in their reporters. "I wish it had been a reporter who came with less public baggage," Mr. Keller said in the Times piece.
But Ms. Miller was carrying several bellhop-carts' worth of institutional baggage, much of which couldn't have made it into the Times package. Even as The Times rallied around her, Mr. Keller and managing editor Jill Abramson were involved in an ongoing struggle between editors and Ms. Miller, stretching back into the last days of the Howell Raines era, to cut back on Ms. Miller's responsibilities and bring her under tighter control.
In early May 2003—when Joseph Wilson began anonymously criticizing the Bush administration's claims about Iraq's nuclear threat by becoming a source for Nicholas Kristof's Times Op-Ed column—Ms. Miller was being pulled back from Iraq after a fruitless search for Iraqi weapons and a feud between her and the paper's Iraq bureau.
Matters came to a head between Ms. Miller and the Baghdad staff on May 5, when Patrick Tyler, then the Baghdad bureau chief, confronted Ms. Miller about her plans to write a political piece on the de-Baathification process. On the overgrown lawn of the Baghdad Hunting Club where Ahmad Chalabi and the Defense Intelligence Agency had their offices, the two had a public argument, with Mr. Tyler telling Ms. Miller—an embedded correspondent with the military at the time—that she was forbidden to write political stories if she wasn't officially working for the Baghdad bureau.
"Either you are in my bureau or you are doing WMD," Mr. Tyler wrote Ms. Miller the next day, in an e-mail copied to Mr. Raines and other top editors. "If the editors will not support me on this, I will kiss their feet, but I will leave this week."
It was Ms. Miller who left, returning to West 43rd Street shortly after the message reached New York. But by mid-May, she was agitating to return and announcing that she was pricing airfare back to the Middle East.
Mr. Keller, the incoming editor, made Ms. Miller's removal from the Iraq and weapons beats official in the fall of 2003—though he told The Times in the Oct. 16 Miller story that Ms. Miller "kept kind of drifting on her own back into" the off-limits subjects.
"A lot of people are galled by the quotation from Keller that after she was taken off the Iraq W.M.D. beat, she somehow found her way back in," one Times staffer said.
In fact, Mr. Keller and Ms. Abramson had sharply rebuked Ms. Miller for that drifting. Though the Times account didn't mention it, the two called Ms. Miller into Mr. Keller's office this past winter and told her that she could no longer cover national security in any form for the paper.
"The implication was that she would resign," said a person with knowledge of the meeting. Though Ms. Miller "blew up," as the source put it, she took a two-week vacation, with Mr. Keller saying he expected to hear on her return whether she accepted the reassignment. When she came back, she agreed to the arrangement.
Even so, Ms. Miller told the Times reporters in the Oct. 16 story that she planned to go back to covering "threats to our country."
And in general, Ms. Miller enjoyed apparent immunity from editorial control. In the account she wrote with Mr. Barstow, Ms. Miller maintained that she had a security clearance, thanks to having been embedded with the military, under which "I was not permitted to discuss with editors some of the more sensitive information about Iraq."
"I have never heard about anything like that in modern journalism," a senior Times staffer said. "I've never heard of any journalist getting that kind of security clearance, where she can't tell an editor her source. If that's true, it's appalling."
And it helped keep Ms. Miller's explanation of her interest in Mr. Wilson murky.
Mr. Lelyveld did not return messages seeking comment.
THE PIECE THAT APPEARED IN THE TIMES on Oct. 16 was assigned to a group of reporters on Oct. 2, with a scheduled publication date of Oct. 9.
Though Ms. Miller had gotten out of jail and testified on Sept. 30, she was called back before the grand jury on Oct. 12, after giving Mr. Fitzgerald an additional set of notes describing her first meeting with Mr. Libby on June 23, 2003.
With Ms. Miller's contempt status extended another week, the reporters weren't able to land their first interview with her until Oct. 7, when Mr. Van Natta and Mr. Liptak spoke with her and her attorney, Mr. Bennett, in a speaker-phone conference call from Mr. Landman's third-floor office.
Ms. Miller told them that she would only answer questions about her negotiations to secure a waiver of anonymity from Mr. Libby, not about her testimony. The team held off from publishing their account.
"When you're trying to do tough reporting and the central figure changes their mind on you, that imposes strain," Mr. Landman said. " … She had this legal thing hanging over her head. This wasn't easy for anybody."
The following Monday, the team relocated to the eighth-floor space where The Times' best-seller lists are usually compiled. Reporters spent the week repeatedly and unsuccessfully trying to speak to Ms. Miller by phone about her conversations with Mr. Libby and her grand-jury appearances.
On one occasion, according to a person familiar with the reporting, Ms. Miller hung up on Mr. Van Natta.
Meanwhile, Ms. Miller was also providing mixed signals about whether or not her first-person account would be forthcoming—leading to the rumored ultimatum from Mr. Keller. Mr. Landman said he didn't know if Mr. Keller had issued any such orders. "Certainly, everyone wanted her to write her piece," he said.
By Thursday, Oct. 13, Ms. Miller and Mr. Barstow had begun writing. Her lawyers at Skadden Arps reviewed the piece, which was filed at noon on Oct. 14, 24 hours before deadline for the national bulldog edition of Sunday's paper.
At 2 p.m., Mr. Van Natta met Ms. Miller for a face-to-face interview, which began with the confrontation by the elevators. Mr. Van Natta bought Ms. Miller a coffee at the Cafe Europa on West 43rd Street, and the two proceeded to a nearby Italian restaurant. On the walk there, Ms. Miller told Mr. Van Natta that she would not elaborate beyond what was in her first-person account, nor would she discuss her interactions with editors or her conversations with Mr. Libby.
"Well, this is going to be a short interview then, because that is what I want to talk about," Mr. Van Natta replied.
The interview lasted two hours, and it yielded, among other things, Ms. Miller's published concession that her W.M.D. reporting had been wrong.
The reporters had a transcript by 9 p.m. and worked through the night writing.
"We worked from 7 a.m. [Oct. 14] until 3 p.m. Saturday," Mr. Liptak said. Mr. Liptak had done a similar stretch of work on the Jayson Blair story. "But the food during the Jayson Blair piece was much better," he said.
Even with the all-nighter, the team missed the first deadline on Saturday, so that more than a quarter of a million Sunday papers went out without any Miller stories.
One Times reader, via e-mail, wrote of picking up a $5 copy of the paper in the San Francisco airport, "even though I have home delivery, because I was so eager to read the [Miller] package I'd read about …. We take off, I recline my seat, open up the national section and … nothing!"
Ms. Miller said she had cooperated as best she could.
"I am constrained legally with what Mr. Fitzgerald might find," she said. "If there are indictments, there might be further legal involvement for me. I might have to be a witness."
Her lawyers, she said, "were strongly advising" her not to talk. "I did it anyway," Ms. Miller said, "because I believed the reader should know what I told the grand jury and what I was asked by Mr. Fitzgerald. I did it despite the concern of some of my lawyers. The New York Times can speak for itself."
—Additional reporting by Anna Schneider-Mayerson
New York Times pundit standings, Oct. 11-17, 2005
1. Maureen Dowd, score 9.5 [rank last week: 1st]
2. Frank Rich, 9.0 [2nd]
3. David Brooks, 7.0 [tie—3rd]
4. Thomas L. Friedman, 1.0 [tie—3rd]
5. (tie) Bob Herbert, 0.0 [tie—3rd]
Nicholas D. Kristof, 0.0 [tie—3rd]
Paul Krugman, 0.0 [tie—3rd]
John Tierney, 0.0 [tie—3rd]
Statistical fluctuation or encouraging trend? This week, an unprecedented four Op-Ed columnists managed to overcome the handicap of TimesSelect and fight their way onto the week's Most E-Mailed list. TimesSelect dissident Maureen Dowd even succeeded in cracking the top 10, muscling her way ahead of freebie articles on the Chinese-language-class craze and crying at the office, among others. You may hate TimesSelect, Ms. Dowd, but TimesSelect loves you!
—T.S.