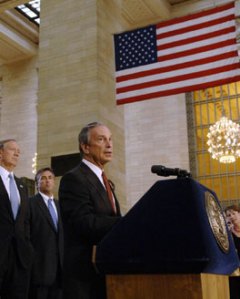 Michael Bloomberg doesn't do anonymity. He believes above all in leaving a mark, and preferably, his own name. His alma maters—Johns Hopkins and Harvard universities— carry Bloomberg chairs and Bloomberg schools, his media empire flies under the eponymous Bloomberg L.P. flag, and he has blanketed the city in Bloomberg signs, pins and television commercials.
Yet despite the barrage of all things Bloomberg, the Mayor has failed to make any indelible mark on the city he has governed for nearly four years.
Facing a legacy of anonymous efficiency, Mr. Bloomberg's ego, fed for decades on a steady diet of Wall Street accomplishment and fawning socialites, now wants something more. Defeating his opponent, Fernando Ferrer, in the November election and earning a second term in power is not enough. As he wrote in a revised preface to his autobiography, "Bloomberg by Bloomberg is about becoming the best."
"I think what motivated him before, was, 'I'm a manager, I can manage this,'" said Barbara Fife, a deputy mayor under David Dinkins. "But when you get in a second term, it's 'What's my legacy, what am I going to leave behind?'"
And so, all of a sudden, the staid Mr. Bloomberg is talking about "my plans and goals for the city's future," or "my vision for New York," before launching into policy speeches about public safety or education. A recent speech at Hunter College focused on a proposal to expand charter schools. It was a third in a series of speeches designed to show the Mayor as a visionary, and not just an efficient technocrat.
Why is the Mayor talking about vision? He is widely credited, after all, with creating a culture of competency and efficiency at City Hall, and he often touts his achievements in wrestling control of the Board of Education from bureaucrats and handing it to a fellow C.E.O. He boasts about extinguishing smoking from restaurants and bars, improving test scores and lowering crime to record levels. Nevertheless, many Mayoral historians found it hard to associate him with one overriding vision or lasting accomplishment.
"He strikes me as an ethereal figure, you can't pin him down to any ideology or any policies," said Vincent Cannato, author of The Ungovernable City: John Lindsay and His Struggle to Save New York. "Bloomberg seems kind of a blank slate."
But if Mr. Bloomberg wants to leave a public legacy as grand as the one he secured in the private sector, he better get cracking. His most ambitious building projects lie in ruins and his visions for expanded preschool spots, more charter schools and a more streamlined approach to public safety, all without raising taxes, don't exactly evoke awe.
That certainly would not be said of some of the city's most-memorable Mayors."If you put La Guardia, Wagner, Lindsay, Koch and Giuliani with Bloomberg in a room, Bloomberg is the most effaced, least charismatic, least likely to take over. That has to do with personality," said Thomas Kessner, a history professor at CUNY and the author of Fiorello H. La Guardia and the Making of Modern New York. "His conception of the Mayor is dealing with the day-to-day management of the city, and to do it with a level of competence. There is no radical rethinking of the city's possibilities."
Indeed, New Yorkers responded to the massive building projects and cigars of Fiorello La Guardia, the charm of John Lindsay, the zaniness of Ed Koch and the zealousness of Rudy Giuliani.
The most ambitious city-planning undertaking in Mr. Bloomberg's first term, the West Side stadium, died an ugly death at the hands of Albany powerbrokers. That leaves only his personality—and that, at least publicly, isn't much to build a legacy on. His monotonous voice, wooden demeanor and tin ear when it comes to connecting with average New Yorkers leave him at a disadvantage.
Instead of spicing up his milquetoast style, it may just be easier for the Mayor to change the city into the type of place that better appreciates his talents and temper.
"Manhattan feels more corporate," said Fred Siegel, author of The Prince of the City: Giuliani, New York and the Genius of American Life, who argues that Mr. Bloomberg will inevitably be remembered for "wrinkles of what Giuliani achieved."
A considerable amount of Mr. Bloomberg's energies at the end of his first term have been dedicated to persuading Goldman Sachs to build its $2 billion headquarters near Ground Zero. The passing of an 18.5 percent increase in property taxes reflects his view that New York City is a luxury product. "It isn't Wal-Mart," he has said.
"Clearly there is no overarching vision, except insofar as he looks at New York as a luxury city. For the world's cosmopolitans, this is the place, and people should want to pay a premium to be here," said Doug Muzzio, a professor of public affairs at Baruch. "It's the playground and the boardroom of the rich and famous. There is an implicit vision of New York in this, though he may not want to sell it to Staten Island."
Some political observers have also noted the Mayor's preference for a corporate management style at City Hall.
Mr. Bloomberg has never been a fan of edicts, and unlike some of the city's more memorable Mayors, he governs not by personality but by proxy. He emphasizes efficiency over scope, and delegates broadly to commissioners who come up with the big ideas. That philosophy has given him some success, but little glory.
The office, inflated by Mr. Giuliani, has both dwarfed him and shrunk to his modest stature and slight shoulders. After an address laying out his vision for the future of public safety in New York, he walked through the expanse of Grand Central Terminal without causing much of a stir.
Hands-Off Approach
But there are those who say that this downsizing of the office is in itself a legacy. Under Mr. Bloomberg, commissioners have almost unprecedented autonomy, and some of the most ambitious ideas of his first term originated from his aides. The doomed West Side stadium and Olympic bid of Deputy Mayor for Economic Development Daniel L. Doctoroff, the successful smoking ban drafted by Health Commissioner Thomas R. Frieden, and the restructuring of the Police Department after Sept. 11 by Commissioner Raymond Kelly all seem to have come from the bottom up.
"He has a hands-off approach; he lets you do your job," said one city commissioner, who asked not to be identified. "Don't knock this whole independence-of-commissioners thing. The way it has always been done before is to carve out a base and placate that base. It's very difficult to articulate that to the average person. The average person doesn't work in government."
Indeed, Mr. Bloomberg still hasn't captured the average New Yorker's imagination. Despite a record of building more affordable housing, improving public-school test scores and quickly snuffing out the sparks of potentially explosive racial conflicts, Mr. Bloomberg's name doesn't get the visceral reaction that it does in the private world, where his financial-information system revolutionized the way market business was done.
His problem may have less to do with his record than his money.
All those millions of dollars that Mr. Bloomberg has personally spent, first to become a household name and then a trusted leader, have perhaps acted as a buffer between him and the average New Yorker.
When the city faced the threat of a transit strike in 2002, he attempted to provide a sensible example by buying a bicycle. It cost $600. At a recent address to Teamsters, he referred repeatedly—and awkwardly—to "rolling up our sleeves," and only really relaxed when one woman told him that she was friends with his old personal pilot.
On Monday, after changing out of his suit into khakis, loafers and a beige windbreaker for the Columbus Day Parade, he repeated his new line that "I'd love to have another parade, this one on Broadway in a few weeks. It would be fantastic if the Yanks go all the way."
The words sounded forced—not so much because of his Boston accent, but because he doesn't really root and has even admitted, "I'm not a spectator." (And besides, the dream of a parade up Broadway was a fantasy—the Yankees were eliminated from the playoffs several hours after the Columbus Day Parade finished.)
Indeed, Mr. Bloomberg's tastes tend to run closer to tangibles.
"In the government area, there is a vision—it's just not something that is easily stated as a message," said Andrew White, director of the Center for New York City Affairs at the New School. "I see it all over, this commitment to technical innovation in policy and management. The smoking change was based on research data."
But such modest successes aren't going to install Mr. Bloomberg in the pantheon of New York's great Mayors. Getting the city back on track after Sept. 11 is a plus, but subject to future crises. His school reforms could have an impact on future generations, but that will take decades to gauge. The city also has plans to eradicate homelessness and to overhaul the current method of getting rid of garbage. The 311 information line is practical, but not epochal.
Mr. Bloomberg needs something big.
Two years ago, he shared his thoughts on managing a city to executives at investment banker Herbert Allen's annual high-profile conference for media moguls in Sun Valley, Idaho.
"Afterward, some people came up to him and said he would make a great President," said Mr. Allen. "I hope he stays in public life. I think he is the best Mayor of my lifetime. He's not dependent. He's not an ideologue."
Mr. Bloomberg has for now sworn off seeking higher office, and some argue that for him to ever get the public recognition he so craves, he will have to go back into the private circles where he can lavish his billions on all the causes, schools and buildings he sees fit.
Last November, Mr. Bloomberg told an audience at the 92nd Street Y that he admired Microsoft founder Bill Gates' enormous charitable contributions. "I want to run a foundation," said Mr. Bloomberg. "Going out and spending the rest of my life giving it all away would be great."
He may find a way to leave his name stamped on the city after all.