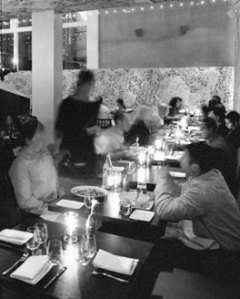 Thor is the Viking god of thunder, and he lends an appropriate name to this restaurant/bar/lounge that has opened on the Lower East Side. In fact, the name's an acronym for The Hotel On Rivington, the narrow, high-rise that stands out of scale with the neighborhood. For the past four years, the building has been a half-finished eyesore on the horizon. Now it's completed at last: 20 stories of plate glass and steel, with rooms that go for $295 to $5,000 a night and a restaurant overseen by a top chef, Kurt Gutenbrunner, owner of Wallsé and Café Sabarsky.
On a recent Saturday night, a cab deposited me a block from Schiller's Liquor Bar in front of the hotel's huge glass front door, which faces the graffiti-covered walls of a tenement across the street. I entered into a bulbous, red-carpeted white tunnel (the designer Marcel Wanders based it on a vase he molded from a condom filled with eggs). The tunnel wends its way into a bar and lounge whose soaring ceilings and walls are covered with a lacy, silver, black and white print that looks like snakeskin.
In the back, the 100-seat dining room is set with black polished tables, black chairs and black banquettes. Through the lofty glass ceiling and windows, the tenement fire escapes are like a West Side Story set. A giant black hulk of steel dominates the center of the dining room. It's not a Richard Serra or a David Smith; it's the entrance to a clanging metal staircase leading down to the bathrooms (where it's too dark to fix your makeup). In the gloom of the cellar corridor, the men waiting in line looked like inmates in a gulag.
Thor has all the trappings of full-blooded downtown trendiness: the deafening bar scene; the wait staff, all great looking, all in black; the hostess telling you to wait "until your party is complete" before you sit at a table for two (which is actually already taken and won't be free for half an hour); the bar bill to be settled before you're finally allowed to sit down at your table, which is of the kind beloved by restaurateurs, narrow in width and extra long, like a table soccer game, so you have to shout across it.
But all this belies the seriousness of the food served here. Mr. Gutenbrunner's cooking at Thor focuses less on the Austrian and more on greenmarket produce (although there is a pumpkin-seed vinaigrette on the Bibb lettuce and side dishes of spaetzle, rôsti potatoes and kohlrabi gratin). The wine list is international, reasonably priced and has many interesting choices from lesser-known vineyards. I also like the fact that the wine is served in elegant, thin-rimmed tumblers.
The menu is divided into categories by temperature: cold plates, warm plates (including a salmon lasagna with fresh tomatoes and a potato gnocchi with wild mushrooms) and hot plates. Begin with the white tomato mousse: It looks like a large scoop of vanilla ice cream and arrives on a bed of sliced heirloom tomatoes and opal basil. When you bite into the mousse, you get a subtle crunch from a thin pastry disk hidden underneath.
An herbaceous spinach and parsley soup is laced with croutons and enlivened with pieces of trout. Hamachi is cut in chunks and served in a spicy marinade with avocado and heirloom tomatoes. And a foie gras terrine comes with the last of the season's peaches.
But piling American sturgeon caviar and finely diced tuna on top of the Kumamoto oysters amounted to overkill. My friend liked the oysters anyway. "The aftertaste is as though you'd dipped your head in the sea," he said.
Baby romaine lettuce with one-hour poached egg is essentially a Caesar salad, topped with white anchovies and a Parmesan crisp. "One hour is a traditional Viennese way of poaching an egg," said our waiter. Those lucky Viennese, with so much time on their hands!
My companion searched his salad with his fork. "I can't find the yolk," he said after a while. "I think it hatched."
Main courses include perfectly nice but undistinguished venison (a special one day) and lamb chops, the latter with "14K golden nugget potatoes," those waxy little numbers from the greenmarket. Sea scallops come in a subtle curry sauce on a bed of freshly shucked corn with a basil purée. Steamed duck is rolled in three dim sum-like cylinders wrapped in cabbage, with green asparagus and a jolt of mustard seeds.
Pastry chef Pierre Reboul previously worked with Jean-Georges Vongerichten and at Blue Hill in Greenwich Village. A "spur of the moment" raspberry vacherin was marred, for me at least, by licorice that left a nasty after-taste. But the cheesecake, with a tortilla-like wafer and a fromage blanc sorbet, was excellent, as was the homemade yogurt with pistachios, brown sugar and sesame. I also liked the lollipops filled with chocolate and served on sticks. They're really beignets, and they're delicious.
But one evening, I looked down at my plate in bewilderment. What had I ordered? Perched on a lump of ice the size of a bowling ball was a small mound that appeared to be covered with green slime. It was crushed avocado, sprinkled with salted caramel, placed on top of a tart lime sorbet. The whole thing taken all together was weird, one of the oddest things I've tasted, and not pleasant.
At the end of dinner, instead of petits fours, you're given a sealed tube and some small, cold doughnuts. The tube contains not toothpaste, but a dark chocolate sauce. It's a cute idea, and I'm sure some imaginative guests will go beyond cold doughnuts and find other interesting uses for it.