As we passengers joyously disembarked from JetBlue Flight 292 on the evening of Sept. 21, 2005, one of Los Angeles' gorgeous toxic sunsets was illuminating the kindly, ruddy, handsome faces of the suddenly superfluous but very welcome emergency personnel gathered on the tarmac. They all looked like 1940's movie heroes reduced to skycap duty (my fully loaded red carry-on was but a piece of Barbie luggage in the beefy hands of one Dana Andrews–esque fireman).
We were shepherded into big shuttle buses with big glass doors, where we sat making call after happy call on our cell phones or just staring stupidly into space—happy farm animals—as we were driven to the terminal. There, as if at a particularly festive wedding, we were greeted by a receiving line consisting of JetBlue executives wearing shiny blue ties, L.A. Chief of Police Bill Bratton (remember him?) with chest puffed out in a natty suit, and a curly-haired, diminutive gentleman in rolled-up shirtsleeves who kindly offered to help me find my husband. As he walked away, a couple of remote synapses clicked in my addled brain. "I think that was the Mayor," I told a bearded fellow who had been sitting across the aisle from me on the plane. "No," he said. "Really?" Yes, in spacy, decentralized Los Angeles, Mayor Antonio Villaraigosa, elected last May, commands approximately the same amount of recognition as the actress Taryn Manning—also on the flight, with her publicist, who must've been thrown into severe shock by what happened; how else to explain the over-24-hour delay in shoving Ms. Manning before the television cameras?
Alas, I was not quite so restrained. Indeed, after eschewing another adrenaline-fueled flight to J.F.K. in ­favor of a tearful reunion with my spouse, I made a quick decision: I was not going to allow myself to be spirited away back to normalcy, dinner and the indifferent mews of our two cats, but would rather plunge shamelessly headlong into the mosh pit of waiting news media, starting with John Broder, L.A. bureau chief of The New York Times, and quickly following up with an Aaron Brown–Anderson Cooper sandwich on CNN. Surrounded by these and other enthralled suitors, I felt like Scarlett O'Hara flouncing her petticoats at the Twelve Oaks barbecue. Fiddle-dee-dee—I was alive! The hot flash of the cameras felt like a mother's kiss. That landing was scary, sure—but even scarier was how quickly I transmogrified into a total media whore. Yet it seemed a fitting coda to an ordeal that was amplified to the nth power because so many of us had, now famously, watched it on television. For those who have never flown JetBlue (and you really should): One of the company's major selling points is the small televisions on the back of each passenger's seat, which offer a selection of free channels via DirecTV satellite. I have complained about these TV's before, mostly because of the ambient noise that emanates from the cheap plastic headphones they distribute; there is nothing like trying to sleep to the tinny sounds of your seatmate enjoying VH1's Metal Mania. But this time, believe it or not, I was grateful to have them. Because guess what? After the initial alarm of seeing the very plane we were occupying filmed circling around LAX on MSNBC and FOX and ABC—a garish spotlight trained on the faulty nose-gear, the news of our possible plight crawling along, incredibly, in the same text zipper as Hurricane Rita—the testimony of the aviation experts summoned by the news programs proved largely reassuring. (Too bad the information that this particular landing-gear malfunction has occurred at least seven times before on Airbus flights failed to arrive at their fingertips until two days after the incident. But that wouldn't have made for fun television, now would it?)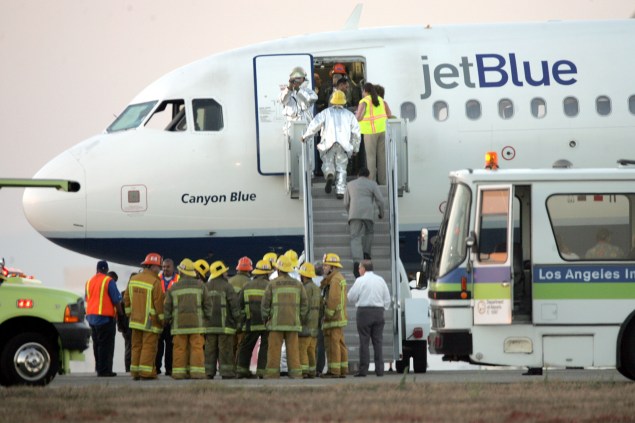 To answer some frequently asked questions: What was the mood in the cabin? Um, it was tense. Very tense. Though not as bad as you might think: I tallied no screams nor frenzied clicking of rosary beads. As we glided along at 5,000 feet, there were scattered tears, subdued prayers and even jokes from a few wizened, seen-it-all-before road warriors—you know the type. I was far from being able to joke, but I did remark to one of my row mates, a handsome, clean-cut man with a wife and two young daughters waiting for him at home, that at least if I perished in a fiery inferno, there would be the satisfaction of knowing that I had conclusively won an ongoing argument with my husband about whether a fear of flying is justified. "Small consolation," he said. But he knew exactly what I meant.
Did you try to call anybody? Don't be silly—everybody knows that using one's cell phone in the air can interfere with pilots' precious communication signals! In fact, I was enough of a goody two-shoes that, when I spotted a guy in front of me whipping out his mobile, I tattled to one of the flight attendants. With all due respect to a fear that was very real, I do feel there was an element of melodrama to many of the "just in case" farewell messages that some of my fellow passengers managed to record and dispatch to loved ones in the moments before our dramatic descent. They seemed rather unjustly to echo those sent by the victims of the Sept. 11 terrorist attacks. True, thanks to that dreadful day, the television image of a plane circling low in a bright blue sky is now enough to make any of us suck in our breath. But there is simply no comparison between being on a vehicle that's being used as a murder weapon by terrorists and one that a friendly, well-trained pilot is trying valiantly to land safely, with generous cooperation from the ground.
What did the flight crew tell you? The announcements from the cockpit were warm, yet crisp and businesslike. At first, slowly rising over the dusty hills of Palmdale, we thought the problem was merely landing gear that wouldn't retract (much less of an issue, surely, than landing gear that wouldn't extrude), or possibly even a mere signal glitch. Then a low fly-by at Long Beach Airport, during which our plane's underbelly was inspected from the ground with binoculars (it seemed like a shockingly retro operation, like bird-watching), revealed the cockeyed nose gear. Is this the moment to admit that I had never really realized before that planes have nose gear? Somehow I had always thought that they alighted on their back feet—like birds. We were informed about the plans for an emergency landing at LAX, which is not a JetBlue hub, but whose facilities could better accommodate our wayward aircraft. "We're going to do our best to make this a positive situation," said pilot Scott Burke, inciting hollow laughter in the cabin, along with a few groans. The flight attendants, meanwhile, were busy being everything that you could possibly want from flight attendants. They didn't shoo people to the back of the plane, as has been reported—it was a pretty full flight—but they did do some reshuffling of endo- and ectomorphs, and they passed the heavier bags to the aft overhead compartments, tossing them relay-style. To a woman—and they were all women—they were cheerful, jaunty and brave. With particular fondness I remember Judy, a brassy, blond, green-eyed dame who told of an impromptu emergency landing in Buffalo on ice—a far more harrowing prospect, apparently, because that crew had had little time to prepare. She then sardonically pantomimed the many microphones that would be thrust in our faces when it was all over. And how right she was. Judy, Judy, Judy!
In the closing minutes, we were instructed on how to use the rubber slides, if necessary, what to do if we smelled smoke (calmly find another method of egress), and to remove sharp objects and high heels from our person—in essence, a refresher course on those indecipherable little cards they stuff in the seatback pockets, where the paper vomit bags used to be. I quietly congratulated myself on having selected 13D, an aisle seat directly behind the emergency-exit row, and on wearing the sneakers and sweatpants that I had hitherto dismissed as inappropriate, "ugly American" flying wear, but adopted with the excuse of my six-month-old pregnancy. (This self-congratulation crumbled into mild dismay later on, when I realized that I'd been broadcast to millions wildly gesticulating in a $5 cotton gray tank top from Old Navy's maternity department.)
Who informed the media? I have no idea, and have been unable to find out. What was the landing like? As we glided toward earth, pilot Burke said, "Flight attendants, prepare for arrival," which set off a fresh round of hollow laughter in the cabin. Then there was mostly silence, except for the attendants' powerful and surprising incantation of "Brace, brace, brace!" I am not a religious person, but I will admit to mumbling "Please, God," several times through clenched teeth as the smell of scorched rubber—but, blessedly, no actual smoke—filled the aircraft. Time had an amazingly rubato quality during this whole experience; the hours of circling had gone incredibly quickly, while the final minutes seemed extremely slow. It was a much gentler, if hotter, landing than most. At the time I attributed the heat to anxiety, and the discontinuation of the pressurized air-conditioning. Later, I saw the footage of fire shooting under the plane. When we came to a solid stop and realized that we weren't going to die, nor was the plane even going to break apart, the silence ended in a loud, collective, spontaneous Whooo! Yeaah! Kind of like when the Yankees win the pennant, except better, because no one was rooting for another team. As pilot Burke came out to give us a wave, there was another appreciative roar, and maybe even another after we were told we could take our belongings with us.
What is JetBlue providing as compensation? A refund, plus two free round-trip tickets to the destination of one's choice, and service representatives bearing goodie bags filled with snacks, a free car service and little clucks of sympathy. The airline is classless, so forget about lifetime upgrades, but at a certain point I felt that I could demand just about anything—massages, male escorts, a lifetime supply of Terra Blues potato chips—and it would be mine. I didn't want to take advantage.
I did, however, take advantage of the numerous opportunities for on-air time that continued to cascade my way. But who, exactly, was taking advantage? Good Morning America booked me, along with two other talkative passengers, at 3 a.m. Pacific Standard Time. I consented to this unholy hour partly because the studio where ABC tapes remotes is on Prospect Avenue, about half a mile down the hill from our house in Los Feliz. I figured I wouldn't be getting any sleep anyway. At 2:45 a.m., the over-solicitous bookers sent a stretch limo—the kind they use at proms, with shaded windows and fake "stars" dotted on the ceiling. My sensible husband slept soundly in his bed as I tried to strap myself into the back seat, unable to find a seatbelt in the dark, shiny depths of Corinthian leather. Crystal bottles filled with cheap, amber-colored liquid rattled as the driver tried to maneuver this behemoth down our narrow hill, making elaborate 11-point turns at each curve. It felt more treacherous than the flight. At 5:45 a.m., a smaller car came to take me to CNN's American Morning, where I reiterated the same things I'd said to Anderson and Aaron (I think we're on a first-name basis now), much less articulately, I'm afraid, to Miles O'Brien. The passing hours had transformed them into bullet points. Catharsis via mass talk therapy had become simple exhaustion. As the day progressed, the phone kept ringing: the Fox News Channel, the A.P., NPR, USA Today, The Daily News, Ellen: The Ellen DeGeneres Show, The Tyra Banks Show(!), Le Parisienne and too many podunk radio stations and small local gazettes to count. I marveled at how deep the media's penetration was, yet how pointillist. Via e-mail, I was hearing from friends I hadn't spoken to since seventh grade, from locations as far-flung as Africa and South America, but it would take me well over a day to locate my own parents, who were visiting London with a new, tricky cell phone. Has communication ever been simultaneously so efficient and so inefficient?
I was taking a call from a jocular New Zealand disc jockey as my husband drove us back to where it all started, the Bob Hope Airport in Burbank, where there was a big billboard advertising the airplane thriller Flightplan, starring Jodie Foster. It would turn out to be the weekend's top-grossing movie. Sitting on a brand-new JetBlue Flight 292, we held hands and admired a cute picture of ourselves in the L.A. Times, then dozed as my image flickered across the tiny screens.