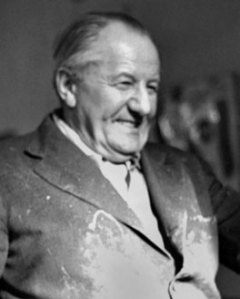 What does John Updike know about art, anyway? Enough to write about it perceptively. The renowned novelist's art criticism appears in The New York Review of Books and has been collected in a newly published book. But he doesn't know enough—or, perhaps it is better said, see enough—to re-imagine its historical and aesthetic contours.
In his recent assessment of Jed Perl's New Art City in The New York Times Book Review, Mr. Updike upbraided Mr. Perl for refusing to buy into the standard account of postwar painting and sculpture—endorsed by museums, galleries, curators, critics, artists and, lest we forget, deep-pocketed collectors—that values Jackson Pollock, Robert Rauschenberg and Richard Serra over Edwin Dickinson, Romare Bearden and Christopher Wilmarth.
You'd think that Mr. Updike, who has seen fit to write kind words about out-of-the-mainstream painters like George Nick and Roy De Forest, might be willing to challenge the status quo. Yet there he was, sniffing over Mr. Perl's "curt treatment" of Abstract Expressionism, his dismissal of Andy Warhol and Roy Lichtenstein as "deft perpetrators of implicitly fraudulent effects," and his disappointment at the pervasiveness of Marcel Duchamp's gadfly cynicism. The history that prizes innovation, outrage and condescending populism over hard-won artistic truths remains all but untested.
I was reminded of these concerns upon visiting Hans Hofmann: The Legacy at the Painting Center in Soho. The exhibition is an effective antidote to a narrow art-historical view. Curated by the critic Karen Wilkin and the painter Geoffrey Dorfman, it spotlights the wide-ranging influence of the American painter and teacher Hans Hofmann (1880-1966). Centered on three Hofmann canvases, the exhibition features work by artists who either studied with Hofmann directly or who benefited from contact with his art.
The former camp includes (among others) George McNeil, Paul Resika, Louisa Matthiasdottir, Wolf Kahn and Robert De Niro Sr., whom Hofmann considered his best student. The latter includes Laurie Fendrich, Jill Nathanson and Walter Darby Bannard, and their paintings offer evidence of the continuing vitality of Hofmann's example.
Hofmann: The Legacy is a modest exhibition with big ambitions. Mr. Dorfman, writing in the catalog, envisions Hofmann as a "delirious scientist, pouring potent substances into a container … measuring the chemical reaction, monitoring any rise in temperature and urging the result towards a convincing apotheosis." He points despondently to a current scene "attuned to other frequencies," chief among them the marketplace. Lamenting the "stifling repetitiveness among contemporary artists," Mr. Dorfman posits Hofmann as an alternative whose work is "ebullient, radiant, courageous and various in [its] effects."
When he goes on to endorse Hofmann as a practical role model ("He was not depressive, didn't drink to excess, and was not a sufferer"), you know Mr. Dorfman is hoeing a tough row. People prefer genius-types who are poverty-stricken, alcoholic, crazy and earless; joyous just won't do.
And while Hofmann's position in the firmament is secure—he's typically lumped in with the Abstract Expressionists—he's somewhat misplaced and misunderstood. Notwithstanding similarities in painterly approach, the disposition and scope of his work set it apart from that of the New York School. At this date, Abstract Expressionism looks less like a stirring culmination than a closed book. Hofmann's art, in contrast, is forever pointing forward, its optimism and propulsion encouraging unimagined possibilities.
He had no agenda and set no limits. Figuration and abstraction, or a mix in between, suited Hofmann fine, so long as the resulting art was coherently realized through its plastic values. His aesthetic is more encompassing, open-ended and generous than that of even the finest painters in the New York School. Sunny, galumphing and wildly imperfect, his paintings clear a path veering away from the knowing malaise of contemporary culture.
That's what Mr. Dorfman and Ms. Wilkin suggest, and, by and large, they're right. That said, Hofmann: The Legacy is unlikely to change the mind of the scene's professional class of Doubting Thomases. It will not prompt a revision of the standard texts of art history, even among those sympathetic to its cause. The selection of paintings isn't as definitive as it could be. Few of the painters, including Hofmann himself, are represented by their best or most representative work. Transitional canvases by Ludwig Sander and Carl Holty, for instance, fail to give an indication of what they were capable of as mature artists.
The curators are aware of the limitations. They cite space constraints and offer "earnest apologies" to "excellent" living artists who weren't included. I'm sure Mr. Dorfman and Ms. Wilkin would love the space, time and financial resources to do right by Hofmann and his progeny. Would that they could bookend a major Hofmann painting—say, the Guggenheim's The Gate (1959-60)—with sizable works by Matthiasdottir and McNeil. As it is, McNeil and Matthiasdottir—painters who thrived on wide expanses of canvas—are represented by smallish efforts. The correspondences between their art and Hofmann's are recognized, but they're not made electric. And Hofmann is all about electricity.
But the last thing I want to suggest is that Hofmann: The Legacy is a squandered opportunity—far from it. The show is the finest yet to be mounted at the Painting Center; it provides a splendid blueprint for a more comprehensive exhibition and makes palpable the eclectic and deeply humane character of Hofmann's influence. The rare opportunity to view pictures by painters as good as Myron Stout, John Grillo, Ms. Nathanson and Ms. Fendrich is reason alone to be grateful.
Ms. Wilkin and Mr. Dorfman have started a dialogue that can only get more complex and compelling. History, like Hofmann's art, never sits still. It's always re-writing itself, forever offering its challenges. Mr. Updike has his work cut out for him. So do the rest of us. It will be a pleasure.
Hans Hofmann: The Legacy is at the Painting Center, 52 Greene Street, until Dec. 24.