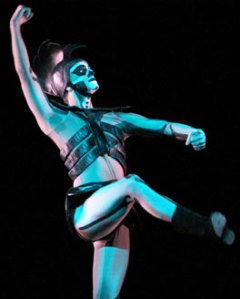 American Ballet Theatre's fall season at the City Center was the most interesting and the strongest I can remember. These are the weeks we long for during the company's interminable spring season at the Met, when all the stars are trotted out (or bourréed out) to have their way with the relentless Giselles and Swan Lakes and Romeo and Juliets, alleviated, if we're lucky, by a major Ashton revival—and, if we're not, by an all-Fokine evening. (Last spring we got both.) Part of the problem is that the Giselles and Swan Lakes don't provide many opportunities for the soloists and more talented corps members to step up and show us who they are and what they can do. They're on hold—and so are we.
Which didn't much matter when the company itself was on hold, and a lackluster hold at that. But today A.B.T. is bursting with talent, and a repertory of nine varied and demanding works, with several casts each, is giving the younger dancers what they deserve: not only opportunities to display themselves but opportunities to learn. You can see them growing and flourishing, and you can sense their happiness—this is not only a brilliant company but (allowing for the inevitable day-to-day traumas and disappointments) a satisfied one. If you want to see disaffected and dispirited dancers at work, you'll find them at most City Ballet performances, to me the saddest dance phenomenon of our time.
The first remarkable thing about this A.B.T. season was the revival of two famous works from the 1930's, both of which can loosely be termed "Expressionist," and both of which gave the dancers dramatic opportunities they don't usually encounter. Kurt Jooss' The Green Table (1932) is ballet's most famous and long-lived work of agitprop. In its startling opening scene, 10 dancers in white tie and tails and the kind of satirical masks George Grosz might have concocted are seated around the long green table of the title—a highly stylized impersonation of heartless diplomats disposing of the fate of millions as they conspire to lead the world to war.
And then comes war itself and its terrible consequences, played out in scenes with titles like "The Battle," "The Refugees," "The Partisan," "The Brothel." The Standard Bearer waves his white flag, the Young Girl is forced into prostitution, the Woman is executed, the Profiteer is all slinky, ferret-like movement. And dominating everything is the pitiless figure of Death in a skeleton-inflected, Darth Vader–like costume. When Death was embodied by the towering David Hallberg, you could understand why no one can escape his fatal authority. (The handsome and powerful Hallberg is now populating much of the repertory; the company, in its inscrutable way, hasn't yet made him a principal—just the way they treated Gillian Murphy a few years ago.)
The second rung of A.B.T. dancers made strong impressions: Carmen Corella, Jesus Pastor, Carlos Lopez, Kelley Boyd, Jared Matthews, Jennifer Alexander, all grabbed the opportunities they were given and made the most of them. And Kristi Boone, who's been on the verge for some time now, may have found her real métier as a dramatic dancer: In both The Green Table and Dark Elegies she stood out for her intensity and truthfulness.
How good a work is The Green Table? You can see it as a superbly crafted, devastating indictment of war and war-makers. Or you can see it as an old-fashioned piece of propaganda, an historical curiosity worth revival every decade or so. I saw it as both, and most of all as a valuable experience for the dancers.
Dark Elegies, however—Antony Tudor's 1937 masterpiece—left me unconflictedly moved. Set to Mahler's Kindertotenlieder (Songs on the Death of Children), eloquently sung by Troy Cook, it is, I suppose, less Expressionist than expressive. A dozen bereaved parents are grouped in front of Nadia Benois' bleak landscape and step forward alone or in pairs to live out their pain until eventually they find solace. It's a community of grief, Mourners at a Gathering. Their anguish and despair aren't generalized or generic; they're conveyed through amazingly precise detail in the footwork and in arm gestures—Tudor, like Jerome Robbins, controls everything at every moment. Yet the dramatic impulse isn't stifled. Once again, a range of dancers over several casts invested themselves fully in the enterprise, most tellingly Isaac Stappas, Sascha Radetsky, Melissa Thomas, Simone Messmer, Pastor, Lopez, Matthews, and an exquisite apprentice, Hee Seo. Stappas is an especially honest dancer—firmly, yet quietly, he anchors the piece. And Sascha Radetsky, an underused and underappreciated dancer, conveyed a remarkable depth of feeling without emoting.
First performed in January 1940, during the company's first season, Dark Elegies has always been respected. This time around, the audience seemed to embrace it. One possible reason: Its projection of intimate emotion is far better suited to the City Center's smaller stage and auditorium than to the Met's gigantic spaces.
One thing the Jooss and Tudor ballets have in common is that their grim subjects make it impossible for the dancers to smile, grin or smirk. The relief! But elsewhere, the Smiling Sickness has struck again. (It's struck in Paris as well, where in the current revival of Jewels, the corps girls in "Diamonds" as well as the leads in "Emeralds" are busy flirting with the audience. But then didn't Balzac, somewhere in Lost Illusions back in 1843, complain about the eternally smiling Opéra girls?) A.B.T.'s worst offender used to be Irina Dvorovenko, but by her standards she was almost severe in the Paquita Pas de Deux. She's been left in the dust by Xiomara Reyes, who doesn't think it's worth moving unless she can grin along with the steps. (She and Angel Corella vied for who could be more adorable in Balanchine's Tchaikovsky Pas de Deux.) Michele Wiles, who had a perfect right to flash her teeth in Twyla Tharp's In the Upper Room, defaced her Polyhymnia in Apollo with her exhausting smile. She couldn't compete, however, with Veronika Part as Terpsichore. Part is almost always a mannered dancer, but her fetching little smiles and coy glances here went beyond manner into parody. I have news for you, ladies: Apollo is not a giggle.
Luckily, it didn't matter how much Reyes smirked and hammed it up in Rodeo, Agnes de Mille's way-station between Martha Graham's Appalachian Spring and her own Oklahoma! Reyes is cutesy, Rodeo is cutesy, no harm was done.
The great hit of the season—it had the audience roaring—was Tharp's In the Upper Room, revived after a decade and looking like a masterpiece. This long piece in nine sections for seven women and six men is such a blast of energy and invention that you'd have to be under anesthesia not to respond to it. Things went wrong—the smoke got out of control in the early sections, at one performance the tape of the Philip Glass score had a breakdown, certain dancers looked less than Tharpian, lifts were missed, by the end people were running out of gas (and who can blame them?)—but In the Upper Room had everybody moving. Paloma Herrera, in the "ballerina" role, actually looked as if she was having fun, and she's not known as a fun lady. The guys in the first cast were an unparalleled congregation of talent: Hallberg, Stappas, Herman Cornejo, Craig Salstein, Eric Underwood—and beyond anyone and everyone, Ethan Stiefel.
The first time I saw him, he was a wild man: pumped up, wired, possessed. I've never seen a more manic performance. (A few days later, he was marginally tamer—trouble with his knees.) Stiefel, indisputably the most talented American classical dancer since Edward Villella, often doesn't look comfortable in his roles. He's not much of an actor, he's not much of a prince. What he is is brilliant, raw, challenging, captivating and, above all, American—in other words, he is Twyla Tharp. They're the same kind of animal, both of them putting the world on notice: "Don't mess with me." She releases his untrammeled energy, his punk elegance, and he's looked great in everything he's ever done of hers, though never greater than in that one incandescent performance.
And he went on giving that same performance the following night—as Balanchine's Apollo. (The world's first Dionysian Apollo?) He hadn't come down from his high.
The Apollo I found most deeply satisfying was Jose Manuel Carreño's. He's unformed at the beginning, but aware and responsive; he's tender rather than aggressive; you can see him evolving in his solos—there's an intelligent arc and a moving earnestness to his performance. Can this be the same dancer who matched Dvorovenko trick for trick in the Paquita Pas de Deux? And can the usually bland if always capable Julie Kent have had such natural charm and musicality as his Terpsichore? Wonders never cease.
I thought that Mark Morris' Gong, now four years old, looked better than ever. But then the company is stronger today than it used to be. This is a solid, interesting piece, its cheerful group sections (and nothing could be more cheerful than Isaac Mizrahi's ultra-bright costumes) interrupted by two extended and mysterious duets set in semi-dark and total silence.
And A.B.T. is now presenting Robbins' famous Afternoon of a Faun. It's a non-fail ballet, but it wasn't a complete success as performed by Maxim Beloserkovsky and Maria Riccetto. There was no sense of languor, of heat; subtle accents were scanted or misunderstood. They're handsome people and good dancers—Riccetto was all over the repertory this season—but they haven't been adequately coached. (Why not bring in Patricia McBride or Allegra Kent, both of whom worked closely with Robbins on this ballet? Or Villella, for that matter—after all, it was seeing him as a boy of 16 in the studio that gave Robbins the idea for Faun in the first place.) Beloserkovsky certainly wasn't helped by the gold accents in his hair (the Faun is a sexy kid, not a Russian danseur noble), or by the fabric of his black tights—some kind of gleamy synthetic rather than the innocent cotton of Irene Sharaff's original costume.
To the stimulating mix of Jooss and Tudor, Tharp and Balanchine, Morris and Fokine (yes, Les Sylphides was back, too, worthy but past its sell-by date), the company added a new commissioned piece: Kaleidoscope, by a young choreographer named Peter Quanz. I'm afraid Quanz believes that by referring passim to Balanchine he's made a Balanchinian ballet, but it just doesn't work that way. To begin with, Mr. B would never have used music as surfacey and empty as Saint-Saëns' fifth piano concerto; and of course he would have had something to tell us. Quanz uses the stage intelligently and keeps thing going … and going … and going. But Kaleidoscope is a purely academic work, appropriate, maybe, for a school-graduation performance but hardly worthy of a great ballet company. It's pretty, though, even if its pancake tutus are too wide, and audiences—and some critics, too—seemed to enjoy it. Since it has no voice of its own, it's going to be easy to forget—and I plan to start forgetting it right now.