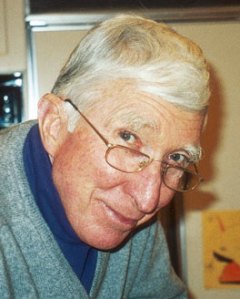 On Sunday night, at the dead center of the Guggenheim Museum's spiral cavity, the performance artist Marina Abramović re-enacted a Joseph Beuys performance from 1965 called How to Explain Pictures to a Dead Hare. Honey was used to adhere gold leaf to her face; it fluttered like flame at the back of her head. She played with the limp animal's long ears as 100 art-hipsters sat and stood near-silently about her; New York Times art critic Roberta Smith caught the performance from at least 180 degrees.
It was great: Her presence was commanding, all the symbols still evocative 40 years later. But the rapt, student-like appreciation of a Beuys piece (which was originally performed in a gallery with the viewers behind a clear partition) was one problem; another was the four-or-so-foot-high stage on which Ms. Abramović performed, and which separated and elevated her from the audience. The two problems popped a familiar question: What happens when you put art on a pedestal?
Well, pretty much the same thing as when critics and historians do it.
Everyone who picked up John Updike's new collection of art essays from my desk in the last week described its appearance as that of a deadly dull high-school textbook—which made it nearly impossible to pick up.
And instead of reading it on Saturday night, I baked a few loaves of French bread and then went to a midnight showing of Roman Polanski's Rosemary's Baby. The theater was packed with people who hadn't been born back in 1968, when the film was made. On Sunday morning, I woke up late and moved from chair to chair as the low November sun raced across the room, ate the bread, and thought of how Rosemary's Baby (like Ms. Abramović's project, which I would see later that night) displayed some of the difficulties of aging art. High style plus time can so equal camp, for one thing—worse, it can equal dullness.
So. John Updike, in his guise as art critic, is the guy who gets called out for the big-gun shows—many of the essays in his new book were occasioned by Whitney, Guggenheim and Met retrospectives. He's ridiculously well-read and right. He devotes a long, worthy chapter to the worthy works of Martin Johnson Heade, mostly insisting that there's no Civil War metaphor in his pictures of storms at sea. He hits Childe Hassam on the occasion of the Impressionist's 2004 Met retrospective and also does hideous Arthur Dove. He considers photography only very briefly with a chapter on Stieglitz, and sculpture with a small chunk of Elie Nadelman.
He only rarely strays off-topic, which is a shame. ("How much more erotic, I was led to reflect, thin summer dresses are than today's athletic shorts and halters!" Mr. Updike parenthetically notes in the first of two—two?—Edward Hopper chapters. "Old summertime New York was a harem in clinging cotton.") In the last few pages, he visits with Pollock and then clips in two odd, obituary-style pages on Andy Warhol.
One of Mr. Updike's concerns is rise of "the talk show," a descendant of the blockbuster mega-show: "As insurance costs rise and government support dwindles, and the number of artists for whom the public will form long queues approaches its limit … museums are turning scholarly"—and that makes for exhibitions "through which we walk as if galleries were paragraphs and paintings were slides of themselves." He's right again: The Natural History Museum's signpost approach to art surveys has been spreading fast.
In reaction to this trend, Mr. Updike goes deep on a limited number of artists—and yet we end up with something similar. His blockbuster-show coverage, even while it spotlights a few surprises (Heade, for example), has sifted history through the agency of curators and big-time museum approval stamps. Everything is already guaranteed great—though some of it is silly, the John Sloans and the Asher Durands looking a bit stylized and fey, and the 19th-century C.G.I. tricks of Albert Bierstadt and the Hudson River School alternately laughable and totally delightful on the page (though always glamorous in person).
For Mr. Updike, nothing is really old, though he notes in a discussion of Jasper Francis Cropsey, "This sort of allegorical painting deflects a contemporary eye." But … it is old, and that's why a hodgepodge historical survey like this is only interesting because of who the writer is.
Robert Long's history of artists and writers in and around East Hampton is also severely curated by the winds of fame and money. But tonally, it's the opposite of Mr. Updike, who never met a steady heavy essay-closer he didn't like. ("To a degree no longer possible, he lived as the New World's new man—self-ruled, resourceful, and beginning always afresh" is how Mr. Updike ends his chapter on Winslow Homer. KA-KLONK!)
Where Mr. Updike carefully refuses to go too far, Mr. Long has no qualms about going nuts in putting East Hampton's quirky celebs up on the rarefied stage of revisited history—though, to be fair, it's not Mr. Long's fault that the legends of Pollock and de Kooning weigh too heavily on such a little sea-level string of hamlets.
Mr. Long's brash self-assignment was to write omniscient third-person narratives, microscopic in detail, of William Merritt Chase and Frank O'Hara and Fairfield Porter and, of course, the mid-century big boys. He's quite unafraid to ascribe feelings and motivations and internal self-assessments to them, though he points out with a "sources" section that he's done his homework.
Therefore, you have East Long Island's finest and drunkest wondering about their vitality, their exhaustion, their future. "If this was how he acted in the grown-up world," Frank O'Hara gets to wonder, "what would his life be like in ten years? Would he evolve into a bureaucrat, a tasteful eminence, another old queen at the end of the bar?"
And poor Jackson Pollock, out for a drive: "He thought how Ruth would only get louder once they were there, drawing even more attention to him, and he had nothing to say to all those cocksuckers anyway." Well, no wonder he aimed straight at a tree.
Mr. Long's process leads to way too many meditations on the quality of light on the East End. Jesus, the goddamned light! If nothing else good has come from the march of conceptualism and postmodernism, at least artists no longer blather on endlessly about the light.
Near the end, we meet lovely old drunken Jean Stafford and get to read a few of her letters, some of them delightfully post-stroke, like this warning to a coming houseguest: "I can stand for three and have days and more night and a vamoose then." Fantastic. But after that, there's a wholesome ode to American breakfast, with Saul Steinberg as host.
Mr. Long's project feels untrustworthy—and yet the result is gorgeous. For starters, he writes the holy hell out of these pieces, loose and flexible with time and space and utterly without fear, making them a dreamy afternoon's read. His book packs a huge amount of pleasure.
But as with the microscopy of the recent film Capote, I wasn't sure that I'd been told from the tiny what I needed to know about the large. (What if that dragon has a kitten's paws?) And, well … what if Mr. Long was wrong about things? What if no moth fluttered in the lights of Alfonso Ossorio's studio that night?
The quaintness of untreated alcoholism and poverty and the riding of bicycles to general stores reverberates with a kind of camp via fetish, a lifestyle prurience. Displaying these icons up on the big stage—divorced from the people—just makes the idea of larger-than-life art heroes, distilled in the gin of commerce and media, seem more and more problematic.
Choire Sicha is a senior editor at The Observer.