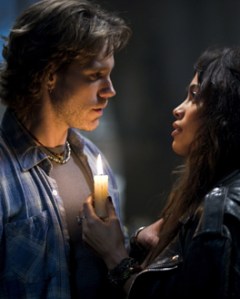 Speaking ill of Rent has always been comparable to tearing up a red AIDS ribbon on Eighth Avenue, or kicking one of those little AIDS babies you used to hear so much about but totally don't anymore.
In fact, the night in February of 1996 that I saw the theatrical preview of Rent, I was warned into a sort of reverence, or at least silence, by my date. The show's 35-year-old creator, Jonathan Larson, had dropped dead of a foot-long aortic tear just a few weeks previous, and the audience had adapted an Arlene Croce–meets–Patty Hearst sort of tactic: We can't speak ill of this because of Mr. Larson's death and, of course, that whole AIDS thing, and also everyone might hurt us if we do. Of course, everyone who saw it could have been equally psychotically enthusiastic, but that does seem unlikely.
My date worked with the agents of the Panamanian hottie Daphne Rubin-Vega, who starred in the play as Mimi, the junkie stripper with a heart full of gold and anti-retrovirals.
Ms. Rubin-Vega, sadly, didn't make it into the cast of the new film version because she would be pregnant during filming, though, of course, she would be 36 by the time the film finally opened this Thanksgiving week. (On the other hand, my date that night would, the grapevine later said, soon become a crack addict or something and be forced to leave Manhattan for states less narcotically tempting. Life, art!)
But Ms. Rubin-Vega looked so young that night back in 1996. And, after I spent those two or so awful hours in musical-theater agony, watching the history of AIDS and the East Village being savagely rewritten with my mouth clamped closed, my eyes silently rolling, I saw her saying her hellos at the front of the New York Theater Workshop. She was wet from her exertions. "Well, good luck with this!" is what I think I said to her—the sort of thing that so many Manhattanites must regularly say to an actress who is giving her all to a crappy play that is going to shortly and disgracefully close.
Whoops.
"IN NO TIME THERE WERE LIMOUSINES PULLING UP in front of the New York Theater Workshop; people were coming who had never been to the funky East Village before in their lives," wrote Cynthia O'Neal, the executive director of the H.I.V. support program Friends In Deed, in the December 2005 issue of Out. "Obviously, the drama of Jonathan's death was a part of what drew them …. "
Rent would move to Broadway in just a few months, on April 29, 1996, at which point it would immediately begin raping the history of the East Village before a maximum-capacity audience. It's still running there.
For those who have somehow not been assaulted, this is what happens in Rent: Two guys, Roger and Mark, live together in some monster loft in the East Village and are being evicted by their friend-turned-landlord. The year is unspecified, the plot a reworking of La Bohème. Guitar-playing Roger can't write a song, and Mark—who has been jilted by his lady friend for another lady—can't make a film. Roger meets the whore downstairs, Mimi, who, like him, is H.I.V.-positive. Their drag-queen friend Angel dies of AIDS. Everyone is varying shades of taupe to brown, political markers that are never remarked upon. Roger and Mark sing, "We're dying in America to come into our own." Mimi takes up with the landlord, disappears, comes back a shivering heroin mess and croaks. Roger sings her the song it took him a year to write, and she comes back to life. Mark plays his film, which sucks. The curtain comes down and, presumably, they senesce and die in due time.
It is, in short, a story about the narcissism of the young in troubled times.
It is also a retelling of a local AIDS crisis that never got a chance to be told in the first place, cleaned up and viewed through a heterosexual filter, with all the shitting and anger and fucking and life removed, the very opposite of Rebecca Brown's 1994 novel The Gifts of the Body, perhaps the most accurate book about illness ever written. Unlike that book, Rent was a period piece that came too soon: It relegated any idea of crisis to a fabled past.
But the real story of Rent happened outside the theater. Rent became the perfect peg for writers to discuss a changing city, to discuss a neighborhood that was changing hands from the non-working poor to the working poor.
Still, what that story was exactly was unclear, even sometimes contradictory.
In August of 1996, according to Trip Gabriel in the New York Times Styles section, the East Village was the "home of the casually hip and 'thrift store meets hot citrus' fashions, where H.I.V.-positive musicians mix with transvestites and anarchist squatters."
But the very next month, Neil Strauss wrote in The Times that he had moved out of Alphabet City when he "heard a couple getting held up at gunpoint" outside his window, and noted that St. Mark's Place had changed into "a strip mall with chains like the Gap and Subway."
Some tried to make sense of Rent's actual relation to the East Village. "I live around the corner from the real thing," Bernard Holland had written in the same paper back in March, "and what I see and hear on the streets has an edge that the earnest practitioners of Rent can't quite summon."
The real thing. In November of 1996, the musical had already entered "the third stage of its young life," according to William Grimes in The New York Times; its first out-of-town production opened in Boston that month, and touring companies would be unleashed in Canada and the U.K.
By then, there was nothing that anyone could do. The marketplace was hungry. Ed Siegel, reviewing the local production in The Boston Globe that month, issued a warning, noting "the emptiness of its bohemianism": "In terms of content, Rent is little more than a fashion statement," he said. "One leaves the theater humming the clothes." In that, he sounded like Mr. Holland, who had described a "college-dorm patness to the show's social politics."
Dorms? We've got those all over. They built one right over the randy porno booths at the corner of 14th Street and Third Avenue, in fact.
NOVEMBER OF 1996 WAS ALSO THE MONTH that The New York Times Magazine published a treatise by Andrew Sullivan called "When Plagues End." It was billed as a "a reflection on the passing of a crisis." As went the approximately late-80's AIDS period piece that was Rent, so went Mr. Sullivan, at 8,455 words.
Mr. Sullivan, who tested positive himself in 1993, believed that an era had suddenly come to an end. "And even now, among friends," he wrote, "there are those who refuse to be tested for a virus that, thanks to the new treatments, might be eliminated from the bloodstream."
This bizarre misrepresentation of the efficacy of protease inhibitors was outlandish. But what the piece revealed was Mr. Sullivan's own politics of narcissism and powers of wish fulfillment—and really, it was hard to blame him for wanting AIDS to be over, though wanting it to be so didn't make it any more true. "Death is less an event than an environment," Mr. Sullivan had written more accurately, back in 1990 in The New Republic.
Mr. Sullivan reaffirmed his crisis-over beliefs early this month in The New Republic, in a piece called "The End of Gay Culture."
" … [T]he plague receded in the face of far more effective HIV treatments in the mid-'90s," he wrote.
But Mr. Sullivan's ill-conceived 1996 AIDS article did actually reflect a public emotional change, though it may have been a period piece that came too soon as well, and in many ways, everyone just felt that AIDS was over. Or had become something like diabetes—serious, chronic, but treatable, not tragic; finally, almost normal.
There were fewer funerals, after all. So AIDS as a crisis had its funeral in the form of Rent; like a visit to a memorial plaza, kids from New Jersey could come and get a sort-of sense of what AIDS used to be like (filtered, of course, through heterosexual experience); New Yorkers could come and maybe have a chance to catch their breath and grieve over what it was like, that past that had passed away.
Crisis averted.
LAST WEEK, ON NOV. 18—which was also Daphne Rubin-Vega's birthday—the Centers for Disease Control's Morbidity and Mortality Weekly Report issued a lengthy report called Trends in HIV/AIDS Diagnoses. This was the first year for which such long-term trends would be announced here, since New York had only instituted name-based H.I.V. diagnosis reporting in June 2000.
What we learned is that, among the 33 states that report them to the C.D.C., 20 percent of all reported new H.I.V. diagnoses in the United States occur in New York—though it should be noted that California, which generally has the second-highest number of AIDS cases, doesn't report in this group.
We learned that the number of new cases being reported in gay and bisexual men is up 8 percent from 2003 to 2004.
We learned that in these 33 states, 68,434 gay and bisexual men tested positive between 2001 and 2004.
Each year of the last four years, on average, across those 33 states, 39,313 people have been informed that they are positive.
It's been eight years since Mr. Sullivan's article. And these numbers are only for people who actually get tested, and then only those who return for their test results.
"The new developments are deeply gratifying, but for many of us, a persistent air of skepticism remains," wrote New York artist Karl Michalak in 1996 to The New York Times Magazine in response to Mr. Sullivan's article. His letter was published on Dec. 1, World AIDS Day. "It's hard to dance in the streets when your feet have gone numb," he wrote.
Mr. Michalak died the next year, in June. The cast of Rent had been dancing on a Broadway stage for 14 months.
Is the crisis of AIDS over yet? Was it even over then?
CHRIS COLUMBUS' FILM VERSION OF RENT is extraordinarily, even unimaginatively, faithful to the stage version.
But not since The Day After Tomorrow has New York City itself been so faithlessly rendered on the big screen.
What the hell skyline is this? What's this F-train stop doing at the corner of 10th and Avenue B? Why has the Life Café been moved down the road? What is this mysterious block on which these kids live? At one point, street signs seem to indicate that it's Avenue A and 10th Street, which makes no sense.
It is, of course, not a cinéma vérité project. It's still an idea of a neighborhood and a crisis—and a gloss on both, and on the neighbors that commingle there. The word "fuck," as I recall, is spoken exactly once in the film. There is but one shot of a needle aimed for a thin forearm. All in all, it's about as gritty as the Rent Cycle Karaoke class that takes place at the 38th Street Crunch on Wednesdays at 7:30 p.m. It makes the East Village look a little less authentic than Sesame Street, a little more than It's a Wonderful Life. It's illusory, despicable and the worst sort of rewriting of history, because that history has actually never really been written in the first place.
But even East Village playwright and novelist Sarah Schulman—who never pursued her claim of plagiarism against Jonathan Larson's estate after she found that her 1990 novel People in Trouble closely resembled half the plot of Rent—couldn't blame Larson, though she trounced Rent up one side of Tompkins Square Park and down the other in her 1998 book Stagestruck: Theater, AIDS, and the Marketing of Gay America.
"It is seductive to see one's self translated into acceptable codes of behavior," Ms. Schulman wrote, "and therefore depicted in an approving way, even if the details are false and the approval illusory." Rent, to her, was as baffling a lie as Philadelphia, in which a heterosexual lawyer comes to the rescue of the poor people with AIDS.
In 1999, Ms. Schulman turned her attention briefly to Andrew Sullivan as well, in an interview in The Advocate. In it, he is baffled by and dismissive of her fury as she routs him on a number of topics: abortion, biological determinism, sex radicalism.
"There are debates that take place within a few blocks of lower Manhattan," Mr. Sullivan finally told her, "and then there are debates that actually take place."
Like Rent itself, Mr. Sullivan gets to speak for a group of people who have largely gone missing. Don't count on either of them to tell you how or why.
"The vast majority agree with much of what I say," he reminded Ms. Schulman. He should have added, "The vast majority of those who remain."
Just the same, the local debates in the East Village over gentrification and AIDS politics and the life of the artist—which apparently did not actually take place—will never take place again.