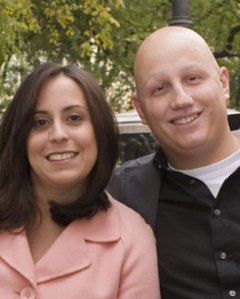 John Green and Sarah Urist
Met: September 1993
Engaged: April 22, 2005
Projected Wedding Date: May 20, 2006
John Green, a published author at 28 (grrrr), is marrying Sarah Urist, 26, a candidate for a master's in art history at Columbia. Mr. Green's coming-of-age novel, Looking for Alaska, was published by Dutton last spring and is being turned into a screenplay by The O.C.'s Josh Schwartz, who will also direct the project.
Just call the couple the Marissa and Ryan of Indian Springs, Ala., where they met at prep school. "I knew him as a character," said the bouncy, brunette Ms. Urist, remembering a skinny blond kid who reeked of cigarettes and tried a bit too hard to be cool. "Everybody knew who John Green was."
"I only remember that you were the hot ninth grader," Mr. Green said.
"Ewww, gross!" she complained.
They re-encountered one another eight years later, having both uprooted to Chicago; he was dating her boxing partner, who fortuitously was about to move to Italy. The three met in the Windy City's lone bagel café, the Bagel. "I thought you were gorgeous," Mr. Green said, addressing his fiancée. "Hotter, dare I say it, than in the ninth grade." He was also impressed by her grammar and punctuation skills. "If she said 'Civil War–era,' you could almost hear the N-dash between 'war' and 'era,'" he said.
Ms. Urist liked him but worried that he was a bit too skinny. "I'd been malnourished," Mr. Green said. Still, they struck up a cyber-correspondence. "Through her e-mails, you just got this portrait of this searingly intelligent woman," he said, "and I was just incredibly frustrated that I couldn't make it happen."
In desperation, he asked her to take his author photo, showing up well-groomed at her apartment for an amateur shoot. While Ms. Urist was preoccupied with the camera, he turned the conversation to the guy he thought she was dating. "Oh, I broke up with him three months ago!" she said.
"Does that mean I can pursue you now?" Mr. Green asked. She nodded and smiled. Smooch time!
They began spending more and more time together, as Ms. Urist anxiously awaited graduate-school acceptances. One evening, Mr. Green pasted a note to her mailbox reading "Don't check your mail!" and placed a rose on each step of the four flights of stairs leading to her apartment. A sign clarified: "If you're not Sarah, these flowers obviously aren't for you."
Alas, his elaborate plans were upstaged when Ms. Urist got her Columbia acceptance from FedEx before coming home. "My news was trumped," Mr. Green said.
But when Ms. Urist saw the flowers, she sensed something special was up. "John Green! You dirty trickster!" she yelled. Her boyfriend was waiting at the top of the landing, bearing a ring the couple had chosen together from Stanton Harris Inc. jewelers: three adjacent emerald-cut diamonds, totaling just over a carat, set in platinum.
"I thought, because John's a writer, there would be some kind of speech prepared," Ms. Urist said, but Mr. Green just blurted out: "I love you so much … will you marry me?"
They will wed at St. Paul's Cathedral in Ms. Urist's hometown of Birmingham, with a reception to follow at the local art museum featuring country music, crawfish cakes and fried green tomatoes (bring Pepto!). "We decided to embrace the Southern theme," said the bride-to-be.
It's a world apart from the Upper West Side neighborhood where they've found a charming beginner's-luck one-bedroom in a brownstone. "I think people just get completely accustomed to it," Mr. Green said, "but every 10 or 15 steps you get a clear whiff of pee."
Michelle Sidi and Brian Stevens
Met: June 1996
Engaged: Sept. 23, 2005
Projected Wedding Date: October 2006
Little darlings! Michelle Sidi and Brian Stevens met during the tender teenage years, working as counselors for the J.C.C. camp near their hometown of Plainview, Long Island. They would talk on the phone every night, but "she wasn't interested in me," said Mr. Stevens, now 25 and an account executive for Avenue-e Health Strategies, a pharmaceutical advertising company. "She was interested in Fireman Steve."
After her crush abated, he asked her to the junior prom, kissing her on the bus to the post-party, a Circle Line cruise. Voilà—they were an item.
But graduation put something of a damper on the relationship. He matriculated at SUNY Albany, while she went to SUNY Binghamton, where she grew tired of waiting for the phone to ring. "He was a typical guy—would hang out with his friends, never call me back—and I was a typical girl," said the coiffed, brunette Ms. Sidi, also 25 and currently studying speech pathology at Hofstra. "One day I said, 'Enough's enough!'"
"I had a lot of growing to do," said the shaven-headed, broadly built Mr. Stevens. "I had a lot to learn about how to treat people."
When he found out his 19-year-old little sister was dating his best friend, he phoned his ex for consolation.
"I was like, 'Why is he calling me about this?'" said Ms. Sidi, who'd remained friends with the sis.
Switching gears, Mr. Stevens invited her on a free trip for two to Orlando, Fla. (actually a promotion for a timeshared condo), which she interpreted as a "friendly" gesture. "How are we going to sleep in the same bed for five days as friends?" he asked. "It's going to be awkward."
"I don't care—I'll sleep on the floor," Ms. Sidi said, "I really need a vacation."
Needless to say, nobody slept on the floor.
Ms. Sidi was grateful to have Mr. Stevens back in her life when her beloved maternal grandmother got cancer the following year. "He would go with me so I didn't have to go alone—gives up his weekend to sit in this depressing nursing home so I could sit with my grandma and be there with my family," Ms. Sidi said. "That meant everything to me."
One night, he lured her to the city with dinner reservations at Pesce Pasta, a sleeper Italian restaurant on the Upper West Side. Meeting her at Penn Station, Mr. Stevens told Ms. Sidi that he wanted to stop in a nearby Kay Jewelers to fix his gold chain. "Do we have to?" she whined obliviously.
"It'll only take a minute," he said. When they entered the store, "the doorman who opened the door was smiling at me so much I thought he was hitting on me," said Ms. Sidi, who wandered, inevitably, over to the engagement-ring counter. "Oh!" twittered the staff. "Are you getting engaged?"
"You'll have to ask him," Ms. Sidi said. Feeling a tap on her shoulder, she turned to find Mr. Stevens down on one knee, holding up an open box containing a one-carat princess-cut diamond, surrounded by smaller, channel-set quarter-carat stones. "How do you like this one?" he asked.
"Are you kidding me?!" she yelped, hitting him Elaine Benes–style.
Later on, at the restaurant, she was greeted by a congratulatory banner and a crowd of their family and friends. At the end of the night, a limo took the Long Island lovebirds to a suite sprinkled with rose petals at the East Norwich Inn. "I was so shocked, my cheeks hurt," Ms. Sidi said.
The couple is preparing to move from their respective parents' homes to a condo that they've bought in Westbury, Long Island.