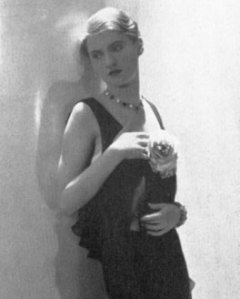 At last, a life and an album about Lee Miller, one of the most beautiful women who ever lived—an account that's generally free from the adoration, the caution and the flat-out evasion that have spoiled so many other books.
Yes, there could be more pictures—not just those Miller took herself at the end of World War II, as she enjoyed the most intense experiences of an odd life; not just the complete works that came from those staggering years in Paris with Man Ray, when passion, voyeurism and benign accident changed the flame-like potential of eroticism; but dozens and maybe hundreds of the patient, long-suffering, half-imprisoned and deeply enigmatic nude studies for which she posed—as a young woman, an adolescent and a child—so that her father, a very practical man from Poughkeepsie, could gaze on her and …. Well, already we're touching on the mysteries of Lee Miller.
The question mark comes at the very start of her life. It cannot be ignored or eased aside; and the kind of minimalization that has sometimes been practiced in the past has answered nothing and spared no one.
Elizabeth Miller was born in Poughkeepsie on April 23, 1907, the child of Florence and Theodore Miller. Her father was the superintendent of the DeLaval Separator Company, a business that separated heavier from lighter liquids. Raised among Quakers, though not of that faith, Theodore Miller had taken a degree in mechanical engineering by correspondence course. And he had much practical experience with machinery. He had cameras and he took pictures of his children. As a baby and as an infant, the unknowing Elizabeth was posed for him in the nude. The father also possessed a stereoscope, an instrument that could show two adjacent pictures side by side, then unified to give the illusion of body and depth. What does Mother do when Father has such a hobby?
In 1914, when Elizabeth was 7, she spent a little time with family friends in Brooklyn: They were Swedish, and it's said that their name was Kajerdt. On one visit, the little girl was apparently left in the care of an "Uncle Bob" and was raped—or, if not exactly raped, she was sexually molested so that she contracted gonorrhea. Carolyn Burke's account of the event is brief—alarmingly so—and it includes no real speculation on the Kajerdts or "Uncle Bob." As far as I can tell from this book—and every other published account of the incident—no one was ever apprehended or charged with the crime. There doesn't seem to have been a pursuit. Perhaps this was tacit recognition of a truth endlessly rediscovered over the last 90 years: that when young children are sexually molested, it's often at the hands of their own family.
There's more to the story. Elizabeth required medical treatment—douches and "irrigation" with potassium permanganate. Ms. Burke is restrained in describing this, whereas I think every detail is relevant. We want to know more, for example, about the vague "psychiatric" counseling given to the child (sex and love, she was told, are different things and not to be confused).
At this point in her book, Ms. Burke is hesitant to the point of neglect, and I began to think there'd been family pressure on her to go gently with the matter. But Ms. Burke trusts the reader to find his or her own outrage; she lets the facts speak for themselves. And the facts are vivid.
In April 1915, with snow still on the ground, the father took his daughter out of doors, naked except for slippers, and photographed her for a study he called December Morn. In this picture, frostbite may seem a more immediate danger than sexual intrusion. But in her teens, already outrageously beautiful, Elizabeth was still the subject of her father's stereoscopic photography—downcast, shy to the point of freezing, her eyes turned away, the hands she treasured lost to sight—in images that are both arousing and intensely uncomfortable. Ms. Burke's opinion is still gentle and charitable, but now she does begin to point up a weird dissociation in Elizabeth, between erotic glory and her desperate refusal to notice that she's being seen.
It's easy to imagine an afflicted Elizabeth Miller still inhabiting some grim mental institution near Poughkeepsie; it says a great deal about her courage and her spirit that instead she's universally famous, not just for her beauty but for the adventurousness of her life. Ms. Burke cannot say how quickly or thoroughly the girl recovered from gonorrhea, but by her early 20's she'd become "Lee Miller"—not just a noted photographic model in New York and the casual lover of many artists, but the muse to Man Ray, his lover and companion, his dark-room apprentice, his personification of l'amour fou.
Man Ray, Lee Miller—to this day, there are feminist struggles over who did what, and Ms. Burke is a good enough art historian to insist on chance or accident helping, too. She concedes that the solarized "rayographs" were discovered by a mistake. She makes it clear that Lee was a brilliant pupil led to take up the camera herself. And she spells out some of their lesser-known pornographic work, in which Lee seems to have taken the lead. There doesn't need to be a winner: Like partners in a sex act, they needed each other, and the details of the work—above all, Lee's mouth and breasts—now float in the collective imagination.
No, this does not seem like a young woman traumatized by rape. But read on. Lee was plainly promiscuous, utterly unimpressed by loyalty. She married an Egyptian in the 30's, not without fondness, but just as much to experience Alexandria and desert scenery. Then, in the years just before the war, she met the Englishman Roland Penrose—collector, artist, impresario and friend to the modernists. She knew Max Ernst and Picasso. With Penrose, it feels like real love, and it takes Lee to England—to Hampstead in the days when London anticipated real bombs as well as the bombes surprises of surrealism.
With the war, Lee Miller found herself. Attached over the years to such magazines as Vogue, she got work as a photojournalist. Still in her 30's, still a knockout, she saw serious combat at Saint-Malo; she was in on the reclaiming of Paris, the crossing of the Rhine and the relief of the concentration camps. She was depicted by another lover, washing in Hitler's bath. And her own camera was clicking away—no matter that the bodies she was photographing at Dachau were so terrible that only the act of photography protected her soul.
This is the best part of a remarkable book. For not only does Ms. Burke subtly equate the horrors of war with the impact of rape, she also shows how the headiest days in Lee Miller's life—her real liberation as artist, writer and human being—were bound to result in anticlimax and dismay.
So it proved. Despite infidelities on both sides, she stayed with Penrose after the war, had his son and yielded to the country life he preferred in Farley Farm, a lovely but run-down property in East Sussex. She lost her looks. She took up drinking. And she gradually inherited the unhappiness or depression that busy years had suppressed.
There's still much more that needs to be said, but for the first time the ravaged arc of Lee Miller's life is clear, beautiful but lined in pain. In the end, the material may be too urgent for biography—it needs a novel or a great movie. Don't think that actresses haven't been tempted (Jodie Foster and Madonna, for starters). But none of them looked half as good, or a quarter as fiendish, as the girl from Poughkeepsie.
David Thomson, author of The New Biographical Dictionary of Film (Knopf), reviews books regularly for The Observer.