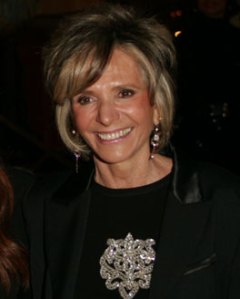 "This whole mess that we're all in, called being alive, is just a fascinating dilemma," said Sheila Nevins, the president of HBO's documentary division. "And how people work that out is, to me, extraordinarily interesting. It doesn't matter whether you're a kid with Tourette's syndrome or a murderer or a hot porn star or a pimp or a hooker or a survivor from World War II. How you make peace with an essentially cold universe—an unthinking, unfeeling universe—is what interests me."
It was a rainy October afternoon, and Ms. Nevins was seated before an enormous feast in a private dining room in the HBO building on Sixth Avenue, a corona of wild, blond-flecked hair framing her face and a pair of purple faux-suede cowboy boots on her feet.
The whole mess she's in, of sex and seriousness, personality and politics, is the original-programming division of HBO and its trampy sister network Cinemax.
Ms. Nevins' fiefdom, which puts out between 40 and 50 nonfiction programs each year, is one of the last places in the television industry where producers, filmmakers and viewers can go for good, old-fashioned reality shows: Remember those? They're the ones not sponsored by Coca Cola or M.C.'d by Donald Trump or bookended with outtakes of idiots singing badly.
She has produced Death in Gaza, Bach in Auschwitz and Children in War. She did Half Past Autumn: The Life and Works of Gordon Parks and Americanos: Latino Life in the United States, and then she did Southern Justice: The Murder of Medgar Evers and Paradise Lost: The Child Murders at Robin Hood Hills. She has done plenty of life. She has done plenty of death. And once, in 1988, she made an Academy Award–winning documentary called You Don't Have to Die.
Ms. Nevins, who agreed to an interview with The Observer on the condition that this article not include her age, has also produced her fair share of specials in which not particularly attractive, not even slightly self-conscious people do things like travel to their local life-size rubber fantasy sex-doll factory and spend an afternoon testing out the merchandise. To the adult genre, she has contributed such masterworks as Pornucopia, G-String Divas, Taxicab Confessions, Show Girls: Glitz and Angst, Private Dicks: Men Exposed and, of course, Real Sexes 1 through 26.
"Sheila has discovered a unique balance between doing things like Last Letters Home"—a 2004 documentary about troops killed in Operation Iraqi Freedom—"or things like the Birmingham church bombings, and finding a way to explore other parts of human behavior, including sexuality, quite originally," said Richard Plepler, executive vice president of HBO and a close friend of Ms. Nevins'.
"In one day, I go from working on an animated piece to global warming to porn," Ms. Nevins said. "A doctor can go in a hospital from someone with a mosquito bite to someone with cancer. Why can't I?"
And the porn gets as much exacting attention and Nevins perfectionism as the Holocaust stories. She is as interested in Rita Hayworth as she is in Monica Lewinsky as she is in Katie Morgan.
"One of the reasons that I've avoided doing shows for TV is that most of the time, the person you're dealing with on the other end, who can slam the door ultimately, has no particular stake in the long-run artistry of the thing," said the documentarian D.A. Pennebaker, who worked with Ms. Nevins on the 2002 documentary Elaine Stritch: At Liberty. "But Sheila does."
Ms. Nevins has built the HBO documentary unit up from the modest operation it was when she took over in 1979 to the rarefied bastion of long-form television journalism it is today. A few other channels, including PBS, Discovery, National Geographic and A&E, also employ serious journalists to create quality news programs. But recently, brainy infotainment has begun to disappear from primetime. NBC's Dateline is down to two hours a week. CBS has but one 60 Minutes left. And on Nov. 22, unholiest of days, Ted Koppel will leave ABC's Nightline for good.
Where will great journalists go to air important stories that won't fit into three minutes on the evening news? They will go—at least some of them—to Sheila Nevins.
"You can't even name anybody at any of the networks who does what Sheila does," said Jon Alpert, a pioneering war documentarian and former Nightly News contributor who fled broadcast news after the first Gulf War. "If you say, 'O.K., who's in charge of making good reality programming at ABC, NBC, CBS?', nobody knows."
Now Mr. Koppel looks poised to join Ms. Nevins' stable. No deal is done and none likely will be announced before his final broadcast. But sources close to the anchor have said Mr. Koppel and his executive producer Tom Bettag plan to take their independent documentary production company, staffed by a half-dozen Nightline veterans, to HBO.
Ms. Nevins is not especially taken with prospect of being the Oskar Schindler of network news. She is far more concerned with the tragedies and oddities of the human condition—all those victories, horrors and glorious distractions we encounter on our long march to "the great equalizer." But that doesn't preclude an occasional impassioned defense.
On Sept. 19, Ms. Nevins and former CBS anchor Dan Rather spoke at the Fordham University School of Law. It was the same day they were both honored at the News and Documentary Emmy Awards. Several times that evening, when talking about the controversial 60 Minutes II report about President Bush's service in the Texas Air National Guard—the story that torpedoed his career—the deposed anchor choked up. At one point, Ms. Nevins jumped in.
"When a man is close to tears discussing his work, and his lip quivers, he deserves a boss who punches back," she said. "I feel I would punch back for Dan."
But before anyone goes imagining this sprightly Upper East Side featherweight socking Dick Thornburgh in the jaw (tempting though, isn't it?), Ms. Nevins explained: "Someone who cares so passionately about his work needs to be defended. That doesn't mean you don't make mistakes. But your reputation should precede you, and it should follow you. You have to adjust for error, not obliterate the person forever."
Would she want to work with Dan?
"I hadn't thought about it."
Would Dan want to work with her?
Take a guess.
MS. NEVINS HAS MORE URGENT DISTRACTIONS these days than what's going wrong everywhere else. A notoriously obsessive worker, she is unhappy virtually anywhere except in front of a television, fast-forwarding and rewinding through a 500th viewing of one upcoming project or another. She has done projects on dwarfism, zoophilia, AIDS, A.L.S., brothels, babies, soldiers and psychopaths. Right now she is working on a film about Daniel Pearl; another about 800-number hotlines staffed in Bombay; another about global warming; another about addiction.
The hours she spends with her documentaries—far more numerous than any she has ever spent with her family or friends—make for sentimental work. "Everything's personal," she said. "It's not always passionate. But it's always personal."
Mr. Alpert calls her "Cyclone Sheila," because of the fury of her devotion.
"She has not, does not and never will cook anything," he said. "That includes heating a cup of tea or making a dish of yogurt. She is so devoted, with all her time and energy, to making her television programs that everything is delivered."
The filmmaker Chris Hegedus remembered vast catered midnight snacks when she worked with Ms. Nevins on the Stritch documentary. Ms. Nevins' son, David Koch, remembered his mother dumping a bag of Mrs. Fields cookies into a tin so they looked homemade whenever he was expected to contribute to a school bake sale. (Then again, Mr. Koch also recalled his mother plunking him in front of the television from the age of 13 on, any time he started to drive her crazy, and popping a Real Sex tape into the VCR.)
"I'm incredibly proud of her," Mr. Koch said. "She does good work." Including the porn.
There was a time, many years ago, when Sheila Nevins' work was a little more quotidian.
Before she was baby-sitting her adolescent son with skin flicks, before she turned herself into the fairy godmother for serious television journalists and before she became "Cyclone Sheila," she was just "Jeanne."
For two years in the 1960's, Ms. Nevins played Jeanne, a secretary, in a series of English-language instructional videos distributed around the world. Her character was the dutiful if repetitive employee of a "Professor Richards," played by a local newscaster from Chicago. A typical exchange went like this:
Professor Richards: Do you want to milk the cow?
Jeanne: Yes, I want to milk the cow.
Professor Richards: Do you like the cow, Jeanne?
Jeanne: Yes, Professor Richards, I like the cow.
And so on. This was Ms. Nevins' introduction to television.
She was living in Washington at the time, a young newlywed with a bachelor's degree in English from Barnard, a master's in directing from the Yale School of Drama and, beyond that, "no discernible skills." So one day, on the advice of a neighbor, she wandered down to the old post office building and got herself a job. For the first year, her Jeanne costume included high-heeled pumps, tidy little business suits and stockings with seams running up the back. The second year, she was upgraded to a Dutch dairy-farmer costume and the production company acquired an actual cow.
"Once, many years later, I was in the Yucatán," she said. "And there was a van. And in the van there were all these peasants, you know, wearing hemp, and they were chanting something in English." She looked inside, and there was Jeanne on a television set, "talking about milking that damn cow."
After her first marriage ended and her turn as an instructional video star came to its natural conclusion, Ms. Nevins moved back to New York, where she grew up. She worked as a field producer for ABC, and as a producer with Don Hewitt on CBS's Who's Who. From there, it was a short trip to the documentary division of HBO, which she took over in 1979. She has managed it carefully, lovingly and with a pleasantly pathological sense of duty ever since.
"I have no hobbies," she said. "I only like to work."
This is the sort of attitude that wins your programs 15 Oscars, 81 Emmys and 25 Peabody Awards. But Ms. Nevins, a female executive aware since her earliest days in television of the precarious position of women in show business, is a little cynical about the whole thing.
"Why do you think I get so many awards?" she said. "There are no women. The awards committee gets together and says, 'O.K., we got nine old geezers here. What women can we get? We already did Barbara Walters.'"
Do you like the Emmy, Sheila?
Yes, Professor Richards, I like the Emmy.
"The news and docu business is a very strong business," she said, meaning it is sometimes cold and hard, "especially for women and old people." That's why she's tough on her female employees, she said. That's why she doesn't talk about her age.
"I hate when people say, 'Oh, you have the best job. You're so lucky,'" said Ms. Nevins. "I'm not lucky. I worked my fucking tail off."
ON NOV. 12, HBO WILL AIR A 27-MINUTE DOCUMENTARY about Tourette's syndrome, a neurological disorder that causes verbal and physical tics that are often especially pronounced in children. It's earnest, old-fashioned dramatic nonfiction. It's real people up against the unthinking universe. And it's personal.
Her son, David Koch, who is 24 and works on The Sopranos, has Tourette's. For years the disease went undiagnosed, Ms. Nevins said, with doctors prescribing unnecessary medicine and chiding her for spending so much time at work. Then she read an article about the disease in an old magazine in the waiting room of her dentist's office. She knew instantly.
The documentary splices interviews with young kids who suffer from the uncontrollable tics, and the bullying that accompanies them, with home videos of tantrums and scenes of surprising compassion.
Ms. Nevins celebrated the premiere of the film at a dinner dance sponsored by the Tourette's Syndrome Association. Held earlier this month in the grand ballroom of the Pierre, the event featured a jazzy band playing a truly horrific selection of songs. Ms. Nevins, who says she doesn't like people or parties or anything that keeps her away from work too long, at one point found herself in the middle of the dance floor, doing the twist with a dozen Tourette's kids to the Patti LaBelle version of "Lady Marmalade."
In a circle around Ms. Nevins were her husband and son, her assistant and staff, and several prominent characters from other documentaries she has produced, including the reformed Mafioso Chris Colombo, who was released from house arrest to attend the party that night, all because of a letter Ms. Nevins wrote to the judge.
"It was my Deconstructing Harry moment," she said, and laughed: "Deconstructing Sheila!"
And if someone were to do so, what would she find?
A little of everything, Ms. Nevins said, "the important and the unimportant; the profound and the profane."