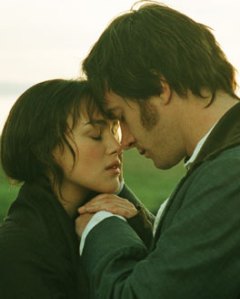 Pride and Prejudice, Jane Austen's saga of manners and mores in 19th-century England and bad timing in matters of the heart, is an enduring story, one of the most revered works of literature in the English language, and fodder for big-screen interpretations. Despite an infinite number of television adaptations, here it is again, brushed off in Technicolor, for the first time on the big screen in 65 years, unless you count last year's moronic Bollywood bore, Bride and Prejudice, and who in his right mind would?
Personally, I will always prefer the smashing and altogether enchanting MGM version in 1940, brilliantly written by Aldous Huxley, with Greer Garson and Laurence Olivier, and who in his right mind would not? But if you long for the peace and grace of a bygone era, gloriously costumed and sumptuously designed, and the sweeping romance of lovers saved from the ruinous consequences of narrow-minded social pretensions, refurbished with the crisp satirical crackle of aged fireplace logs, this is the movie for you.
Pride and Prejudice is the one about the five eligible daughters of a struggling family named Bennet, and the desperate attempts made by their dithering, scheming mother to marry them off to five respectable suitors. The five sisters are all too aware that unless they find husbands to produce a male heir, their father's ramshackle country estate will fall into the grubby hands of their closest male cousin. The burden of leading the way rests on the slender shoulders of sprightly Elizabeth Bennet (Keira Knightley), a heroine beloved for her lively wit, piercing sense of social justice and universal romantic plight.
Opportunity seems to knock when a rich, upstanding bachelor named Mr. Bingley (Simon Woods) rents a nearby manor, but he's more interested in Lizzy's sister Jane. The story of Bingley's timid courtship of Jane (Rosamund Pike), the eldest Bennet daughter, becomes the foil for the hate-at-first-sight relationship between Lizzy and Bingley's snobbish friend, Mr. Darcy (tall, dark, handsome newcomer Matthew MacFadyen).
As "dear, beautiful Lizzy," Keira Knightley is no Greer Garson. She doesn't have the patrician poise, the beauty of a moss rose or the radiant intelligence. Nor is Mr. MacFadyen another Laurence Olivier. Sullen and physically imposing, as though his skin doesn't quite fit his frame, he's a brooding Gothic intruder, more akin to Heathcliff than Darcy. He's no arrogant dandy like Olivier, and no 19th-century sex god like Colin Firth, whose career was born in the much-admired 1995 BBC television series. But he's just different enough and sardonic enough to be interesting. And no matter who plays the leads, the ensuing plot twists and crossed wires in Pride and Prejudice are still the stuff of legend.
It's the supporting cast that blithely lightens the load. As the flighty, flustered Mrs. Bennet, Brenda Blethyn offers a bit more than the usual dimwit portrayal. Dame Judi Dench is glorious as Darcy's steely, patronizing and thoroughly obnoxious aunt, Lady Catherine, and Donald Sutherland is perfect as the august and long-suffering Mr. Bennet, who wouldn't mind marrying off five daughters himself, but for a different reason—to get them out of the house and find some rest. Rosamund Pike is a lovely, astute Jane, and her scenes with Simon Woods' nice but wooden Mr. Bingley bring some welcome humor and pathos to a potentially dull subplot.
Under the ambitious guidance of director Joe Wright, the story gets a barnyard face-lift that isn't entirely in keeping with the novel. This time, the Bennet family lives in a house attached to a working farm with livestock roaming about with such fearless abandon that they all but take their meals at the dining-room table. But there is pleasure in this straightforward, youthful, no-frills approach. It seems less artificial that most costume epics, with a wholesome bubble that has led some wags to describe it as "a Jane Austen chick flick." And the director has done a witty and masterful job of recreating a snooty little long-ago pocket of English country life that can today be seen only in embroidered heirloom wall hangings. It's a world where young ladies thought about nothing more taxing than minuets and ribbons down their backs, and the words "old maid" gave their anxious mothers the vapors. The foibles of Jane Austen's frivolous age are captured winningly, the absurdities of provincial middle-class society mirrored astutely right down to the last flounce and flutter of petticoats and eyelashes.
This may not be the definitive Pride and Prejudice, but it honors Jane Austen with reverence and spirit. At a time when we seem to be inundated by one gruesome, depressing movie after another, it's reassuring to see an elegant man's pride and a stubborn woman's prejudice reach the lushly realized assertion that love conquers all.
Bad Buzz
Don't let the title fool you: Bee Season is not about love in an apiary, or honey in a hive. It's about the time of year when dictionary-toting adolescents sign up as contestants to compete for prizes, spelling words like "omniscient" and "diverticulitis." Assaulted by Broadway musicals about spelling bees, and low-budget documentaries about spelling bees, I find myself, quite frankly, up to my unabridged Webster's Collegiate with spelling bees. This predicament is neither eased nor eradicated by Bee Season. It is awful.
I looked forward to this. It comes from some fine people with impressive credentials: adapted from Myla Goldberg's 2000 best-seller by Naomi Foner Gyllenhaal, the mother of Jake and Maggie, and directed by Scott McGehee and David Siegel, the talented partners responsible for one of my all-time favorite films, The Deep End. But despite the good intentions, something went pitifully wrong on the way from page to screen. Whatever people found intriguing about the novel is a mystery here, and however moving and unpredictable the story of a family of intellectuals going haywire in Oakland, Calif., might seem, the crisis fails to engage or convince in this tepid film.
Since most of it is weird, mystical and unplayable, the actors probably shouldn't be blamed for the film's failure, but for starters, I don't think I would cast Richard Gere as a Jewish biblical scholar. He is Saul, an odd, anally retentive professor of religious studies at Berkeley whose only passions are the Kabbalah and the upcoming finals of the National Spelling Bee championships, in which his 11-year-old daughter Eliza (Flora Cross) is competing. Eliza is the family underachiever, but since her father has drilled into her head from infancy that the spelling of words contains certain secrets of the universe, her budding talent as a whiz-kid makes her the apple of Daddy's eye, to the estranged detriment of his neglected teenage son, Aaron (Max Minghella), and his wife, Miriam (the equally miscast Juliette Binoche). Obsessed with Kabbalah, Saul spends all of his time as Eliza's coach, convinced that his daughter's special talent with letters will lead her to achieve shefa and communicate with God. The kid just wants to win a prize and please her doting, tyrannical father.
Meanwhile, Aaron turns his back on Judaism and joins a Hindu cult, and Miriam starts sneaking out at night, losing her grip on reality. When you find out what she's up to, you may very well rub your eyes and go "Huh?" It is up to 11-year-old Eliza, an underachiever whose growing sense of alienation and terror makes her feel responsible for her family's collapse, to change things. Obviously, the psychic vacuum her decision creates provokes a chain of events that shakes the family's foundation, and the perfect house that Saul has constructed begins to crumble like pickup sticks.
Sadly, I'm afraid none of this makes a jigger of sense. The study of Jewish mysticism only adds to the confusion of lives undeveloped, dark secrets unexplored and motivations unexplained. The first hour is compelling, but the tension weakens as the complex plot unravels without telling us anything we want (or need) to know. In the end, the film has melted snow running through its veins. Seasoned veterans like Mr. Gere and Ms. Binoche fail to connect, leaving the two younger members of the quartet to steal most of the focus in dual acting debuts that are both grounded and memorable.
Unfortunately, for a movie about the power of words, Ms. Gyllenhall, the Academy Award–nominated screenwriter of Running on Empty, fails to engage the viewer with the right words that might evoke magic, realism or understanding. Cold and elusive, Bee Season lacks the crucial emotional ingredients to make us care, and it remains too stubbornly esoteric and cerebral to appeal to anything more than a small and curious art-house crowd.