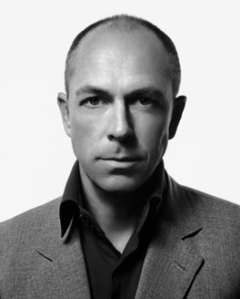 iPod, Therefore I Am: Thinking Inside the White Box, by Dylan Jones. Bloomsbury, 288 pages, $14.95.
I don't do well in crowds. Never have. Erratic movements jar my psyche, and so I've designated large swaths of Manhattan as no-go zones, hotbeds of wayward tourists and frantic consumers: Fairway on Sunday afternoons. Times Square on a gummy August night. Recently, I've added the Apple Store on Prince Street to the list. I made this decision after going there with my girlfriend: As soon we walked in, I was assaulted by a heaving mass of hipsters, tourists and computer nerds ogling the electronic paraphernalia dotting the sleek interior. By far the densest cluster of Apple-philes swarmed the table bearing a collection of iPods, the music player that vaulted Apple to mass-market ubiquity (this was before the advent of the video iPod). At one point, I nearly got knocked off my feet by a troika of wide-eyed teenagers determined to wrap their paws on the domino-sized iPod Nano. "It's so small!" one gasped.
Dylan Jones, editor in chief of British GQ, would feel right at home in the Apple Store. He has written iPod, Therefore I Am in the hope that even a fraction of iPod addicts will want to hear his hymn of praise to Apple's music player. Fervent fans are legion: With more than five million iPods flying off the shelves last quarter, Mr. Jones has a big audience to work with. Unfortunately, his narrative unfolds like a disjointed play list; it fails to coalesce around a unifying theme.
A latecomer to the craze, Mr. Jones spent a year downloading his music collection onto his beloved iPod. He combines a chronicle of that momentous effort with glimpses of his life on the London music and pop-culture scene. Part memoir, part cultural analysis, part business book, it's High Fidelity meets The New New Thing—but the competing genres make for a chaotic mix. The D.J. got bored and just hit "shuffle."
We first meet Mr. Jones as a young boy. He grew up an "air force brat," moving house each time his father received a new posting. He developed a stutter at an early age and retreated into the accepting arms of pop music. "Between the ages of about five and sixteen it was utter hell," he writes.
From there, he plays hopscotch through time and space: He's downloading tracks onto his laptop; he's in the boardrooms of Apple's Silicon Valley headquarters; he's in the sweaty basements of South London's punk clubs two decades ago. The harried pace never lets up.
With a 20-year career in journalism at such culturally attuned outposts as Arena, i-D and GQ, Mr. Jones has naturally amassed a sprawling library of music. Name-dropping is a sturdy pillar of music writing, and Mr. Jones doesn't disappoint.
"In the hodgepodge of my singles collection you will find many things," he writes, before marching off on a paragraph-long parade of song titles, including Brook Benton's "Walk on the Wild Side," Culture Club's "I'm Afraid of Me," Run DMC's "Walk This Way" and so on.
In the business segments of the book, Mr. Jones strikes the ebullient tone that echoes the celebratory profiles of Internet entrepreneurs that crowded the business media during the dot-com bubble. For him, Apple C.E.O. Steve Jobs is "not just an evangelist for his company and his products; he is an evangelist for the whole notion of [the] digital revolution." Jonathan Ive, the Apple designer who created the iPod, "is the most revered designer of the modern age, a sort of Warhol for the digital generation."
Mr. Jobs certainly deserves credit for reinvigorating Apple's fortunes, but Mr. Jones skips over some of the iPod's major flaws, including its high price and persistent quality issues. My girlfriend has had to return her malfunctioning iPod four times. My roommate's iPod went kaput after just two years. And Apple has had to deflect scores of complaints over the iPod's fleeting battery life.
Parts of iPod, Therefore I Am are already dated. Mr. Jones trumpets a distribution partnership that Apple struck with Hewlett-Packard in January 2004; but in July, after the book went to press, the two companies abandoned the pact.
Mr. Jones is a deft cultural observer, and by far the strongest parts of the book come when he documents London's shifting social currents:
Art school in the late 1970's, he writes, was "a playpen, a pop cultural whirlpool of nightclubs, gigs, and parties, a world where punks mixed with public schoolboys, where soul boys danced with drag queens, where barrow boys dressed up to look like wing commanders."
Later, when punk is ascendant, he captures the movement's violent aggression with scenes of "pint glasses being thrown at the Nashville" and "fistfights in the doorway of the Marquee." Similarly, in the materially obsessed 80's, "design was everything and everything was design." His meditation on 80's consumerism places today's luxury brands—from Whole Foods to Louis Vuitton—into sharper focus.
At the end of the book, after filling his 40-gigabyte iPod to the brim, Mr. Jones stops to ponder the device's lasting relevance. He's convinced of its cultural primacy. "[It] will soon no doubt be able to suck everything into its shiny white casing," he concludes.
Bold proclamations are risky in this age of technological reinvention. Google supplanted a once-dominant Yahoo. PlayStation beat out Nintendo. BlackBerries are the new Palm Pilots. Will the Apple iPod truly be the Sony Walkman of this generation? Or, rather, a trendy accoutrement replaced by the next entrant into the digital marketplace? If the masses flocking to the Apple Store are a portent, Dylan Jones may be listening to his iPod for years to come.
Gabriel Sherman is a reporter for The Observer.