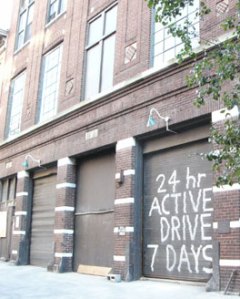 Artist and socialite Julian Schnabel has lived and worked quietly at his home and studio in a squat, brick building on leafy West 11th Street for more than a decade.
Now the building is a battleground.
Mr. Schnabel angered his notoriously preservationist West Village neighbors in January 2005 when he announced plans to expand the building into a 12-story tower, with exhibition spaces, a swimming pool and a cluster of luxury condominium apartments.
But a recent downzoning of the neighborhood restricts the height of future construction from 200 to 100 feet—and Mr. Schnabel's project, begun in late September and slated to rise to 167 feet, is caught in the middle.
He's not alone. The new regulations have embroiled celebrities like Mr. Schnabel and fashion designer Diane von Furstenberg, as well as prominent luxury real-estate developers like Richard Meier's partners in the glass-and-steel buildings on Perry Street, which have attracted buyers such as Martha Stewart, Nicole Kidman, Calvin Klein and Vincent Gallo.
To finish his building according to the old regulations, Mr. Schnabel will have to prove that construction was far enough along when the new zoning regulations were put in place that it should be grandfathered in.
But neighbors are charging that for three days in October, Mr. Schnabel's builders defied the new zoning in order to advance construction and improve his chances.
It all began on Oct. 11, when the City Council voted to downzone a large swath of the West Village in response to growing neighborhood unrest over the crop of tall buildings like the Meier towers being planned for the neighborhood.
Mr. Schnabel actually praised the Council's vote at the time, telling the New York Post: "This rezoning is a victory for the neighborhood."
"That is the height of hypocrisy," said Andrew Berman, the executive director of the Greenwich Village Society for Historic Preservation, a group that has been actively seeking the rezoning since holding a town-hall meeting in March 2004.
"Aside from the fact that [Mr. Schnabel] did absolutely nothing to support getting this rezoning to happen, if he does have any favorable tendencies, it's clearly only to preserve the views from his giraffe-like tower," said Mr. Berman.
Perhaps he knew what was coming. On Oct. 14, the Department of Buildings made a preliminary assessment of his property and decided that the development was far enough along—"vested" is the term of art—that it could proceed under the old zoning laws.
"We have complied with all requirements and requests for information from the Department of Buildings, completed the foundations before the rezoning was passed, and believe we are fully vested," said a spokesperson for the owner.
But critics told The Observer Mr. Schnabel continued working after the zoning change, and may have completed his foundation during those three days in question. After the ruling, neighbors, preservationists and local politicians aired grievances with the Department of Buildings; a final decision on the project's fate is expected any day.
"I'm cautiously optimistic that the Department of Buildings will rule that it didn't vest," said State Senator Tom Duane, who has been a fervent supporter of the rezoning.
On Oct. 19, Mr. Duane sent a letter to Commissioner Patricia Lancaster, urging her to "reconsider the initial ruling." In the letter, he wrote that individuals and groups have provided documentation showing that Mr. Schnabel employed "shady methods, including illegal work, in his rush to get the building 'vested' before the new zoning law changed."
Council member Christine Quinn also sent a letter to the department to stop construction. "I do not believe that the work has progressed sufficiently for the new development to be 'grand-parented' under the old zoning," she wrote.
On Nov. 1, Ms. Quinn, along with Mr. Berman and other critics of Mr. Schnabel's development, presented their evidence to the Department of Buildings. In addition to sworn affidavits alleging illegal construction, they brought a time-stamped video shot by a neighbor, which allegedly shows the movement of machinery after hours. According to the Department of Buildings, after-hours work is a Priority B complaint, and is not as urgent as a collapsing structure, for example. Mr. Berman argued that neighbors "did their due diligence" by phoning in complaints, but that the site was not inspected in a timely fashion.
Complaints filed with the Department of Buildings support Mr. Berman's contention. Since Sept. 22, there have been 27 filed; however, inspectors have substantiated none of the claims.
"On numerous occasions, I've had to call the Department of Buildings and the Police Department to check on reports of illegal work," said Ms. Quinn. "Frequently, what happens is by the time the inspectors or whomever show up, the workers have gotten wind of it."
Michael Lefkowitz, president of the condo board at nearby 155 Perry Street, has called 311 to report after-hours work.
"I think he believes he's finished enough, so he can bully his way through," said Marian Arkin, a college English professor who also lives at 155 Perry Street. "We're hoping that we can fight him."
However, one former neighbor disagrees. Last January, art dealer Kenny Schachter sold his 1832 row house at 163 Charles Street—another contentious location—to developers for $5.92 million. Before leaving, he suffered through the tumultuous construction of the third Meier building.
"It is very disruptive, but it is an aspect of living in this kind of city," said Mr. Schachter, who dealt with his own façade being cracked and smoke pouring through from construction next-door. Mr. Schachter initially had plans for developing his West Village property with architect Zaha Hadid, but instead moved to London to build a new gallery.
"The things they pick on, like Julian Schnabel—and I'm no 100 percent fan of his work—but still, he is a longtime resident of the neighborhood. He's a renowned artist. And he's designed the building himself, so it's like a sculpture," said Mr. Schachter. "It will probably be better than his paintings."
Tall, Beautiful, Special?
Some who have been watching these battles—which gained widespread attention when Richard Meier's tall glass celebrity dorms went up on Perry Street—are also arguing that the new buildings actually improve the neighborhood.
"I think those streets were highly undesirable before Richard Meier," said Leonard Steinberg of Prudential Douglas Elliman. "The hookers have been replaced by high-end real estate."
Richard Born, Charles Blaichman and Ira Drucker, who partnered with Mr. Meier on those first two Meier towers at 173 and 176 Perry Street, are trying to build a third on their own at 166.
Originally, the developers planned to add a two-story addition on a six-story garage; but on Oct. 17, six days after the Council passed the downzoning plan, they received a stop-work order, leaving the penthouse addition eerily in mid-repair, with building materials scattered on the roof.
The developers plan to bring their case to Board of Standards and Appeals, and hope the issue is reconciled within a month or two.
"My understanding of the zoning is that if you completed a reasonable portion of the work, you can go ahead," said Mr. Born. "Since we have a substantial amount of work done, I believe the building department will allow us to go ahead and complete. But they have to review the file, and look at it."
Since July, a stop-work order has been in place nearby, at developer Barry Leistner's site at 163 Charles Street, and there appears to be little construction completed. Originally planned to rise eight stories, the plans could be drastically scaled down to three under the new zoning, according to Mr. Berman.
Their excavated site left for months presents a stark contrast to the large billboard for the development, which shows a rendering for a ritzy-looking, modern condo.
"Certainly the area has spurred a lot of knockoff designs," said Jon Capobianco of the Corcoran Group, who currently is listing luxury apartments at 165 Charles Street and 173 Perry Street, at $4.6 million and $3.695 million, respectively. "I would call it a Richard Meier knockoff, because they are going for the same look without the starchitect's name."
In October 2004, Ms. von Furstenberg sold her studio and residence at 387-91 West 12th Street, dating to 1856, when they were built as stables. The buyer, for $21 million, was Coalco, a real-estate development company run by Russian metal tycoon Vasily Anisimov. (His daughter Anna, an N.Y.U. sophomore and tabloid mainstay, helped broker the deal through Alex von Furstenberg, Diane's son.)
Built in the sale was a provision allowing Ms. von Furstenberg a year-and-a-half lease on the property, which is set to expire in March 2006. That's when Coalco planned to erect a 150-foot condo of shimmering glass boxes, designed by architect Christian de Portzamparc.
"If I would have smelled at all a downzoning or rezoning, I would have never allowed her to stay in the property for a year and a half," said Edward Baquero, managing partner of Coalco. "It wouldn't have made any sense. We would have left flexibility to get her out so we could vest the property prior to the downzoning."
Now, Coalco has put the property on the market for the same price they paid for it, $21 million, while also considering whether to bring up the issue with the Board of Standards and Appeals.
Under the new zoning, Mr. Baquero said that Coalco would only have been able to build 12 luxury condos instead of 20, making the project financially impractical.
"As a rule, I like the downzoning," said Ms. von Furstenberg, who has championed Coalco's project. "The reason why I testified [before the City Planning Commission] for this building is because the street, as it stands now, doesn't really have beautiful buildings. I think that we should go for the quality of the project more than just the size."
And others question completely who really benefits from downzoning.
"It's always he who was there first who can dictate these rules," said Mr. Steinberg, who is infuriated by the "small-town thinking" of many preservationists. "We were all here after the Indians. Do they have a say in the matter? Old is a very relative term in Manhattan."
"What do you prefer, something that is taller, beautiful, special and unique, or something that is smaller, and of bad material," said Ms. von Furstenberg. "I think obviously the first."