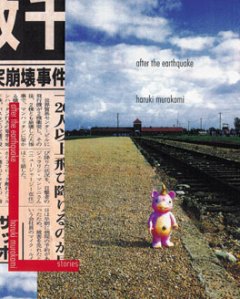 Like a verdant interval at Yaddo or a sepulchral black-and-white author photo by Marion Ettlinger, a snazzy book cover by Chip Kidd has distinct cachet in Manhattan literary circles (what's left of them, anyway). The difference is that Mr. Kidd has managed to maintain an unsnobbish aura, though he works for Knopf, still the poshest publishing house around—celebrity autobiographies and Chic Simple notwithstanding. Thanks in large part to Mr. Kidd's designs, which smear pop-culture references over highbrow authors like so much strawberry jelly, Knopf can even be hip.
These days, pop-culture vultures are swiftly canonized. Mr. Kidd is barely past 40. Twenty years after he was hired as an assistant straight out of Penn State, his work has been collected (reluctantly, he maintains) into a monograph. For you, the common reader, that means "big, unwieldy, expensive coffee-table book, perhaps suitable for a Christmas present." As I type this, the fatter of my two cats is curled up comfortably on its splayed spine.
The book's design is gorgeous, as one might expect, but unfortunately somewhat difficult to read (nonlinear browsing is what's indicated with this kind of thing, anyway). An OED-style magnifying glass would have come in handy for the text, which is tiny and mostly printed in an eye-straining white on a black background. The pages protrude rather awkwardly from a cover half their size. (Is that some sort of meta-comment about the limits of book-jacket design as an art form?)
Like my dear colleague Simon Doonan, the ne plus ultra of window dressers, Mr. Kidd's talents and ambitions extend far beyond the fringe skill that's made his name. In 2001, he published a novel, The Cheese Monkeys. He also plays the drums (as a child he idolized The Partridge Family's youngest and mutest son, Chris).
"What I loved was to make stuff," Mr. Kidd writes of his formative years, "whether it was music or comics or art (whatever that was) or some other media." This is not just a monograph, it turns out, but a memoir, a personal scrapbook, a heavily inked, fumy collage in which family snapshots, corporate interoffice memos and press accolades—including some from this newspaper—are all frenetically jumbled. It's not so much "work," according to the frontispiece, as "things that happened."
If it's a vanity project, it's the most modest one in history. Mr. Kidd is unfailingly generous with his collaborators—most of all with his authors, upon whose shoulders he built his reputation. And so the monograph contains reams of author tributes. "Purely gushing testimonials were discouraged," Mr. Kidd stresses, but they're probably unavoidable under the circumstances. "I like the austerity he reserves for me," writes Martin Amis, for whom the designer prefers an elegantly distressed Bulmer Italic typeface.
(The book gets a bit wonky at times—a nitty-gritty grotto of graphic design, a fount of fonts, not to mention extra innings of insider-baseball: Look, there's the cover he did for Marion Ettlinger's monograph! And hey, there's the proof sheet of author photos she did for The Cheese Monkeys!)
"In an edgy field, he is not only edgy but deep," concludes fellow Pennsylvanian turned Knopf loyalist John Updike after his rather formal introduction. "I was a little worried," confides Donna Tartt, whose first novel and blockbuster-to-be, The Secret History, Mr. Kidd wrapped in a translucent acetate overlay. She shouldn't have worried, or maybe she should've: I read The Secret History in junior year of college, staying up all night with a bag of Ruffles Sour Cream and Cheddar potato chips (an accompaniment I hope Mr. Kidd, with his love of trashy Americana, would appreciate), and I remember the unusual cover vividly, the plot less so. "The following season acetate jackets sprang up in bookstores like mushrooms on a murdered tree," writes the designer, whose modesty belies a fierce proprietary streak.
Far more valuable than freshly solicited testimonials is the correspondence plucked straight from belletristic history and reprinted on its original stationery. "What gets produced from any Kidd-ized planar occasion will knock them back on their heels or knock them out of their socks or anyhow do something knocklike to first their footy parts and then, a whipstitch thereafter, to their entire entirely alerted corpus," wrote Gordon Lish in 1995. (He is weird.) "I'm fucking hopped up to get all the good production shit going on my magnum opus, The Cold Six Thousand," panted the earthy James Ellroy (on "6/13/00 A.D."). Meanwhile, the evidence confirms that Mr. Updike—himself a former student of drawing and typography—is endearingly and totally involved in the design of his books.
Mr. Kidd is especially generous about flinging open a window onto the process of making a dust jacket. (Maybe it's not art, but it's artful.) This isn't just a museum exhibit of fabulous finished books; it's an archive of missteps and dated flourishes ("those heavy initial caps on every word are the typographic equivalent of Joan Collins' shoulder pads on Dynasty," he groans about an early effort). He shares false starts, scotched pictures, bad concepts and, perhaps most touchingly, an album of long-forgotten would-be Next Big Literary Things—books not even the snazziest cover could save.
Alexandra Jacobs is features editor of The Observer.